ICD-10 Guidelines Include Several Changes
In CMS
October 7, 2015
Comments Off

on ICD-10 Guidelines Include Several Changes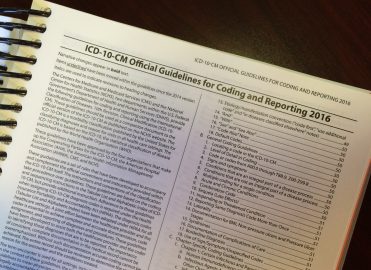 Now that ICD-10-CM is implemented and the 2016 ICD-10-CM code book has been released, it's time to take a look at changes.
In the General Coding, Section 1.B.10 Sequela (Late Effects), a paragraph was added to provide examples.  These examples include scar tissue after a burn, a deviated septum due to a nasal fracture, and infertility due to tubal occlusion from old tuberculosis. The sequencing of the codes still states the condition or nature of the late effect is sequenced first using the injury or healed/old condition as the secondary code.
Descriptions have been added for clarification of the 7th characters extensions for Chapter 13 and Chapter 19.
Initial encounter utilizing "A" for active treatment revised the examples in the guidelines to read:
Examples of active treatment are:  surgical treatment, emergency department encounter, and evaluation and continuing treatment by the same or different physician."
Subsequent care definition is edited and adds wording that includes "an X-ray to check on healing of a fracture" to the current examples.
A paragraph is added for Section 1.C.19.c.1 that states 7th character assignment for Initial encounter is assigned for delayed treatment of malunion/nonunion.
Several changes are noted in Chapter 1 Guidelines.
Chapter specific guidelines for Sepsis (Section 1.C.5) deleted the words "and post procedural septic shock" from the guideline.  Example of T81.4 Infection following a procedure, or O86.0 Infection of obstetrical surgical wound should be coded first; followed by code R65.21 Severe sepsis without septic shock.  A code for the systemic infection should also be assigned.
There is an error in the secondary code. R65.21 is "with" septic shock; for "without," the correct code is R65.20.
A new paragraph is added for post procedural shock showing sequencing of T81.4, Infection following a procedure, or O86.0, Infection of obstetrical surgical wound as the first listed code, followed by T81.12- Postprocedural septic shock. Also code for the systemic infection.
Chapter 20 contains a Coding Guideline for External cause, which states the selection of the required 7th character must match the 7th character assigned to the associated injury. Guidelines for place of occurrence do state generally the place of occurrence is reported only once at the initial encounter, but adds language for that rare instance when a new injury code occurs during hospitalization, a second POA can be used (Section1.C.20.b and Section 1.C.20.d).
In Chapter 21 (Section 1.C.21.16) a list of Z codes that can only be used as Principal/First-listed Diagnoses. Under Z00 Encounters for general examination without complaints, suspected or reported diagnosis an exception is added  "Except: Z00.6."
Section II.E is a guideline that was deleted effective October 1, 2014.
Latest posts by Rhonda Buckholtz
(see all)
No Responses to "ICD-10 Guidelines Include Several Changes"