Big Healthcare Decisions Made with Big Data
In AAPC News
October 7, 2015
Comments Off

on Big Healthcare Decisions Made with Big Data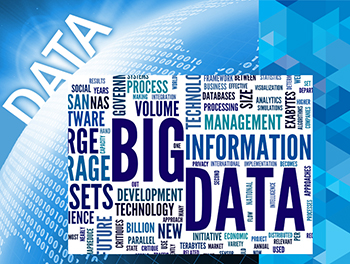 It seems as if the world is dependent on data, and big decisions are made based on it. In your daily life, it's used to track buying of consumer goods, most-watched television shows, and most missed examination questions. And in healthcare, it's used for analyzing and containing disease outbreaks and improving expenditures of healthcare delivery.
Settling for survey and report results for data mining has become passé, especially when you now can analyze all of the data. The new motto for healthcare data is, "go big or go home." The trend is big data.
Large companies want a piece of it; however, many don't know what it is.
Big Data Basics
According to Wikipedia, big data is:
… a broad term for data sets so large or complex that traditional data processing applications are inadequate. Challenges include analysis, capture, data curation, search, sharing, storage, transfer, visualization, and information privacy. The term often refers simply to the use of predictive analytics or other certain advanced methods to extract value from data, and seldom to a particular size of data set. Accuracy in big data may lead to more confident decision making. And better decisions can mean greater operational efficiency, cost reduction and reduced risk.
In healthcare, Optum features products based on big data taken from all payers and practices, where healthcare companies can "improve outcomes and efficiency by leveraging" their analytics expertise. Another name you may be familiar with is Watson, the IBM data system. Watson uses big data to develop treatment protocols for illnesses and injuries.
Keep a Lookout for More Big Data
As the big data trend unfolds, you should see more companies popping up with big data solutions. For example, the new company Benevera Health, which is a partnership company comprised of New Hampshire hospitals (Dartmouth-Hitchcock, Elliot Health System, and Frisbie Memorial Hospital) and Harvard Pilgrim Health Care. Starting January 1, 2016, the new analytics company will manage the clinical and financial data across the organization by pooling "clinical, financial and operational information to improve care, drive down costs and keep premiums competitive," according to Healthcare Payer News.
This is a topic AAPC will cover in the future, so become familiar with it. We'll show you how big data may improve your healthcare system efficiency and bottom line.
Latest posts by Michelle Dick
(see all)