Win the Coders' Clock Game
October 1, 2015
Comments Off

on Win the Coders' Clock Game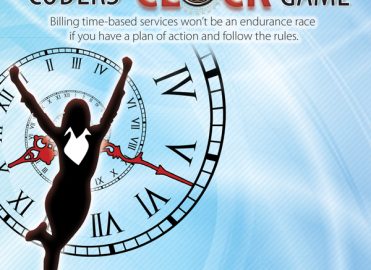 Billing time-based services won't be an endurance race if you have a plan of action and follow the rules.
Over the course of two decades, various medical specialties have had to adapt to the "clock game." Those specialties and their codes now include:
Anesthesiology
Physical therapy, rehabilitation, chiropractic, occupational therapy
Evaluation and management (E/M) services
Infusion therapy
Mental health
Let's explore time more closely, from a reporting and reimbursement perspective.
Anesthesiology
Other than a brief paragraph in the Anesthesia Guidelines within the CPT® codebook, there are no official guidelines published by the American Medical Association (AMA) regarding anesthesia time. Medicare historically required anesthesia time to be reported in minutes; and some private payers may have requested services to be reported in units.
Since the HIPAA 5010 transaction set became effective, however, the standard anesthesia reporting method is in minutes. Time begins when the anesthesiologist or certified registered nurse anesthetist (CRNA) prepares the patient for the induction of anesthesia, and concludes when the anesthesiologist or CRNA transfers the patient for postoperative supervision.
Although the reporting has become standardized, reimbursement for anesthesia continues to be controversial. Historically, units were determined by dividing the total number of minutes by 15 to determine the time units. Total units were determined according to the following formula:
Time Units  + Base Units for Code + Physical Status Modifier Units = Total Units
Converting time to units is open to three reimbursement methodologies, as shown in Chart A.



For example, depending on the method used, a patient undergoing an arthroscopic rotator cuff repair (29827 Arthroscopy, shoulder, surgical; with rotator cuff repair) with general anesthesia for 125 minutes may "count" as eight time units, nine time units, or 8.3 time units (excluding modifiers for physical status, or CRNAs with or without supervision by an anesthesiologist). In each case, report as 01630 Anesthesia for open or surgical arthroscopic procedures on humeral head and neck, sternoclavicular joint, acromioclavicular joint, and shoulder joint; not otherwise specified.
Method 3 is becoming more popular because it reimburses providers most accurately for time, with limited overpayments and underpayments associated with rounding.
Calculating anesthesia time becomes further complicated when modifiers are added to reflect shared services by an anesthesiologist and CRNA. Depending on the payer, reimbursement may be split by as much as 50 percent between the two providers.
Reimbursement tips:
Verify with payers the method used to determine time units. Share this information with the appeals team and management to determine efficiency for appeals and payment contracts.
Ensure all anesthesia services are reported in total minutes only. This will help to prevent denials or reduced reimbursement due to incorrect time unit conversions.
Verify the reimbursement split for shared services performed by a CRNA and an anesthesiologist.
PT, Rehab, Chiro, and OT
When coding physical therapy services for a physical therapist, occupational therapist, rehabilitation medicine doctor, and/or chiropractor, use the AMA time rule in the CPT® codebook's Introduction section and/or the Medicare time rule.
According to the AMA time rule, "A unit of time is attained when the mid-point is passed. For example, an hour is attained when 31 minutes have elapsed (more than midway between zero and 60 minutes). A second hour is attained when a total of 91 minutes have elapsed." Under this requirement, time-based physical therapy codes (97032-97542, 97750-97762) require a minimum of eight minutes to report the first unit. A second unit would require 23 minutes (15 minutes for the first full unit, and eight minutes for the midway point for the second unit).
Medicare has interpreted this rule to mean that the time spent performing all time-based physical therapy services is combined to determine the total number of units, and divided by 15 minutes. Chart B and Chart C show two examples of how services would be reported using the Medicare and the non-Medicare methods.





Providers must make a decision either to incorporate two different reporting standards, or to adopt a single reporting method. This inconsistency creates many challenges for providers, coders, billers, and accounts receivable.
Many insurance carriers have adopted the Medicare method, and some payers have placed limits on the number of units or amount of daily physical therapy services eligible for reimbursement. In some cases, certain services have received classification as complementary and alternative medicine (CAM), such as massage therapy (97124 Therapeutic procedure, 1 or more areas, each 15 minutes; massage, including effleurage, petrissage and/or tapotement (stroking, compression, percussion)). Some services, such as the application of hot and cold packs under 97010 Application of a modality to 1 or more areas; hot or cold packs have received universal denial as a status B code because the service requires no advanced training or skill to perform. To complicate matters, there are numerous codes for electrical stimulation, with no consistency amongst payers for reporting.
Tips for reporting physical therapy services:
Ensure the specific region or treated area (for all physical therapy codes) is documented.
Ensure the total treatment times for all time-based services are documented.
Ensure the treatment time for each individual time-based service is documented.
Identify in the records or company policy if you're using Medicare, non-Medicare, or both reporting methods.
Verify with payers the reporting policy for reimbursement.
Communicate payer information and company policy with your billing, appeals, and accounts receivable departments.
E/M Services
Unlike other time-based services codes, time-based coding for E/M services is meant to be the exception and not the rule. Generally, E/M services are coded based on the level of history, exam, and medical decision-making (MDM) after determining the type of patient and place of service. A few exceptions exist within E/M services, such as critical care. When choosing time as the controlling factor, the documentation must indicate total time, a statement that at least 50 percent of the time was spent performing counseling and/or coordination of care, and a description of the counseling and/or coordination of care.
Example 1: A new patient presents to the office for counseling of type II diabetes. The visit took 50 minutes, with more than 50 percent of that time spent counseling the patient on her medication, wound care treatment for diabetes, recognizing signs and symptoms of low and high blood sugar, and monitoring blood sugar levels at home. The service is reported with 99204 Office or other outpatient visit for the evaluation and management of a new patient, which requires these 3 key components: A comprehensive history; A comprehensive examination; Medical decision making of moderate complexity. Counseling and/or coordination of care with other physicians, other qualified health care professionals, or agencies are provided consistent with the nature of the problem(s) and the patient's and/or family's needs. Usually, the presenting problem(s) are of moderate to high severity. Typically, 45 minutes are spent face-to-face with the patient and/or family, with time as the controlling factor.
Example 2: A patient reports for pre-op clearance for knee surgery. The visit lasts 30 minutes and includes counseling and coordination of care. This is not reported based on time because the documentation does not indicate how much of those 30 minutes were spent performing counseling and coordination of care. The documentation also does not describe the extent of the counseling and coordination of care. The service would be coded based on two out of three key components for history, exam, and/or MDM.
For critical care services, documentation must indicate at least 30 minutes to report 99291 Critical care, evaluation and management of the critically ill or critically injured patient; first 30-74 minutes, with a minimum of 75 minutes to report +99292 Critical care, evaluation and management of the critically ill or critically injured patient; each additional 30 minutes (List separately in addition to code for primary service). The documentation must also demonstrate that critical care services are provided to a critically ill or injured patient.
Prolonged physician services (99354-99359) follow a similar reporting requirement, with a minimum of 30 minutes to report the first unit and 75 minutes required to report the second unit.
Hospital discharge management requires documentation of more than 30 minutes to qualify for 99239 Hospital discharge day management; more than 30 minutes.
Note that not all E/M services have an associated time. Emergency room services (99281-99285) have no time component. Some hospital observation codes (99218-99220 and 99234-99236) also have no associated time. Preventive medicine codes are based on the age of the patient, rather than the time.
Infusion Therapy
For infusion therapy services, time is more fluid for the first unit. Unlike other time-based codes that have a rigid time requirement, the first unit for infusion services (96365, 96367, 96369, 96413, 96417, and 96422) is reported up to 1 hour of service. For fewer than 15 minutes, however, report the injection or push service codes (96372-96379, 96409, 96411, and 96420) rather than the infusion codes. For each additional infusion, a minimum of 30 minutes beyond the first hour is necessary to report the additional infusion.
For example, a 60-year-old female patient recently diagnosed with limited-stage small cell lung cancer receives 1 hour of Cisplatin and Etoposide concurrently, followed by 100 minutes of Etoposide. This service is reported as 96413 Chemotherapy administration, intravenous infusion technique; up to 1 hour, single or initial substance/drug x 1, +96368 Intravenous infusion, for therapy, prophylaxis, or diagnosis (specify substance or drug); concurrent infusion (List separately in addition to code for primary procedure) x 1, and +96415 Chemotherapy administration, intravenous infusion technique; each additional hour (List separately in addition to code for primary procedure) x 2.
Mental Health
When mental health codes were changed in 2013, coders and providers were able to report services based on time ranges. Although psychotherapy is not reported if performed for 15 minutes or less, the available codes are based on ranges. This makes mental health codes unique when compared to physical therapy codes based on a time rule, infusions for services up to 1 hour, anesthesia with no clear AMA time rules, and E/M services with specific documentation requirements.
To choose the correct mental health code based on time, you must verify if it was performed with an E/M service by a qualified healthcare provider during the same encounter. Chart D and Chart E show two examples based on whether an E/M service was performed: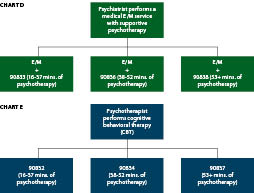 If a patient is in psychotherapy for crisis, you can throw out the mental health rules and bring in critical care time rules. In other words, if a patient is receiving psychotherapy for crisis, the first 30 to 74 minutes are reported as 90839 Psychotherapy for crisis; first 60 minutes. For each additional 30 minutes, report +90840 Psychotherapy for crisis; each additional 30 minutes (List separately in addition to code for primary service). For example, for 100 minutes of psychotherapy for crisis, the provider would report 90839 x 1 and 90840 x 1.
Have a Thorough Understanding of Guidelines
Looking back on these different rules for time, the clock game is an appropriate name for coding time-based services. Without clear and consistent guidelines for reporting or reimbursement, multiple standards may exist and potential billing errors can occur. Such errors may cause a provider to be charged or accused of false claims and other allegations of fraud, waste, or abuse. With such diverse rules for time-based services, providers and coders should verify with payers about reporting and reimbursement policies, develop clear internal policies, and consider specialized training for reporting these services. AAPC offers specialty coding credentials for Certified Anesthesia and Pain Management Coder (CANPC™), Certified Chiropractic Professional Coder (CCPC™), Certified Evaluation and Management Coder (CEMC™), and Certified Hematology and Oncology Coder (CHONC™) — all specialties that include many time-based services.
In the end, you must be certain of the following when reporting time-based services:
What is the specialty?
Does a specific time rule exist within the AMA CPT® codebook or with the payers?
Has the practice adopted a single standard for reporting physical therapy services?
Have the time rules and reimbursement rules been communicated to billing, appeals, and accounts receivable departments to ensure efficiency and accuracy in revenue cycle management?


---
Michael Strong, MSHCA, MBA, CPC, CEMC, is the bill review technical specialist at SFM Mutual Insurance Company. He is a former senior fraud investigator with years of experience performing investigations into fraud and abuse and a past EMT-B and college professor of health law and communications. Strong is a member of the St. Paul, Minnesota, local chapter. He can be contacted at michaelallenstrong@yahoo.com.
Latest posts by Guest Contributor
(see all)