Customer Service: The Key to Happy Patients' Experience
In AAPC News
October 1, 2015
Comments Off

on Customer Service: The Key to Happy Patients' Experience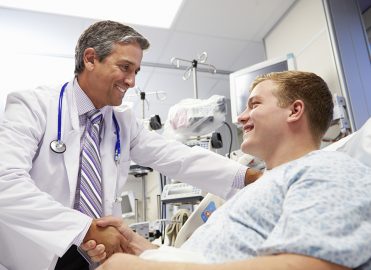 Promote a positive patient experience to retain loyal patients, improve finances, and reduce liability.
Successful retail and service industries know the importance of good customer service. The healthcare industry knows this, as well, but has only begun to see patients as "customers." Healthcare organizations are quickly learning that making customer service a business requirement reaps benefits that come with attracting and maintaining loyal patients.
In the wake of all the complexities built into our delivery systems, providing good customer service can be simple and uncomplicated when the right tactics are used. Delivering good customer service can provide triple benefits to your organization by:
Enhancing patient satisfaction
Improving financial performance
Reducing liability exposure
Patient Satisfaction
Enhancing patient satisfaction can be achieved by adopting a "three P" methodology, according to Jason Wolf in the Hospital Impact article, "The Importance of Anticipating the Patient Experience:"
People
Processes
Place
Your people are the most important aspect of this strategy. They are the ones making connections with your patients and they represent the brand that is your clinic or practice. Michael Eisner, the former CEO of Disney, said, "A brand is a living entity — and it is enriched or undermined cumulatively over time, the product of a thousand small gestures."
Small gestures — such as using the patient's name in a sentence, showing compassion, engaging him or her in the treatment process, or using simple language rather than medical jargon — build closer relationships. Building a service culture promoting staff who work together as a team, like their jobs, and respect one another can translate to higher patient confidence, better clinical outcomes, and patient retention.
Efficient processes also play a role in improving patient satisfaction. The use of technology — whether it's a patient portal to streamline the appointment process or receiving care plans and lab results electronically in a secure environment — adds to efficient processes patients seek. Patients are also looking for efficient access to care, including evening and weekend appointments, and urgent care availability.
Patients value efficient processes, such as scheduling appointments, managing correspondence, handling refills, prior authorizations, and facilitating communication with the medical team, and they like receiving services in one location. Streamlined processes create the value patients are coming to expect.
Patients are also seeking a place to receive their care in a clean and safe environment, with easy access and navigation. Virginia Mason Hospital in Seattle has studied wait times, walking distances, work sequencing, and other issues affecting their ability to treat patients as a way to add value to the patient experience. The high level of attention paid to both patient care policies and facility design has contributed to placing them in the 90th percentile of national quality surveys, according to "Customer Service in Health Care Optimizing Your Patient's Experience," by Karen A. Meek. Carole Kassir-Garcia, a senior interior designer with Collins Woerman, suggests the best places for patients to receive care are those that blend hospitality with wellness.
Financial Performance
The U.S. healthcare system is transforming from volume-based reimbursement to value-based reimbursement. The Affordable Care Act ties Medicare reimbursement, in part, to patient satisfaction scores and to quality and cost data. Commercial payers are joining the shift in reimbursement away from fee-for-service to pay-for-performance models, with customer service scores factored in. Medicare data and commercial payer data are posted online to aid patients in making informed decisions about their care.
It is estimated that 87 percent of Americans use the Internet, and that one in five report accessing provider ratings online prior to seeking care. Another 40 percent report they have left comments on rating websites related to their healthcare encounters with providers, according to Pew Research Center's article, "Peer-to-Peer Health Care." When you consider the number one quality patients are seeking in a provider is good service, and that future reimbursement will be tied partly into customer satisfaction scores, you can conclude that patients' perceptions of their care do have value, and their complaints should drive change toward improving customer service.
Liability Exposure
Liability exposure is an inherent risk with the practice of medicine. Approximately one in four physicians receives a complaint every year, and 65 percent of physicians are sued sometime during their careers, according to the Press Ganey whitepaper, "Return on Investment: Reducing Malpractice Claims by Improving Patient Satisfaction."
According to a number of studies about why patients pursue litigation, specific behaviors by physicians or their staff members may precipitate a lawsuit. The top three litigation triggers — did not listen, showed little concern, rude — suggest a lack of customer service as the main reason for a lawsuit.
Press Ganey said it best in the 2012 white paper:
Patients who are more satisfied are less likely to sue. Period. All studies of malpractice claims show the same result. Communication is the key to the vast majority of suits. Anger, not injury, is the trigger for most claims … empathy and good interpersonal skills prevent malpractice claims.
Treating patients as customers is a paradigm shift for healthcare. Patients today have a wide range of care options. This increases competition among providers and underscores the need for organizations to treat patients as customers. Taking steps to provide good customer service helps build and retain loyal patients, improves financial position, and reduces liability exposure. The premise is simple: Ask that an ordinary job be performed in an extraordinary way.
Resources:
Jason Wolf, Hospital Impact newsletter, "The Importance of Anticipating the Patient Experience," June 25, 2015: www.hospitalimpact.org/index.php/2015/06/25/the_importance_of_anticipating_the_patie
Karen A. Meek, "Customer Service in Health Care Optimizing Your Patient's Experience," November/December 2010 Bulletin, vol. 89, no. 6: http://pacificmedicalcenters.org/images/uploads/KCMS_Customer_Service_in_Healthcare.pdf
Suzanne Fox and Mauve Duggan, Health Online 2013, "Peer-to-Peer Health," Pew Research Center: www.pewinternet.org/2013/01/15/peer-to-peer-health-care/
Joseph Kuedar, M.D., The cHealth Blog, "What Do Patients Really Want? Part II; January 23, 2012: http://chealthblog.connectedhealth.org/2012/01/23/what-do-patients-really-want-part-ii/
Press Ganey, "Return on Investment: Reducing Malpractice Claims by Improving Patient Satisfaction," White Paper 2012: http://patientimpact.capson.com/filebin/pdf/Press_Ganey_Reducing_Malpractice_Final_12-14-07.pdf
---

Tracy Bird, FACMPE, CPC, CPMA, CEMC, CPC-I, is a senior practice management advisor for KaMMCO, a professional liability insurance company, serving physicians and hospitals in Kansas. She has over 39 years of experience working in all aspects of practice management, coding, billing, and staff development. Bird is a Fellow in the American College of Medical Practice Executives (FACMPE) and a member of the Kansas City, Mo., local chapter.
Latest posts by Guest Contributor
(see all)