Wellness Apps That Help You Regain Focus
October 1, 2015
Comments Off

on Wellness Apps That Help You Regain Focus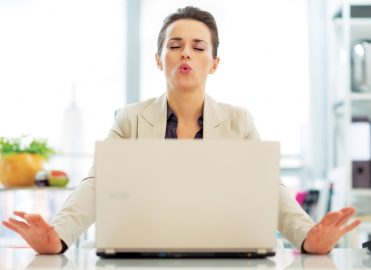 If you need a reminder to take a break and stretch — there's an app for that!
Do you get so busy at work that hours pass before you realize you haven't taken a break? This sort of work habit is actually counterproductive. To stay focused and prevent stress-related injuries, it's important to get up and move around every so often. If you're someone who needs a reminder to take care of yourself, there are many affordable wellness and fitness apps out there that can help you. Here are a few.
Office Yoga – Fitness AT Work 
The Office Yoga – Fitness AT Work  app shows yoga poses that you can do right at your desk. These exercises are so simple, you don't need previous yoga experience. The app explains each pose with photos, text instructions, and audio and video instructions. There are two versions of this app for iOS users: Office Yoga – Fitness AT Work is $1.99.
Office Yoga
Office Yoga is an Android app featuring simple postures you can do at your desk, in the copy room, or out in the hallway, and it's free.
Relax: Stress & Anxiety Relief
Relax: Stress & Anxiety Relief encourages you to focus on the connection between your breathing and your stress and anxiety. Stress can manifest in your body, so it's important to get it under control. The app guides your breathing, so you can close your eyes and relax. This app has a free Lite version, or you can purchase the full version for $4.99 for iOS or $3.99 for Android.
StretchClock
StretchClock is a browser add-on for Firefox. This application reminds you to take breaks and walks you through various stretching exercises.
Gimme a Break!
Gimme a Break! is a browser add-on for Google Chrome. It has a timer that allows you to schedule when you want to take breaks and for how long. A pop-up reminds you to take a break from your work to do some leisurely Internet surfing or to get up and leave your desk completely.
---

Bridget Toomey, CPC, CPB, RYT-200, teaches Kundalini yoga at Heartland Yoga in Iowa City, Iowa. She is certified by the Kundalini Research Institute as a Kundalini yoga teacher and is a member of the International Kundalini Yoga Teachers Association. Toomey works for the University of Iowa Hospitals and Clinics in Patient Financial Services as a revenue cycle coordinator, where she supervises staff on the physician Iowa Medicaid team. She is a member of the Iowa City, Iowa, local chapter.
Latest posts by Guest Contributor
(see all)