ICD-10 Case Study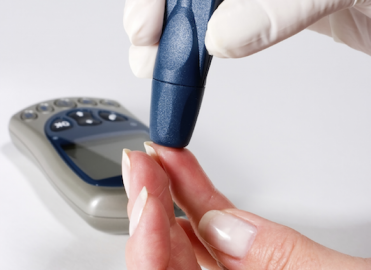 CHIEF COMPLAINT: Follow up on Diabetes.
HISTORY OF PRESENT ILLNESS: Established female patient presents today for a re-evaluation of her Diabetes Mellitus Type I. Last A1C was done in March, with a result of 7.9.  Patient is doing Accuchecks on a regular basis. Patient is compliant with diet. Patient is taking medications as prescribed. She is having problems with neuropathy. The onset was two week ago. Status has been worse, gradually. She states it is a burning in her feet.
REVIEW OF SYSTEMS: MUSCULOSKELETAL: Negative for, rheumatologic manifestations, back pain, myalgia. Positive for burning in her feet.
DIABETIC: Negative for: polyuria, polydipsia, hypoglycemia, new infection, weight loss, weight gain, paresthesia, chest pain, shortness of breath, dyspnea on exertion, claudication symptoms, new neurological symptoms, post prandial bloating, orthostasis, leg cramps, and vision changes.
MEDICATIONS: Humulin R, 100U/ml, 45 units AC.  Lantus 100U/ml, 60 units HS.
Exam:  WNL
ASSESSMENT/PLAN: 1) Diabetes Type I) Diabetic Neuralgia. Medications were reviewed with the patient. Will add Gabapentin 3) Poor control-Medications were reviewed with the patient. Clinical lab work was done today. Continue present management. The patient was instructed on 1600 cal ADA diet.
**********
Diabetes is documented as Type I. A combination code is used for Type I Diabetes with Neuropathy. The look-up of Diabetes, Type I, with neuralgia leads to E10.42 Type I Diabetes Mellitus with diabetic polyneuropathy. Because the patient is Type I, the guidelines state the code for long-term use of insulin is not reported.
Latest posts by Brad Ericson
(see all)