ICD-10-CM Coding: Cholesteatoma
In Coding
November 18, 2015
Comments Off

on ICD-10-CM Coding: Cholesteatoma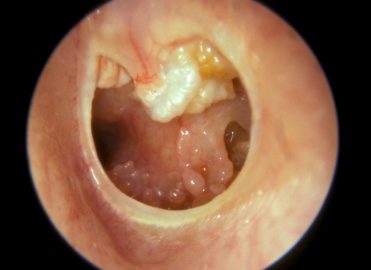 Cholesteatoma is an abnormal skin growth in the middle ear, behind the eardrum. These develop as cysts or pouches that fill with old skin cells and other waste material. Typically, a cholesteatoma occurs because of Eustachian tube dysfunction, as well as infection in the middle ear, and can lead to deafness.
There are two types of cholesteatoma:
Acquired cholesteatoma is the most common. It is caused by accumulation of keratin in a pouch of tympanic membrane extending into the middle ear space. Cholesteatoma may also result from trauma, or metaplasia of the middle ear mucosa (metaplasia is the replacement of one differentiated cell type with another mature differentiated cell).
Congenital cholesteatoma are most commonly found in the anterior aspect of the eardrum.
Good clinical documentation should include the specific site or location of the Cholesteatoma (such as attic, tympanum, mastoid, and external ear). ICD-10-CM introduces the concept of laterality, and complete documentation should detail whether the Cholesteatoma is left, right, or bilateral. If laterality is not documented, you must use an unspecified code.
Example: The patient was brought to the OR and placed supine on the operating table. General anesthesia was established and the patient intubated. He was given antibiotics and turned 180degrees on the table. The facial nerve monitor was placed into the left facial muscles, and thereafter facial nerve monitoring was performed for the duration of the case. The left ear was then injected with 2 ml of 1 percent Lidocaine. After the left ear was prepped and draped, the operating microscope was brought in. A tympanomeatal flap was then created and elevated entering into the middle ear. We immediately encountered in the middle ear small cholesteatoma pearl adjacent to the scutal wall and was attached to the chora tympani. The scutum was curetted for further visualization and then the pearl, which was fairly well intact and was lifted out with a teratoma dissecting instrument. The chorda tympani was sacrificed and removed with the cholesteatoma. Otoendoscope revealed a clear area. Canal was packed with Gelfoam and a band-aid. The patient was turned back from anesthesia, awakened, extubated and brought to recovery in stable condition.
Findings: Small cholesteatoma pearl, fairly encapsulated and attached to chorda, and was removed along with the chorda.
This example contains documentation of the location of the cholesteatoma as tympanum, and the laterality as left ear.
Code Assignment
H71.0 Cholesteatoma of attic
H71.1 Cholesteatoma of tympanum
H71.2 Cholesteatoma of mastoid
H71.3 Diffuse cholesteatoma
H71.9 Unspecified cholesteatoma
Additionally, category H71 contains an Excludes II note, which indicates that you may separate report the presence of additional conditions, when present:
Excludes II:
Cholesteatoma of external ear (H60.4-)
Recurrent cholesteatoma of postmastiodectomy cavity (H95.0-)
Example: A twenty-two-year-old male presented with complaints of decreased hearing. Video otoscopic examination revealed keratin debris and "attic cerumen" in the right ear. CT scan indicated attic cholesteatoma with the beginnings of bone erosion. Left ear unremarkable.
In this example the patient is experiencing decreased hearing. Diagnostic testing confirms cholesteatoma in the right ear. The location is documented as "attic." The correct code is H72.01.
Latest posts by John Verhovshek
(see all)