Fraud & Abuse: A Growing Trend in Criminal Cases
November 1, 2015
Comments Off

on Fraud & Abuse: A Growing Trend in Criminal Cases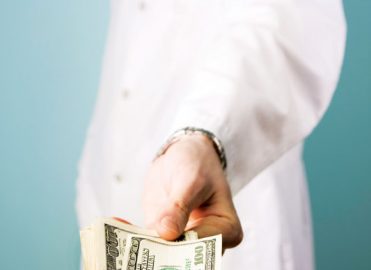 Get an insider's view of the history of government targets, healthcare risks, and criminal prosecutions.
The False Claims Act (FCA) imposes civil liability on any person who knowingly submits, or causes the submission of, a false or fraudulent claim to the federal government. The "knowing" standard includes acting in deliberate ignorance or reckless disregard of the truth related to the claim.
Example: A physician submits claims to Medicare for a higher level of medical services than actually provided or than documented in the medical record.
FCA Fines and Recovery
Civil penalties for violating the FCA can include fines of $5,500-$11,000, per false claim, and up to three times the amount of damages the government sustains as a result of the claim.
The U.S. Department of Justice (DOJ) reported that it recovered more than $5.6 billion in settlements and judgments from cases arising under the FCA in the fiscal year ending September 30, 2014. This amount was $1.8 billion more than the amount recovered in 2013, and it's the first annual recovery to exceed $5 billion.
Criminal FCA Statute Penalties
There is also a criminal FCA statute, under which individuals or entities that submit false claims can face criminal penalties. In fact, there are several statues (see Table 1), including the healthcare fraud statute, 18 U.S.C. § 1347, which targets defendants who "… knowingly and willfully [execute], or [attempt] to execute, a scheme or artifice to defraud any health care benefit program." To secure a conviction under this statute, the federal government must prove beyond a reasonable doubt that a defendant acted knowingly and willfully (in addition to other elements of the crime).

In addition to charges under the healthcare fraud statute, charges often are filed under the federal wire fraud statute, 18 U.S.C. § 1343, which criminalizes sending by wire any writing or signal (among other items) by persons who have devised or intend to devise any scheme or artifice to defraud for purposes of executing that scheme. Conviction under this statute does not require proof of criminal intent — only proof the defendant devised a scheme (or intended to) and sent a message via wire for purposes of executing the scheme. The level of proof required by the wire fraud statute is significantly lower than that of the healthcare fraud statute.
There are staggering increases in criminal cases and prosecutions involving a lead charge under the federal healthcare fraud statute. According to a 2015 Transactional Records Access Clearinghouse (TRAC) Report, "… fraud by wire, radio or television under 18 U.S.C. $ 1343 tops the list of lead charges. This also topped last year's list. … Among the current top ten lead charges, the greatest projected increase in prosecutions involves healthcare fraud, prosecuted under Title 18 U.S.C. $ 1347. Such prosecutions have increased 5.45 percent from a year ago and are up 22.1 percent compared with five years ago."
Operation Restore Trust
The modern history of the FCA can be traced to President Bill Clinton's Operation Restore Trust initiative, which began in September 1995 as a pilot project in five states. The use of new investigative techniques was successful, with 35 criminal convictions and 18 civil judgments, along with $42.3 million in recoveries in its first year. The new techniques included:
Use of sophisticated statistical methods to target providers for investigations and audits
Use of Health Care Financing Administration (now the Centers for Medicare & Medicaid Services (CMS)) data staff teams, Office of Inspector General auditors, and nurses from state agencies to conduct comprehensive reviews of rehab and skilled nursing facilities with unusually high Medicare reimbursement rates. Reviews looked both at facility-specific issues, as well as potential systemic problems.
Increased emphasis on concerted planning and executing of investigations with the DOJ and other law enforcement agencies
The passage of HIPAA in 1996 provided funding to continue the Clinton administration's focus on healthcare fraud, and established a national Health Care Fraud and Abuse Control Program (HCFAC).
Reform Expands FCA Scope
In May 2009, significant new federal FCA amendments were signed into law as part of the Fraud Enforcement and Recovery Act (FERA). FERA expands the scope of the FCA to permit the government, and whistleblowers acting on behalf of the government in qui tam actions, to recover monies more easily. The 2010 Patient Protection and Affordable Care Act (ACA) further strengthened the government's focus on healthcare fraud, allocating an additional $350 million to that effort over the next 10 years.
The recoveries and reach of these initiatives have grown far beyond the first year of Operation Restore Trust. Since HCFAC was established in 1997, over $27.8 billion was returned to the Medicare Trust Fund, resulting in a return on investment of $7.70 for every $1 expended between 2012 and 2014.
On June 18, 2015, DOJ announced criminal charges against 243 individuals located in 14 states for various healthcare fraud related offenses. Attorney General Loretta Lynch announced it as "the largest criminal takedown in the history of the DOJ." It included doctors, nurses, and other healthcare workers. The government alleges the fraudulent schemes involved more than $700 million in false billings (not payments).
Fraud Detection Gets Sophisticated
With so much recoupment of money from prosecuting fraud schemes, the government will continue to aggressively treat false billings as a criminal offense. The growth in criminal charges can be contributed to the federal government's adoption of enhanced criminal investigative and enforcement techniques, including the use of search warrants, wire taps, and FBI raids in healthcare cases. These techniques were used commonly for other types of criminal activities, but were seldom employed in the healthcare arena.
The ACA armed federal prosecutors with more firepower, using amendments to the U.S. Sentencing Guidelines to argue that a convicted defendant should face more jail time. Federal judges must consult the Sentencing Guidelines to determine a defendant's sentence, and the November 1, 2014, amended guidelines now allow judges to consider "the aggregate dollar amount of fraudulent bills submitted (not paid) by a government health care program."
As directed by the Sentencing Guidelines, federal judges are also allowed to consider sentencing a defendant to greater jail time simply because the defendant was convicted of committing a healthcare fraud offense. As a result of the ACA and revisions to the Sentencing Guidelines, a defendant could serve twice as much time in jail for committing healthcare fraud — up to a life sentence imprisonment.
Re-enforcing the full use of the government's arsenal to fight healthcare fraud, Assistant Attorney General for the Criminal Division of the DOJ, Leslie Caldwell, announced during a September 17, 2014, speech at the Taxpayers Against Fraud Education Fund Conference in Washington, D.C. that the DOJ will be "stepping up" its use of FCA lawsuits against healthcare companies, corporate healthcare entities, and their employees. Caldwell specifically stated that the DOJ would be "committing more resources" to scrutinizing FCA complaints for evidence of criminal wrongdoing.
During the speech, Caldwell also vaunted the DOJ's Medicare Fraud Strike Force and announced her intention to increase prosecutions of corporations involved in healthcare fraud. She further noted that the strike force averaged sentences of over four years of incarceration, per individual in criminal cases; signaling that the DOJ determined that monetary fines are not the only resolution to cases that involve fraudulent conduct.
Whistleblower Cases Are a Joint Effort
Another announcement was made whereby all new qui tam (whistleblower) complaints filed under the FCA are reviewed by the Criminal Division of the DOJ. Under the new qui tam review procedure, the Civil Division of the DOJ shares qui tam cases with the Criminal Division as soon as they are filed. Experienced prosecutors in the Fraud Section review the cases immediately to decide whether to open a parallel criminal investigation. The prosecutors then collaborate with the DOJ Civil Division and with U.S. attorneys' offices to decide how best to proceed in the parallel investigations.
Acknowledge Trends and Reduce Your Risk
Coders and healthcare providers must acknowledge the trends in criminal cases and increase vigilance. As healthcare fraud enforcement teams continue to employ new techniques such as data mining, and as monetary recovery and prison sentences continue reaching new heights, the healthcare industry can expect increased scrutiny and more prosecutions.
References
www.cms.gov/Outreach-and-Education/Medicare-Learning-Network-MLN/MLNProducts/Downloads/Avoiding_Medicare_FandA_Physicians_FactSheet_905645.pdf
www.justice.gov/opa/pr/justice-department-recovers-nearly-6-billion-false-claims-act-cases-fiscal-year-2014
http://oig.hhs.gov/reports-and-publications/hcfac/index.asp
http://archive.hhs.gov/news/press/1996pres/960513.html
https://oig.hhs.gov/publications/docs/hcfac/FY2014-hcfac.pdf
www.justice.gov/opa/pr/national-medicare-fraud-takedown-results-charges-against-243-individuals-approximately-712
www.ussc.gov/guidelines-manual/amendments-guidelines-manual
Remarks by Assistant Attorney General for the Criminal Division Leslie R. Caldwell
at TAF Education Fund Conference (September 17, 2014), at
www.justice.gov/criminal/pr/speeches/2014/crm
www.cms.gov/Outreach-and-Education/Medicare-Learning-Network-MLN/MLNProducts/Downloads/Avoiding_Medicare_FandA_Physicians_FactSheet_905645.pdf
TRAC Report, July 29, 2015: http://trac.syr.edu/tracreports/crim/398/
---

Joette Derricks, MPA, CPC, CHC, FACMPE, CSSGB, CLSSBB, has more than 35 years of healthcare compliance experience involving hospitals and physician practices revenue cycle management and broad-based regulatory issues. As a qualified expert she has provided testimony and expert reports on behalf of providers in defense of fraud and abuse concerns. Derricks is a member of the Ann Arbor, Mich., local chapter.
Latest posts by Guest Contributor
(see all)