Snack Attack? Fight Back!
November 1, 2015
Comments Off

on Snack Attack? Fight Back!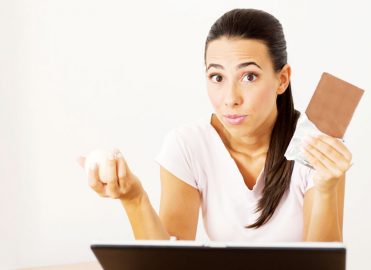 When the urge to eat hits, but your belly isn't growling, you can survive an office snack attack.
The office is a dangerous place for your waistline. There's cake for a co-worker's birthday. There are doughnuts in the break room and a vending machine down the hall. There's a candy jar on your office mate's shelf. And don't forget that "emergency" chocolate bar stashed in your desk drawer!
The best way to be sure all that sugary goodness doesn't take a toll on your health is to pay attention to your eating habits. A lot of snacking is mindless and has little, if anything, to do with hunger.
Consider Your Motivation and Redirect It
Do you reach for a snack when you're bored or restless? When you're stressed? When you're procrastinating? If you're able to identify the situations or emotions causing you to eat needlessly, you can determine healthier ways to cope.
For example, I'll often feel the urge to snack if I'm having difficulty completing a task. What I really want is a break, and the snack provides an excuse to step back from the task for a moment.
As a parent of a toddler, I've learned diversion is a powerful tool. The next time you feel like reaching for a cookie, acknowledge the urge and find a different means to satisfy it. In my example above, I could get out of my chair, stretch, take a brief walk, or whatever satisfies my real need for a brief break. The point is to reward yourself without resorting to a sugar fix.
Change Bad Habits
Don't eat while working (or watching television, or talking on the phone, etc.). If your mind is elsewhere, you won't enjoy the food you're eating, and you're much more likely to overeat or eat unnecessarily. Eating at your desk can also cause you to eat too quickly. By eating more slowly, you give your body the chance to signal when you're full, before you've overeaten.
Schedule your snacks, and write down what you eat. This is another way to avoid absentminded eating, and it keeps you accountable. Set a goal for the number of snacks you'll allow yourself for the week and stick to it. Be honest with yourself about portion sizes. A cookie six inches in diameter is not one cookie.
Planning ahead also helps you to avoid unhealthy snacks. It's easier to avoid the mega-muffin if you have something more healthful at hand to munch on. If you're a nervous eater, keep some celery or carrot sticks nearby. They may not taste great to you, but if you snack for reasons other than hunger, why splurge on something unhealthy?
Keep less healthful snacks (just about anything that is processed) out of sight and as far away as possible. You're more likely to snack unnecessarily if surrounded by treats. Clean out your desk and ask co-workers to put away candy bowls. Suggest healthier alternatives for the break room and vending machine food, or simply avoid those areas, if you must.
Drink more water. Dehydration can make you feel hungry, and enjoying a tall, icy glass of water can divert you from snacking.
Another great way to fight off the urge to snack is to brush your teeth. Not only does this redirect your attention, the minty taste it leaves behind can make a snack unappetizing.
Finally, don't give up if you have a bad day. One too many Oreos® today does not mean defeat forever!
Every Bit Helps
Although sugary snacks are best enjoyed in moderation, there are times when sliced vegetables and hummus just won't do. If your sweet tooth can't be ignored, keep your portion sizes in control, and seek out recipes that use little (or no) sugar and fat. Often, you can reduce the calorie count and still get full flavor — and receive praise from those who sample your handiwork. Below are a few delicious examples to inspire you.
These "cookies" have a moist, cake-like texture. They're a healthier alternative to the typical donut, morning mega-muffin, or after-dinner brownie binge.
Morning Glories – Recipe makes approximately 30 cookies.
Ingredients:
¾ cup butter (room temperature)
1-½ cups granulated sugar
2 large eggs
2-¾ cups all purpose flour
1 teaspoon baking powder
Pinch of salt
½ teaspoon cinnamon
1 cup finely grated carrots (2-4 carrots)
1 grated peeled medium/large apple
1 teaspoon fresh orange zest
1 teaspoon vanilla extract
1 cup dried cranberries or cherries
½ cup unsweetened coconut flakes
1 cup sliced almonds (toast in a 325 degree oven for 10 minutes or until golden and allow to cool)
Directions:
Preheat oven to 350 degrees.
Grate carrot and apple (do not drain). Add vanilla, orange zest, dried fruit, and coconut flakes. Using your hands, crush cooled almonds into this mixture and set aside.
In separate bowl, prepare flour, baking powder, salt, and cinnamon. Set aside.
Using an electric mixer on medium speed, cream butter and sugar until light and fluffy (approx. 1 minute). Add eggs one at a time, mixing until yellow of egg disappears (approx. 15-30 seconds, per egg).
Add carrot mixture (including any liquid from carrot/apple mixture) and almonds. Mix until combined.
On a lower speed, slowly add the flour mixture, mixing only until just incorporated (do not over mix). Dough will be very sticky. Place batter in refrigerator for at least 1 hour.
Using an ice cream scoop (1/4 cup ball), place a portion of dough every 2 to 3 inches on parchment paper-lined baking sheets. You can bake cookies immediately (see below) or freeze the cookies on the baking sheet and store them for up to a month in a large freezer bag for later baking.
Bake at 350 degrees for 20-25 minutes. Cookies should be firm. Test doneness by inserting a toothpick (it will come out dry if the cookies are ready). Cookies will be browned on the bottoms, but the tops will be a golden yellow. Allow to cool on baking sheet for 5-10 minutes, and then transfer to a wire rack to cool completely.
Cookies may be stored at room temperature (or in the refrigerator) for 3-5 days.
Despite granola's reputation as a healthy snack, packaged granola bars are often anything but. Here's a no-bake recipe that uses just a bit of honey and plenty of dried fruit to create the sweet and chewy texture many of us crave, while cutting out refined sugar and preservatives.
No-bake Chewy Granola Bars – Makes 16 2-inch x 2-inch bars.
Ingredients:
1 cup dried dates (or you may use whole, pitted dates) – Hydrate by placing in a bowl and covering with water for 5-10 minutes, then drain.
¼ cup honey
¼ cup natural, crunchy almond butter (unsalted/unsweetened)
1-½ cups oats (not quick oats)
¼ cup steel cut oats
1 cup unsalted sliced almonds
½ cup raw pumpkin seeds (unsalted)
1 cup dried cherries (you may substitute dried cranberries or raisins)
¼ cup unsweetened coconut flakes (optional)
Directions:
Toast oats and steel cut oats in a 325-degree oven for 10-15 minutes (this will not significantly alter the original color of oats). On a separate sheet pan, lightly toast sliced almonds (approx. 10 minutes). Do not allow the almonds to get too dark. Allow oats and almonds to cool to room temperature.
Using a blender or food processor, process drained dates for 30 seconds to 1 minute (will be gooey in texture).
In a large bowl, use a wooden spoon or spatula to combine the processed dates, honey, almond butter, dried fruit, and cooled oats and almonds until thoroughly combined. The mixture will be very sticky.
Place mixture into an 8-inch x 8-inch pan, lined with wax paper or parchment paper. Press down firmly with the back of a spoon until mixture is uniform in pan and packed tightly. Place another piece of wax paper or parchment on top of mixture and place in freezer for 20-30 minutes.
Remove top sheet of wax/parchment paper, flip pan onto cutting board, and cut into 2-inch x 2-inch bars. They can be stored in an airtight container in the refrigerator for 5-7 days.
---

John Verhovshek, MA, CPC, is managing editor at AAPC and a member of the Hendersonville-Asheville, N.C., local chapter.
Latest posts by John Verhovshek
(see all)