The Medical Scribe: A Hot Commodity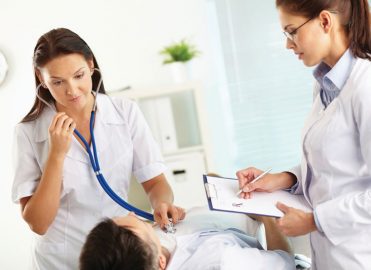 They streamline the documentation process so physicians can concentrate on healing patients.
HIPAA regulations, ICD-10 documentation requirements, electronic health records (EHRs), and quality initiatives, among other things, have put a lot of demands on physicians' time. To regain focus on healing people, many physicians and hospitals are hiring medical scribes to delegate administrative tasks.
The Role of the Medical Scribe
For centuries, scribes have been documenting important events for recordkeeping. It's been a natural progression for scribes to enter the healthcare industry. Their usefulness for capturing accurate and detailed documentation (handwritten, electronic, or otherwise) of the physician/patient encounter is undeniable.
Although there are no prevailing federal regulations concerning the use of scribes in the healthcare setting, there are plenty of opinions for what a scribe may do.
The Joint Commission takes the stand that a scribe "does not and may not act independently" but can document the physician's or practitioner's dictation and/or activities. The healthcare certifying organization goes further to say that scribes may assist practitioners in navigating EHRs and in locating information such as test results and lab results.
Medicare administrative contractors (MACs) also may have something to say on the matter. Cahaba GBA, for example, published guidance in the form of a local coverage article (A52695), in which it reiterates The Joint Commission's opinion and adds, "The physician who receives the payment for the services is expected to be the person delivering the services and creating the record, which is simply 'scribed' by another person."
The Jurisdiction J MAC further states that when a scribe independently records the past, family and social history and the review of systems (ROS) for an evaluation and management (E/M) service — in as far as the scribe is simply documenting the physician's words and activities during the visit — the physician may count that work toward the final level of service billed.
Examples of information entered by a scribe into the EHR or chart may include:
History of the patient's present illness
ROS and physical examination
Vital signs and lab values
Results of imaging studies
Progress notes
Continued care plan and medication lists
Scribes are generally not credentialed medical personnel and, therefore, rarely qualify to enter computerized physician order entry (CPOE) in the EHR to meet meaningful use requirements. The Centers for Medicare & Medicaid Services (CMS) realizes there are exceptions:
If a staff member of the eligible provider is appropriately credentialed and performs similar assistive services as a medical assistant but carries a more specific title due to either specialization of their duties or to the specialty of the medical professional they assist, he or she can use the CPOE function of CEHRT [certified EHR technology] and have it count towards the measure. This determination must be made by the eligible provider based on individual workflow and the duties performed by the staff member in question.
A scribe might also be responsible for expediting patient flow through surgery under direction of the medical doctor or other qualified healthcare provider, and facilitating patient flow by assisting the provider in navigating through electronic documentation including entering orders, reviewing lab/test results, post-op notes, medication reconciliation, and discharge summaries.
A scribe's responsibilities are ultimately controlled by the regulatory requirements and policies established by the provider, and the level of risk an employer is willing to accept.
Legal Ramifications
As with any employee or contractor who has access to patient records, a scribe must abide by HIPAA and HITECH regulations.
Compliance with the Record of Care and Provision of Care standards also apply. It is important to be certain that the scribe's services are used and documented appropriately, and that the documentation is present in the medical record to support that the physician actually performed the service.
For example:
The scribe must sign (name and title), date, and time stamp all entries into the medical record — electronic or manual.
The role and signature of the scribe must be clearly identifiable and distinguishable from that of the physician or licensed independent practitioner or other staff.
The scribe cannot enter the date and time for the physician or practitioner. Although allowed in other situations, a physician or practitioner signature stamp is not permitted for use in the authentication of scribed entries; the physician or practitioner must actually sign or authenticate through the clinical information system, and do so before the physician or practitioner and scribe leave the patient care area.
The provider's note should indicate:
Affirmation of the provider's presence during the time the encounter was recorded
Verification that the provider reviewed the information
Verification of information accuracy
Any additional information needed
Authentication, including date and time
It's The Joint Commission's stand that scribes may not make independent decisions or translations while capturing or entering information into the health record beyond what is directed by the provider; nor does the agency support scribes entering orders for physicians or practitioners.
As the use of scribes becomes more prevalent, the potential for expanded legal guidance and direction grows. Physicians using scribes must monitor federal and state regulatory changes to ensure their practices consistently meet compliance standards. Certified scribes will become in high demand, as their credentials will negate much of that liability.
Becoming a Medical Scribe
Working as a medical scribe requires more than just good penmanship and computer skills. A qualified, employable scribe comes equipped with a broad range of skills, such as:
Knowledge of medical terminology and technical spelling
Basic anatomy
Familiarization with HIPAA Privacy and Security Rules
Medico-legal risk mitigation
An understanding of the essential elements of documenting a physician-patient encounter and E/M levels
Knowledge of federal initiative requirements
General knowledge of the roles and responsibilities of medical personnel and billing practices
Strong interpersonal and communication skills
You will also need at least a high school diploma and at least one year of experience in the healthcare field.
As a scribe, you may find employment or contract work in various settings, including physician practices, hospitals, emergency departments, long-term care facilities, long-term acute care hospitals, public health clinics, and ambulatory surgery centers.
Medical Scribes Improve Productivity
ProScribe, a medical scribe employment service, collected and compared data from a five-hospital system over a three-year period to demonstrate the impact of scribe services on physician productivity, throughput metrics, and patient satisfaction. The results are impressive.
ProScribe was also able to demonstrate a 20 percent increase in provider productivity after one year of scribe services. The five-hospital system saw an increase of 40,000 patients from year 1 to year 3.
In ProScribe's case study, there were demonstrated improvements in door-to-provider times and door-to-discharge times, as well as a significant decrease in the number of patients who left without being seen.
Resources
www.jointcommission.org/standards_information/jcfaqdetails.aspx?StandardsFaqId=426&ProgramId=47
www.cms.gov/medicare-coverage-database
www.healthit.gov/providers-professionals/meaningful-use-definition-objectives
https://questions.cms.gov/faq.php?faqId=9058
---

Renee Dustman is executive editor at AAPC.
Latest posts by Renee Dustman
(see all)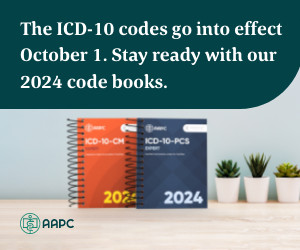 5 Responses to "The Medical Scribe: A Hot Commodity"