Onboarding Employees in a Small Office
December 1, 2015
Comments Off

on Onboarding Employees in a Small Office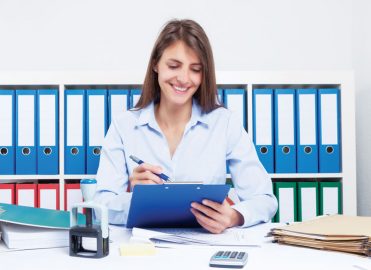 Invest in new employees and focus on the benefits small practices offer.
Bringing new employees up to speed requires a significant investment, which may be especially challenging in smaller offices lacking a formal training program or other dedicated resources. For practice managers in small and growing offices (two to 10 practitioners), there are several ways to ease the process.
First, Find a Match
Successfully integrating a new employee into your office depends on finding the right person for the job.
When writing a help wanted ad — and when conducting interviews — name the exact qualities you are seeking in an employee and the requirements of the job. Rather than saying, "must be motivated and willing to multi-task," list the typical duties the job entails, and stress the specific skills an applicant must have.
For example, important qualities for front desk staff are the ability to stay positive even if a patient is being unpleasant, and not to take patients' negative comments personally.
The interview process lasts a long time, and involves several steps. When resources are tight, you can't afford to hire the wrong person. During an initial interview, try to gauge the individual's level of professionalism and seriousness about the job. You may want to test the applicant's skill or knowledge. When interviewing someone for a coding/billing position, for example, you might ask the applicant how he or she would handle a few real-life scenarios you've had in your office (such as complaints about a wrong billing code).
If you are impressed with a candidate after an initial interview, invite the person back to spend an hour observing the job he or she would be doing (have the individual sign a confidentiality agreement first). Do this on a busy day, so he or she can see what is expected. Some candidates may find they are not interested after they see what really goes on.
The smaller an office, the more everyone must work together and contribute to a positive environment. You may want to bring your top two or three candidates back for a group interview with existing staff. This gives staff a stake in the future employee's success, and allows them to share the credit for new hires. Review staff questions for the candidate ahead of time to be sure they are appropriate.
Quality healthcare is a mission, not a job, and it takes a certain kind of person to work in our industry. Throughout the interview process, consider how an applicant's personality will help (or hinder) his or her success. Employees must be resilient and even-tempered. The busy, messy, day-to-day realities of a healthcare office may disappoint idealists or the faint of heart.
For example, general surgeons deal with life and death daily. They often treat trauma victims in the hospital, and occasionally must be the bearers of bad news. Patients are likely to be physically stressed and generally worried. Emotions run high and frustrations build. Even the nicest people can snap when things aren't going well. In addition to professional competence, healthcare workers must have thick skin, humility, and patience.
Training Tips to Boost Competency
When training new employees, get creative. For example, HIPAA and Occupational Safety & Health Administration (OSHA) training videos (often with accompanying exams to test employee comprehension) are widely available simply by searching online. Check with your professional colleagues (for example, at your next AAPC chapter meeting) and ask if they have effective resources they'd recommend or share. You might also look to your vendors to provide low- or no-cost training. For instance, the service that collects used sharps must offer OSHA training to its employees. As part of your contract with the company, ask that they share training materials (such as binders or an instructional DVD) with your staff.
If your internal systems include a training component, take advantage of them. For example, some electronic health records (EHRs) include webinars to teach employees how to use the system. Have employees view the webinars throughout their initial 90 days, and beyond, so they learn to become efficient in the system with less trial and error.
For each position, ask an experienced employee to make a check-off list of daily, weekly, and monthly responsibilities. The new-hire can check off items on the list as he or she is trained on each area. The list can also double as a reminder of regular tasks to be completed.
You may want to ask experienced employees to create a three-ring binder for each position that describes what needs to be done and how to do it. For example, a binder might include instructions on how to order scans for each payer.
Keep Tabs, Get Feedback, and Improve
Assessments are useful to provide feedback to employees, but also to ask for feedback. Conduct 90-day self-assessments of your new-hires to help answer these questions:
What tasks are you most comfortable doing?
In what areas are you least comfortable?
What parts of your job do you like and not like?
How can the practice help to make your job easier?
Never punish an employee for his or her opinion; use the responses as feedback to improve the overall practice. For example, a fresh set of eyes may recognize a more efficient way to complete a task, or may notice a weakness in training. One of the main advantages of a smaller practice is that you can adopt new processes fairly quickly, with a minimum of red tape.
Self-assessments also help pinpoint and curtail employee problems before they escalate. You are better off hearing about and responding to a complaint before a disgruntled employee "poisons the well" and turns other employees negative. For example, an employee who is unhappy with your "earned time off" policy may be willing to talk through the issue, so he or she no longer needs to complain to other employees.
Above all, at every step along the way, it's important to have transparency and to clearly define employee expectations. This contributes to everyone's peace of mind and satisfaction, which will improve employee morale.
---

Ellen Wood, CPC, CMPE, has worked in the medical field for over 20 years and has been a certified coder for over 13 years. She is the practice manager for Seacoast General Surgery and an adjunct professor at a local community college. Wood's experience includes employee mentoring and oversight of meaningful use policies and objectives, PQRS, and ePrescribing programs. She helped to start the first New Hampshire local chapter, Seacoast-Dover, and served on its board.
Latest posts by Guest Contributor
(see all)