Eliminate Common Errors on Ordering/Referring Provider Claims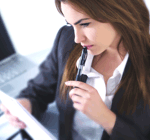 There are all sorts of reasons why a Medicare claim may be denied. Sometimes, it's because of non-coverage. More often, it's because of human error. Many human errors are due to misinformation; but, just as many (if not more) are the result of complacency. For example, let's consider item 17 on the CMS-1500 claim form.
When to Complete Item 17
First, you need to know which items and services require the submission of the ordering/referring provider information in item 17. Medicare requires the ordering/referring provider information for the following:
Medicare covered services and items that are the result of a physician's order or referral
Parenteral and enteral nutrition
Immunosuppressive drug claims
Hepatitis B claims
Diagnostic laboratory services
Diagnostic radiology services
Portable X-ray services
Consultative services
Durable medical equipment
When the ordering physician is also the performing physician
When a service is incident to the service of a physician or non-physician practitioner, the name of the physician or non-physician practitioner who performs the initial service and orders the non-physician service must appear in item 17
When a physician extender or other limited licensed practitioner refers a patient for consultative service, submit the name of the supervising physician
Effective for claims with dates of service on or after October 1, 2012, all claims for physical therapy, occupational therapy, or speech-language pathology services, including those furnished incident-to a physician or nonphysician practitioner, require that the name and NPI of the certifying physician or nonphysician practitioner of the therapy plan of care be entered as the referring physician in Items 17 and 17b.
Mistaken Identity
Ordering/referring providers must be identified in item 17. According to Noridian Healthcare Solutions, common claims submission errors for this line item include:
Provider name spelled incorrectly
Provider name submitted incorrectly (e.g., wrong juxtaposition of first and last name)
Use of middle initial or middle name (The field is formatted for first and last name, only. If you enter, for example, John James Doe, the system will read John James.)
Use of nicknames or the inclusion of credentials (M.D., D.O., etc.)
Tip: On paper claims (CMS-1500), in item 17, only include the first and last name as it appears on the Ordering and Referring file, found on CMS.gov.
Invalid Information
The above errors are easily fixed. More serious errors that may wind up costing the provider money involve:
Submitting invalid referring/ordering physician information
Forgetting to include or using wrong qualifier
Submitting a claim for items or services ordered or referred by a specialty not qualified to do so
Submitting an invalid National Provider Identifier (NPI) (Group NPIs are not valid as a referral.)
Note that providers and suppliers may not bill Medicare beneficiaries for unpaid claims that are denied because they failed the ordering/referring edit. Therefore, an Advance Beneficiary Notice is not appropriate in this situation.
Know Who May Order/Refer
Just because a provider is enrolled in Medicare and has his or her own NPI does not mean he or she is eligible to order and refer items/services for Medicare patients.
Only physicians and certain types of non-physician practitioners are eligible to order or refer these items or services for Medicare beneficiaries. Among those eligible are:
Physicians – Medical doctor (MD), doctor of osteopathic medicine (DO), doctor of dental medicine, doctor of dental surgery, doctor of podiatric medicine, doctor of optometry;
Physician assistants;
Nurse practitioners;
Clinical nurse specialists;
Interns, residents, and fellows;
Certified nurse midwives; and
Clinical social workers.
Note that chiropractors are not eligible to order or refer; home health agency services may only be ordered/referred by a doctor of medicine, osteopathy, or podiatric medicine; and optometrists may only order and refer durable medical equipment items/services and laboratory and X-ray services payable under Medicare Part B.
Bottom line: Human error is unavoidable, but being well-informed will cut your error rate considerably.
Sources:
MLN Matters® Number: SE1305 Revised
Noridian, "Climbing the Ladder to Success JE/JF Part B: Part 1," August 2014
Latest posts by Renee Dustman
(see all)
One Response to "Eliminate Common Errors on Ordering/Referring Provider Claims"