Duodenoscope Bacteria Woes Spur New Cleaning Instructions
In AAPC News
January 6, 2016
Comments Off

on Duodenoscope Bacteria Woes Spur New Cleaning Instructions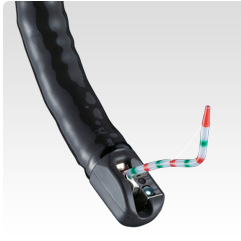 FUJIFILM Medical Systems, USA, Inc. has revised its operations manual for the FUJIFILM ED-530XT duodenoscope. The changes are in response to multiple reports of people being infected with multi-drug resistant bacteria after undergoing Endoscopic Retrograde Cholangiopancreatogram procedures conducted with the ED-530XT.
New Cleaning Guidelines
The revisions modify the cleaning and disinfection processes, and require the use of a new disposable distal end cleaning brush (Model WB1318DE). FUJIFILM says, in addition to using the existing valve cylinder cleaning brush (Model WB11002FW2), this new brush should be used to clean the duodenoscope's distal tip, forceps elevator, and elevator recess.
Making Amends
FUJUFILM sent all users of the ED-530XT a Field Correction Letter, along with a revised operations manual and a box of 20 disposable distal end cleaning brushes at no charge. The company says additional brushes will be provided to customers at no charge to accommodate up to six months of scope usage after the release date of the notification letter.
Customers are instructed to properly destroy the old operations manual and then fax or email a tracking/verification form, included with the Field Correction Letter, to FUJIFILM Medical Systems, USA, Inc.
Photo Source: FUJIFILM Medical Systems, USA, Inc.
Latest posts by Renee Dustman
(see all)