2015 Salary Survey: Credentials Tip the Scale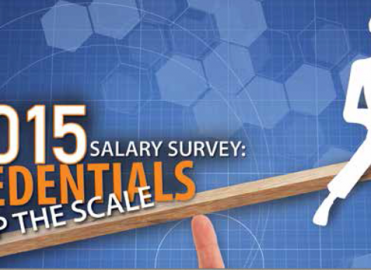 Member data shows it pays to keep adding letters after your name.
The results are in! The AAPC 2015 Salary Survey gives us a good idea of what is going on in the healthcare business job market right now. Data shows our credentialed members are staying ahead of average inflation and unemployment rates in the United States. Respondents also indicate they are focusing on their education to get ahead, rather than job hopping.
The survey was sent out this past fall in an email blast to members to be filled out online through Survey Monkey®. This year's results are based on responses from just under 18,000 members — several thousand more than last year. Thanks to all who took the time to fill out our questionnaire.
Note: While reviewing the data, take into account that the average work experience our respondents have in the business of healthcare is 11.5 years.
Education Matters
Overall, there was a slight increase in unemployment from 2014; however, members holding a degree saw an unemployment rate decrease of 0.5 percent, while those without a degree saw a rate increase of 0.7 percent compared to last year.
Although more members who hold degrees are working, it appears as though their higher education didn't earn them more money in 2015 (see Graph A). In looking back at 2014 data, however, we know that many members who were seeking higher education have recently graduated and entered the job market. This helps to explain the lower salaries.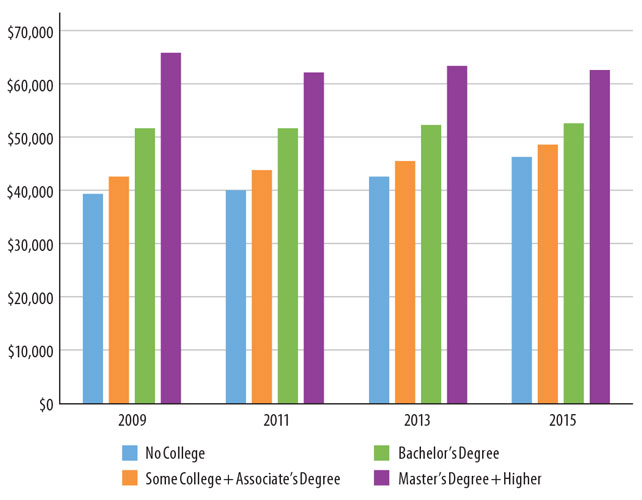 Multiple Credentials Carry Weight
Salary data reveals that the more AAPC credentials you carry, the higher your salary. The average salary in 2015 of members with:
1 credential (any credential) was $46,899
2+ credentials (any credentials) was $58,399
3+ credentials (any credentials) was $65,643
In other words, investing the time and education in getting more certifications can pay off in spades. Only a little more than 12 percent of our certified members hold multiple credentials currently.
Certain Credentials Carry More Weight
As shown in Graph B, the three AAPC credentials that merited the greatest salary increases in 2015 were:
Certified Physician Practice Manager (CPPM®) – 6.7 percent. CPPMs® went from earning an average salary of $60,607 in 2014 to $64,666 in 2015.
Certified Professional Coder (CPC®) – 2.8 percent. CPCs® went from earning an average salary of $50,030 in 2014 to $51,454 in 2015.
Certified Outpatient Coding (COC™) – 2 percent. COCs™ went from earning an average salary of $57,680 in 2014 to $58,822 in 2015. It should be noted that this credential was formerly CPC-H®.
Members holding any AAPC credential averaged a 2.6 percent increase in pay from last year. Credentials that show a decrease in salary are likely due to an influx of new blood entering the job market.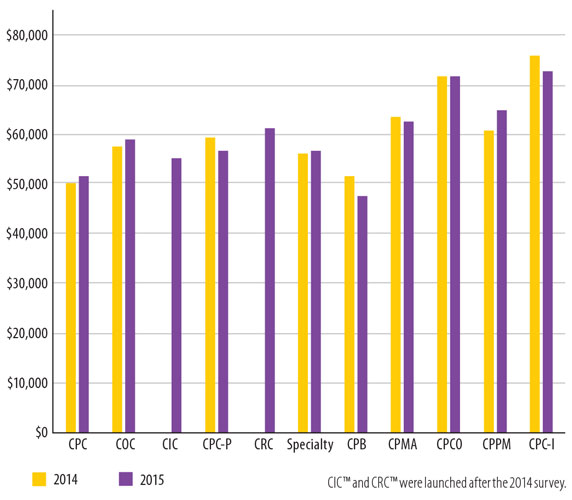 Workplace and Job Responsibility Play a Part
In the most common workplaces selected, the average salary difference was barely more than $6,500.
Medium Group Practice (11-49 physicians): $44,870
Solo Practice/Small Group Practice (two to 10 physicians): $45,722
Hospital Outpatient: $47,773
Large Group Practice (50+ physicians): $48,033
Hospital Inpatient: $50,925
Health System: $51,389
In terms of job responsibilities, salaries increased faster than the nation's inflation rate (0.2 percent), as shown in Graph C. Based on what you told us, practice/office managers received the largest average salary increase, making $3,482 more than last year. Coding and billing managers' salaries were at a close second, with an average salary increase of $3,011 more than 2014.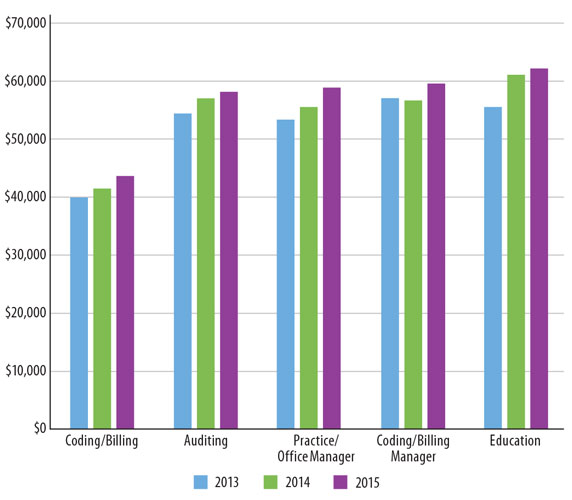 Overtime on the Decline
Based on the numbers shown in Graph D, we think members are trying harder to find a work/life balance. Most members are full-time workers, with 72 percent working 40-45 hours per week, which is a 2.1 percent decrease from last year. There are always diehards, though. In 2015, 15 percent (up 1.4 percent from 2014) worked more than 45 hours per week. ICD-10 preparation may have had something to do with the increase in hours.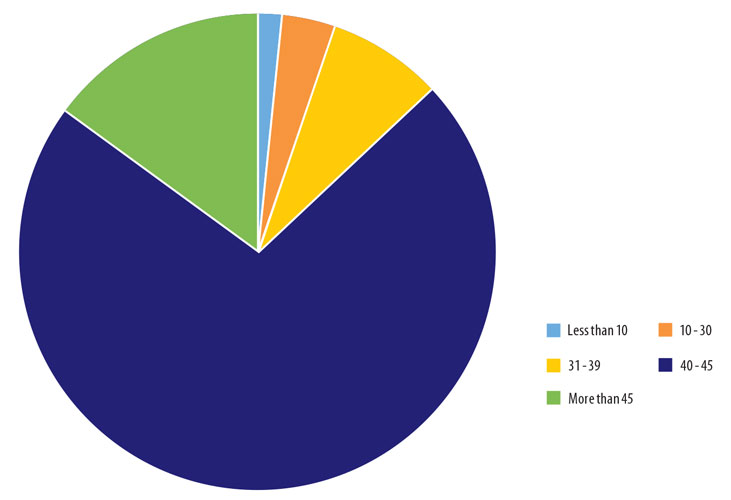 Salaries Affected by Location
Members living in the East North Central part of the United States (Wisconsin, Michigan, Illinois, Indiana, Ohio) saw a 2.2 percent increase in salaries from last year. If you add it to the 6.1 percent increase those states received in 2014, that's more than an 8 percent increase in two years, from $44,816 in 2013 to $48,584 in 2015.
The demographic who makes the most income is the Pacific region (Alaska, California, Hawaii, Oregon, Washington), with an average salary of $57,021. This may be due to a higher cost of living. To check out how your salary ranks compared to the average annual salary of members in your region, see Graph E.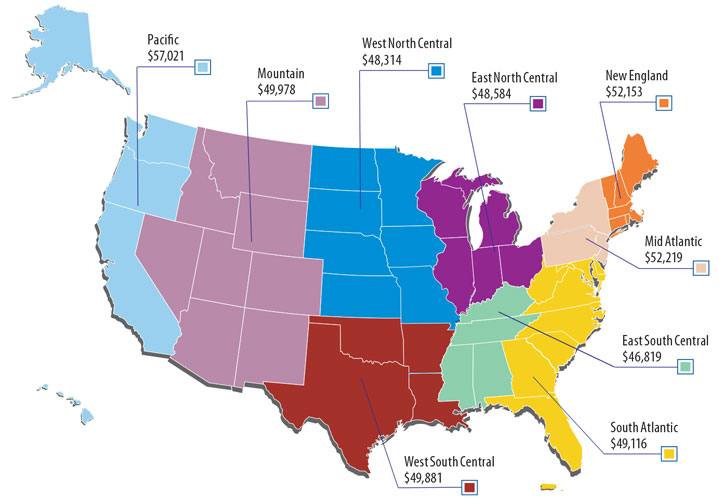 All in all, members are reportedly doing well and holding their own during this period of healthcare reform. The key to staying ahead of the curve is definitely education. Credentials tip the scale.
---

Penelope Alanis is program coordinator at AAPC.
Michelle A. Dick is executive editor at AAPC.
Latest posts by Michelle Dick
(see all)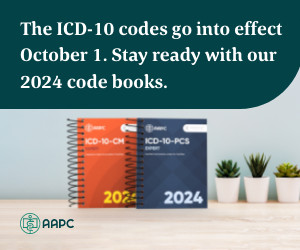 42 Responses to "2015 Salary Survey: Credentials Tip the Scale"