Healthcare Organizations Prize Professional Values
January 1, 2016
Comments Off

on Healthcare Organizations Prize Professional Values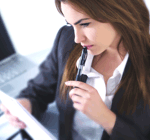 Consider what it takes to lead your organization to success.
Identifying your professional values is imperative. These values should guide you throughout your career. I strive to solidify my professional values and perspectives, in the hopes that they may provide insight for others. The values of which I speak are diversity, authenticity, integrity, leadership, transparency, and respect.
Note: Throughout this article, "leaders" and "managers" are used interchangeably, although they are not the same. Leaders inspire, encourage, and make it possible for others to support an organization's success, whereas managers oversee an already established process or goal.
Diversity and Authenticity 
Diversity and authenticity promote inclusion. These values enable you to welcome the contributions and differences of internal and external stakeholders.
Often, first impressions weigh too greatly on our perception. Remember that personalities are like books: Each one contains a story, which is revealed over time. Try to avoid immediate, definitive conclusions and work to respect teammates' diverse communication styles. Foster a culture that accepts and thrives on authenticity. If employees are not comfortable being themselves, they won't invest themselves in the team.
Integrity
Foster a culture that is duty-bound to its customers by advocating for and supporting ethical behavior and conduct. Regardless of your role in healthcare, you're either directly or indirectly affecting the provision of healthcare services for beneficiaries. You have an obligation and a responsibility to act ethically. As we jointly serve the needs of a growing population, virtuous stewardship becomes even more important.
Leadership
Top executives at Fortune 500 companies are impressive leaders, who are driving and transforming healthcare, but I believe the most fascinating leaders are those who are down to earth. A pioneering, impactful leader does not feel the need to remind you of his or her position or title.
A good leader does not talk over others. He or she listens. A good leader is willing to delegate, is able to prioritize competing demands, is interested in the greater good, inspires and effects change, and is personable. Being a leader is not about being the smartest person in the room; intelligence comes in many forms.
To be an effective leader, set good examples and mentor team members. To build resiliency, leaders must be comfortable surrounding themselves with colleagues who jeopardize the stability of the leader's job. This is a necessary component of strong succession planning.
A cornerstone to building and maintaining strong professional relationships is striking a balance between caring and self-examination. Earn respect by being approachable and expressing genuine interest and concern for others. Convey empathy, but respond with solution-driven ideas. Caring is important when employees are not meeting expectations, also. Praise publically. Punish privately.
Self-observation is also necessary: If you're not learning about yourself, you're not growing. By observing yourself (and those around you), you can learn not only what you want to be, but also what you do not want to be.
Transparency and Respect
Employees frequently say that transparency — in financial performance, organizational structure, strategy and focus areas, business development prospects, and career development opportunities — is what they expect most of a leader. When employees perceive communications to be transparent, their respect unreservedly grows. When employees feel venerable and appreciated, the return is high morale, better production, collaboration, job satisfaction, attendance, and work-life balance.
Respect is a two-way street, however. You cannot command respect if you do not give it in return. Remember that every role within an organization is significant to carrying out the overarching mission.
Establish Professional Values
As a leader or a manager, you may be well known for your systems thinking, and for effectively planning, developing, implementing, and examining initiatives. Don't let these business requirements impede your ability to remain focused on your professional values – this is much easier to do when your organization's values are in line with your own.
Editor's Note: The views and opinions expressed in this article are those of the author and do not reflect the official policy or position of AAPC or any other organization.
---

Lanaya Sandberg, MBA, MHA, CPCO, CPPM, FAHM, is a member of the Hartford, Conn., local chapter.
Latest posts by Guest Contributor
(see all)