Indiana Bill Would Allow Prescriptions by Telemedicine
By Brad Ericson
In Coding
February 11, 2016
Comments Off

on Indiana Bill Would Allow Prescriptions by Telemedicine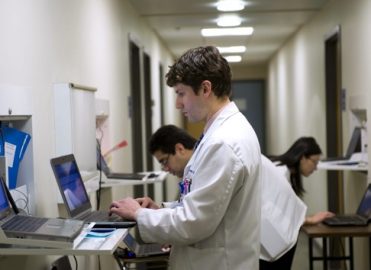 A bill now being debated in the Indiana legislature would allow physicians, physician assistants, and advanced-practice nurses to write prescriptions for remote patients by telemedicine in that state, as long as they have established a provider-patient relationship. House Bill 1263 was passed by the Indiana House of Representatives last week by a 74-24 margin, and is now before the Senate.
The federal Health Resources & Services Administration (HRSA), defines telehealth as the use of electronic information and telecommunications technologies to support long-distance clinical healthcare, patient and professional health-related education, public health, and health administration. These technologies include videoconferencing, the Internet, streaming media, and wireless communications.
Although telemedicine refers specifically to remote clinical services, telehealth can refer to remote non-clinical services, such as provider training and continuing medical education, in addition to clinical services.
According to Neil Versel, staff writer for MedCity News, bill sponsor Rep. Cindy Kirchhofer (R-Indianapolis) previously cited telemedicine as a way to expand access to care in the Hoosier state, which did not expand Medicaid under the Affordable Care Act and ranks above the national average in terms of uninsured residents.
This bill excludes vision services, controlled substances, and abortion drugs provided by telemedicine.
Latest posts by Brad Ericson
(see all)