Get the Message to Your Clinicians
February 1, 2016
Comments Off

on Get the Message to Your Clinicians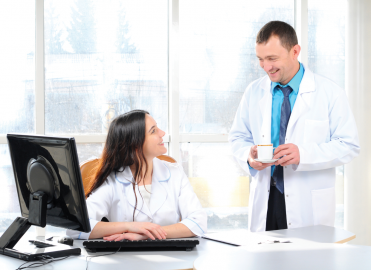 Work together to achieve mutual admiration and respect.
People become physicians to take care of patients. Coders are tasked to help physicians identify the services they render for accurate reimbursement. Coders and physicians need each other, and can work together successfully when they have the right tools and the right attitude.
Gather Tools and Adjust Your Attitude
The tools, you have: certification, encoder, books, resources, AAPC listservs, and all of your contacts. You need each of these tools to gain information and keep current, and to become a respected and well-informed coder, manager, auditor, compliance officer, etc.
The other piece is attitude. To be more precise, there needs to be mutual admiration and respect within the coder/physician relationship. To cultivate a relationship that will benefit both parties equally, ask yourself:
How do I achieve mutual respect and a beneficial relationship?
How can I teach the physician?
What can the physician teach me?
Begin by scheduling a meeting with the physician to discuss his or her goals for you, and how the two of you can work together toward those goals.
Step into Each Other's Shoes
While you're at it, ask if it's possible to shadow your physician in the office or hospital to get a sense of "a day in the life." This will help establish a dialogue and a professional relationship in an environment the physician is used to. The physician will show you what he or she does, and may ask you how his or her actions affect coding. It's important for the physician to see you're there to help make things easier, rather than to add to an already over-booked day.
Review the notes from your shadowed visits and share with your physician what you've learned from the documentation. This will give the physician an opportunity to improve his or her documentation process, if needed. The physician may have additional questions, ask you to review more notes, and/or want more coding advice for other services he or she provides. Here is where your relationship will blossom. Your ability to provide information to enhance (rather than hinder) the physician's day-to-day activities is where your value will be appreciated. If you can help to make the documentation and coding process easier and more efficient, the physician will find that invaluable.
Learn Through Example
Let's say, for example, that during the time you shadowed the physician, you noticed the medical assistant (MA) wrote everything he did on scratch paper that the physician then had to enter into the electronic health record. This information could be entered directly into the EHR by the MA, and then the physician would need only review it. By reducing the time the physician spends documenting, you just increased his or her productivity.
In another example, perhaps the physician you shadowed was clearly frustrated with the time it took to track down a nurse to order additional tests for a patient. Imagine the physician's jubilation when you tell her there's a form she can use to indicate what tests she should order when the patient checks out.
While shadowing your physician, you may also notice discrepancies that could lead to improper payments. For example, you notice the physician putting in an order for an MA to administer an injection. The drug is sent out on the claim, but the administration isn't. Having witnessed the service being performed, you help the office determine how the injection administration can also be billed when ordered and administered appropriately.
Be Valuable and Exude Confidence
Examples such as these help to foster a relationship with the physician and prove you are a valuable part of the team. In turn, you'll have the confidence to approach the physician, when necessary. You'll also know that the information you provided is being incorporated daily and used regularly. Or at least you've made that first contact so the next contact will be well received and appreciated.
If shadowing isn't an option (for instance, maybe you are offsite), you may want to arrange for a virtual conversation with the physician to hear his or her concerns. A good way to start the conversation is to ask the physician about a typical day and see where that takes you.
Try this approach with your physicians. They'll appreciate your willingness to learn about their day-to-day regiment and you'll take away a wealth of information and a newfound friend.
---

Suzan (Berman) Hauptman, MPM, CPC, CEMC, CEDC, is the senior principle with ACE Med, an auditing, coding, and education consulting firm bringing knowledge to both clinicians and coders. Hauptman is an alumni of the AAPC National Advisory Board and the AAPC Chapter Association board of directors. She is a current advisory board member for Optum, an editor for The Coding Institute, and a member of the Pittsburgh Central, Pa., local chapter.
Latest posts by Guest Contributor
(see all)