Get Excited for May MAYnia 2016!
March 1, 2016
Comments Off

on Get Excited for May MAYnia 2016!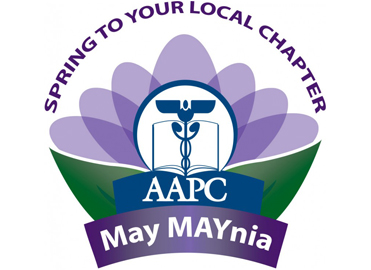 It'll be here before you know it, so start preparing to make it your best yet.
The month of May is quickly approaching, and we all know what that means: flowers blooming, birds chirping, and May MAYnia. It's almost time to show off your local chapter and dazzle your members.
Take the opportunity to network, have some fun, and showcase all AAPC has to offer its members, including:
Two new credentials: Certified Inpatient Coder (CIC™) and Certified Risk Adjustment Coder (CRC™)
Bigger and better national and regional conferences
ICD-10 training and low cost continuing education units
Let the Ideas Flow
Here are some ideas for getting local chapter members excited about May MAYnia:
Make a day of it and offer a seminar. Some chapters change the date of their regular chapter meeting and have May MAYnia on a Saturday or Sunday. In giving members the whole day for education, you can offer more CEUs than a regular meeting and extra time to network with other healthcare business professionals.
Have some fun and host a night of games. Make a jeopardy board and ask coding/billing questions or play Pictionary and race to draw pictures of the human anatomy. Whatever you do, create excitement for members with fun, competitive energy.
Get well-educated speakers. Bring in knowledgeable experts to enlighten members with important education in healthcare. For example, a physician might speak about a new procedure or a coder might speak about a particular topic in which he or she is an expert.
Promote healthcare in your community. Invite a nonprofit organization to speak about a healthcare issue they advocate. In 2012, the Orange Park, Florida, local chapter invited a speaker from "Take it to Heart," who discussed heart disease in women and the steps women can take to reduce the risks. It was very informative, and they made it fun by holding a raffle and handing out T-shirts.
Get Creative
Make sure to give your members as much notice as possible and really hype up the event. Encourage them to bring friends and colleagues. The more, the better. AAPC will provide fantastic prizes for the meeting, as well.
May MAYnia is the event of the year. Whatever you decide to do, make it big and make it fun for your members.
---

Holly Brown, CPC, COC, CEMC, CPCO, is a coding quality analyst for Optum 360. She started out at the front desk of a multi-physician cardiology practice in 2006 and soon after transferred to the billing office. Brown now specializes in quality/training and auditing E/M and outpatient services for physicians and hospitals. She helped start the St. Augustine, Fla., local chapter in 2009, and has served as president-elect and president. In 2012, Brown helped start the Orange Park, Fla., local chapter, where she has also served as president.
Latest posts by Guest Contributor
(see all)