HEALTHCON 2016 Enhances Your Career Growth
In AAPC News
April 1, 2016
Comments Off

on HEALTHCON 2016 Enhances Your Career Growth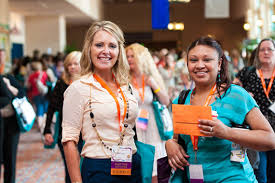 HEALTHCON, AAPC's annual conference, April 10-16 at Walt Disney World Coronado Springs Hotel in Orlando, Florida, is the place to network and meet 2500 of your closest healthcare friends. HEALTHCON offers many ways to create networking opportunities, remain connected, and discuss the latest topics that will benefit your healthcare career.


Here are some networking opportunities at HEALTHCON:
The Local Chapter Leadership meeting is an event that allows members from all across the country to be represented and share their ideas of has, or hasn't, worked for their local chapters.
General Sessions are a great place to introduce yourself. It's as simple as, "Hi, my name is Brenda and I'm from Topeka, Kansas. I do a lot of work auditing, how about you?" That's an easy ice-breaker. If you aren't comfortable with that, then just say "Hi, is this your first conference?" and you either instantly become the expert (if you've previously attended) or you will have found a mentor, who has conference experience.
Breakout Sessions are perfect for meeting colleagues with similar interests in coding, practice management, compliance, or billing.
Anatomy and Business of Healthcare Expos are fast-paced events that offer in-depth looks into the complex machines that are the human body and the management of a medical practice.
The Exhibitor Hall is going to be a little less intimidating for some, since it has a bit more of a casual feel. There will be vendors, giveaways,and tables to sit, eat and make new acquaintances.
The Resort you are bound to run into somebody either wearing their name badge, a conference t-shirt, or carrying a conference bag so say hi and take advantage of the fact that you'll know everyone's name.
One definition of networking is to interact with other people to exchange information and develop contacts, especially to further one's career; HEALTHCON does exactly that. You'll find topics you'll want to learn about and career opportunities you never knew about.
Keep in mind that while conference is all about learning and networking, there is also time for fun. It is important to keep your professional hat on at all times, you never know when that next person you meet could be eyeballing you as a potential candidate for a position.
You'll have a wonderful time at HEALTHCON and if you see me, say hello!
Latest posts by Brenda Edwards
(see all)
No Responses to "HEALTHCON 2016 Enhances Your Career Growth"