MS-DRG May Spell TROUBLE for Mechanical Ventilation Billing
April 1, 2016
Comments Off

on MS-DRG May Spell TROUBLE for Mechanical Ventilation Billing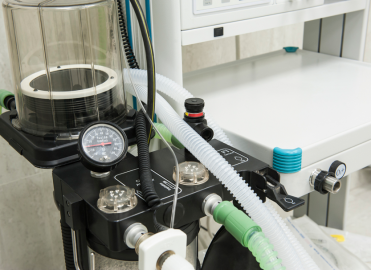 CMS is looking for time to support billed services.
A mechanical ventilator is a device used to perform artificial respiration on a patient whose natural ability to breathe is compromised. Mechanical ventilation may be ordered for various reasons, but it is generally used to get air into lungs, expel carbon dioxide from lungs, or breathe for someone who can't do it on their own. Mechanical ventilation may also be used to help someone short of breath due to a chronic lung disease. Invasive mechanical ventilation — usually accomplished by endotracheal (ET) intubation or an artificial airway, such as a tracheostomy — may be reasonable and necessary when there are clinical indicators or lab values confirming the patient cannot maintain adequate ventilation.
Look at the Time
For billing, compliance, and reimbursement purposes, document the procedure appropriately, with the dates and time (in hours) of when the mechanical ventilation began and when it concluded. To calculate the number of hours of continuous mechanical ventilation by ET intubation during a hospitalization, begin counting from the start of intubation; the clock stops after weaning, extubation, or patient discharge/transfer. When a patient presents to the hospital already intubated, counting begins when the patient is admitted.
Documentation Must
Support DRG Assignment
The 2016 Office of Inspector General (OIG) Work Plan includes review of Medicare payments for inpatient claims where the use of a ventilator was billed. There is a difference in Medicare Severity-Diagnosis Related Group (MS-DRG) assignment and payment based on the procedure code billed. An OIG audit for 2009-2011, with a length of stay of four days or less, discovered an error rate of greater than 95 percent in mechanical ventilation billing to Medicare. A total of 377 claims were reviewed and 363 of those claims showed an overpayment.
To prevent overpayments, hospitals should have an internal audit system to monitor this service and validate the MS-DRG assignment. In performing an internal audit, look for supporting documentation in the medical record such as physician orders, nursing notes, respiratory therapy notes, operative notes, and provider progress notes.
In ICD-9-CM, the procedural codes identifying continuous invasive mechanical ventilation are 96.70 Continuous Invasive Mechanical Ventilation of Unspecified Duration; 96.71 Continuous Invasive Mechanical Ventilation for Less than 96 Consecutive Hours; and 96.72 Continuous Invasive Mechanical Ventilation For 96 Consecutive Hours Or More.
ICD-10-PCS requires you to be more specific:
5A1935Z Respiratory Ventilation, Less than 24 Consecutive Hours
5A1945Z Respiratory Ventilation, 24-96 Consecutive Hours
5A1955Z Respiratory Ventilation, Greater than 96 Consecutive Hours
The Centers for Medicare & Medicaid Services (CMS) revised the language for several MS-DRGs related to respiratory ventilation to reflect the title change of "Greater than 96 Consecutive Hours." For example:
MS-DRG 870 Septicemia or Severe Sepsis with Mechanical Ventilation 96+ Hours
MS-DRG 871 Septicemia or Severe Sepsis without Mechanical Ventilation 96+ Hours with MCC
MS-DRG 872 Septicemia or Severe Sepsis without Mechanical Ventilation 96+ Hours without MCC
The message here is to make sure clinicians are documenting start and stop times, as well as supporting diagnoses.
Remember these key points when
reporting mechanical ventilation: 
Calculate the duration of time in hours, not days.
Weaning time should be included in the calculation of total billable time.
The billable time for patients arriving to the hospital on ventilation begins when the patient is admitted.
Time stops once the patient is extubated or transferred/discharged.
Ventilation support provided during a surgical procedure may be considered integral to the procedure and not separately coded.
Ventilation support for an extended period following surgery may be coded if there is supporting provider documentation as to why the service is medically necessary.
Resources
Merck Manual, "Overview of Mechanical Ventilation," Jesse B. Hall, MD, and
Pamela J. McShane, MD
2016 OIG Work Plan
OIG, Medicare Payments for Inpatient Claims with Mechanical Ventilation (A-09-12-02066)
AHA Coding Clinic. 2015. Update on AHA Coding Clinic for ICD-10-CM and ICD-10-PCS Part I
CMS, ICD-10-CM and ICD-10-PCS MS-DRG Definitions Manual
---

Lee Williams, RHIT, CPC, CPCO, CCS, CCDS, has over 13 years of health information management experience as a coding director, educator, trainer, and practice manager. She is the founder and past president of the Covington, Ga., local chapter and serves on AAPC's National Advisory Board, representing Region 4.
Latest posts by Guest Contributor
(see all)