Gail V. Donlin: Thanks for Your Commitment and Friendship
April 26, 2016
Comments Off

on Gail V. Donlin: Thanks for Your Commitment and Friendship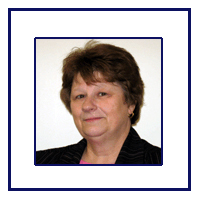 AAPC is sad to say good-bye to a strong leader of its organization, Gail V. Donlin, CPC. She was an advocate for medical coding, a colleague, and a shoulder to lean on. At age 66, Donlin passed on April 22, 2016, surrounded by her loved ones.
Donlin was a radiology coder for over 40 years. She served AAPC on the national level as a National Advisory Board (NAB) Region 1 advisor from 2007-2009 and on the local level as president of the Burlington, Vermont, local chapter. Donlin attended and spoke at regional and national conferences, and her dedication to medical coding training and education was evident in her commitment to helping fellow coders. She published articles in national trade publications, as well.
Over the years, Donlin developed many friends and colleagues in the coding field and at AAPC, one of them was recently deceased fellow-radiology coder Terrance (Terry) Leone's, CPC, CPC-I, CPC-C, CIRCC, who was her mentor and former NAB president. She said, "We both shared a love of radiology coding, especially interventional radiology. He was my mentor and my friend." Leone encouraged her to run for NAB office, and she did. She took it as an opportunity to share her leadership skills and to help AAPC become a voice in the coding industry.
The Burlington Vermont Local Chapter President Samantha Prince, COC, CPC, attributes her decision of becoming a local chapter officer to Donlin's encouragement. Prince shared kind sentiments about Donlin on Facebook:
She was instrumental in maintaining chapter growth and was always happy to help any member or officer in any request. Gail was a natural leader, a valued friend, and an extremely knowledgeable coder. Gail was always happy and smiling. It's her smile and love for coding that will remain a part of this chapter forever. Her loss will be felt on many levels both within the profession and in the community.
Latest posts by Michelle Dick
(see all)
No Responses to "Gail V. Donlin: Thanks for Your Commitment and Friendship"