Tip: Code a Simple or Complicated Superficial I&D of an Abscess
In Audit
May 10, 2016
Comments Off

on Tip: Code a Simple or Complicated Superficial I&D of an Abscess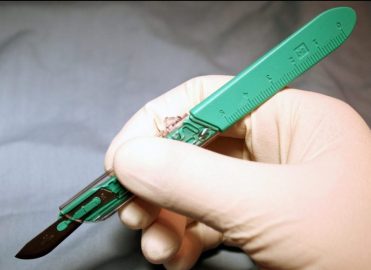 Before you code a superficial incision and drainage (I&D) of an abscess, it's important to know whether the procedure is simple or complicated.
During an I&D, the provider makes an incision over and into the abscess cavity and allows it to drain. It may be left open allowing the continuation of drainage, loculations may be broken up using a surgical clamp, and/or the wound may be packed with gauze.
Choose between two codes for I&D of a superficial skin abscess:
10060 Incision and drainage of abscess; simple of single
10061 Incision and drainage of abscess; complicated or multiple
The difference between a simple and complicated I&D is that a complicated I&D contains:
Multiple incisions
Drain placements
Probing to break up loculations
Extensive packing or
Subsequent wound closure
According to CPT® Assistant (April 2010):
An incision must be performed and documented to bill for this procedure. If the provider uses a needle to puncture the abscess, and lets it drain, it is not appropriate to use the incision and drainage codes. This procedure would be included in the evaluation and management of the patient for the day and not separately reported. It also would be inappropriate to report a puncture aspiration of an abscess 10160 since no aspiration is performed.
Unfortunately, there isn't any guidance in the guidelines or from the AMA in the form of a CPT® assist to help determine simple versus complicated. Communication is the key to ensure you are not under coding with the superficial abscess codes. Make sure you educate your provider with documentation tips. The provider needs to document if the abscess is superficial or deep. You also need to know the location because if the abscess is deep, code choice is based on the location of the abscess and is not dependent simply on single versus multiple, and simple versus complicated. Appearance and signs and symptoms can assist with determining simple versus complex. Make sure your provider documents the details needed to support the service that is provided. All providers are frustrated daily with the amount of "additional documentation" needed to support coding. Remind your providers it is not about the quantity, but the quality of the documentation.
Tip: If an I&D is performed deeper than the superficial skin, refer to the codes in the system where the abscess is located. For example, for an I&D of a deep abscess on the thigh refer to code 27301 Incision and drainage, deep abscess, bursa, or hematoma, thigh or knee region, or for an I&D of a vulva abscess refer to CPT® code 56405 Incision and drainage of vulva or perineal abscess.
For more guidance on I&D of abscess read the article, "Capture Two Common Integumentary Procedures In Urgent Care."
Need Help Coding I&D of an Abscess?
You can search across CPT® code sets by looking up medical codes using a keyword or a code. Available with a subscription to AAPC Coder!
To help you steer clear of compliance issues, be sure your I&D of an abscess coding is as current as possible  by using the most up-to-date medical coding books.
Become a certified medical coder by earning your Certified Professional Coder (CPC®) credential.
Latest posts by Angela Clements
(see all)
No Responses to "Tip: Code a Simple or Complicated Superficial I&D of an Abscess"