Member of the Year Stitches Her Way to the Top
May 10, 2016
Comments Off

on Member of the Year Stitches Her Way to the Top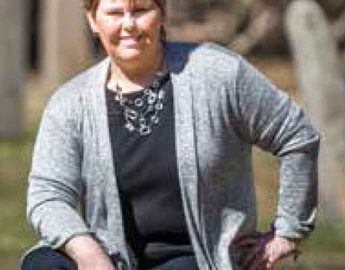 Jeanne Gershman's quilt donations are just a glimpse into her kindness.
You may know AAPC's 2015 Member of the Year award recipient, Jeanne Gershman, CPC, COC, CEMC, CPB for the beautiful quilts she creates and donates to raise money for the AAPC Chapter Association's Hardship Scholarship Fund. She has a knack for stitchery, but she is also known as an AAPC role model and leader of the highest standards.
Gershman is well versed in the nuances of our industry, having worked in the healthcare industry for 36 years, and she is passionate about her profession. Her career began in health information, working as a department secretary and computer operator in hospitals and clinic settings. Gershman received her first coding certification in 2009. She coded for a couple of years for an ambulatory clinic, and is now a denials analyst for Lifespan, Comprehensive Cancer Center.
Gershman was named 2015 Member of the Year because she is an AAPC advocate, a local chapter president, and a humanitarian who continues to put AAPC members' needs before her own.
Helping Others One Stitch at a Time
AAPC asked Gershman why she thinks she won the 2015 Member of the Year award, to which she replied, "I am assuming it began with my donation of the quilt for the hardship fund. I have made a commitment to continue to donate the quilt yearly, if we are able to raise funds to benefit the members."
Making and donating the quilts has allowed her to do two of her passions: quilting and helping members in need. For Gershman, "This is not a chore; it's a pleasure." The quilts have helped to raise awareness for the Hardship Scholarship Fund* and give members a chance to win the quilt as they donate to this much needed fund. Her passion for stitchery has been a gift of love and hope to others, as well. Outside of AAPC, she donates her handiwork to unwed mothers.
Although Gershman's sewing talents may seem to have landed her top billing as Member of the Year, she did not receive this recognition just because of her sewing contributions. Her kindness, generosity, and commitment to helping others is worth so much more than her beautiful quilts.
*For information on the Hardship Scholarship Fund, see the accompanying informational sidebar "Quilts for a Cause." 
Reaching Out to All Members
Time and time again, Gershman has proved to be a humble leader who enjoys helping others. She takes members under her wing to ensure they are successful, and she makes sure educational resources and opportunities are available to all, especially those with special needs. To be more specific, Gershman has:
Been serving as president for the Rhode Island local chapter for the 2014-2016 terms;
Served as education officer and vice president in prior terms;
Served on the AAPC National Advisory Board (NAB) from 2013-2015;
Volunteered to be part of the conference committee;
Proctored exams;
Given her time twice to proctor one-on-one exams for a student with a traumatic brain injury;
Volunteered to assist AAPC Chapter Association board of directors with officers training in the New England area;
After her term ended on the NAB, she went to the regional conference in Dallas and volunteered as if it was still her responsibility;
Ran two ICD-10 boot camps prior to the ICD-10 transition;
Helped to put together a local seminar and brought in national speakers for members who were not able to attend a regional or national conference;
Donated a handmade quilt last year, which raised $1,500 for the Hardship Scholarship Fund;
Donated another handmade quilt this year to auction at HEALTHCON for the Hardship Scholarship fund;
Collaborated with AAPC's Greg Waddoups, PhD, vice president of learning,  and Community College of Rhode Island to establish a contract to use the AAPC curriculum in the school's coding program;
Coordinated educational sessions for members who needed additional education because they were having difficulty passing their certification exam; and
Helped members find open exams slots, and opened exams to accommodate more members.
Firsthand Accounts of Dedication and Kindness
NAB Member Relations Officer Angela Clements, CPC, CPC-I, CEMC, COSC, CCS, who served on the NAB with Gershman from 2013-2015, recalls a time when Gershman proved to be an extraordinary person and a valuable member of AAPC:
Quilts for a Cause
Jeanne Gershman, CPC, COC, CEMC, CPB, donates her quilts for auction at HEALTHCON to raise money for the Hardship Scholarship Fund, which was established by the AAPC Chapter Association to help chapter members who have fallen on difficult times. The fund is used to help members retain their credentials while unemployed, and can be applied toward the cost of the ICD-10-CM proficiency exam, renewing national memberships, or purchasing coding books. The fund also helps provide AAPC educational services, books, etc., to chapter members who can't afford them.
If you or your chapter would like to contribute, donations should be in check form, made payable to the Hardship Scholarship Fund, and mailed to:
AAPCCA-Hardship Scholarship Fund
2233 S. President Drive
Salt Lake City, UT 84120
To find out more, read the article, "Experiencing Hard Times? There's Help," in the April issue of Healthcare Business Monthly or go to www.aapc.com/memberarea/chapters/scholarship-application.aspx.
Latest posts by Michelle Dick
(see all)