CPT® 2016: Neuro-interventional Coding
May 1, 2016
Comments Off

on CPT® 2016: Neuro-interventional Coding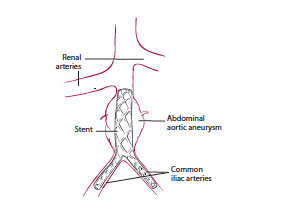 Part 3: Understand the changes affecting neuro-interventional procedures.
For 2016, the biggest CPT® coding changes affecting interventional radiology occur within the subspecialties of urinary, biliary, and neurologic intervention. In March, we covered urinary intervention and in April we covered percutaneous biliary interventional coding. This month, we'll finish our series by focusing on transcatheter neuro-interventions and describing three new codes for 2016.
Neuro-interventional procedures are focused on the percutaneous treatment of the central nervous system (brain and spinal cord), the head and neck region, and the spine. Highly trained subspecialty physicians — who focus on transcatheter techniques to diagnose and treat pathology in these complex locations — perform the procedures. Abnormalities treated include aneurysms, arterial-venous malformations (AVMs), vasospasm, stroke, stenoses, and tumors.
Aneurysm
An aneurysm is an outpouching or widening of an otherwise normal vessel due to either weakness of, or trauma to, the vessel wall. This may result in vessel rupture with subsequent stroke or death related to the affected region of the brain.
Intracranial aneurysm treatment has transitioned from open surgery via craniotomy to percutaneous embolization via transcatheter technique. Intracranial aneurysms may occur at the bifurcation of a vessel (berry aneurysm), or may be diffusely enlarged (dolichoectasia), wide-mouthed, or "giant" in nature. Percutaneous treatment for these aneurysms consists of occluding the aneurysm with specialized coils, sometimes requiring stent-like scaffolding, balloon assistance, or vessel sacrifice. AVMs are treated with liquid embolic agents (e.g., Oynx®) and/or particle embolization, and often require multiple sessions to shrink the AVM to a size that can be treated with definitive gamma knife therapy. Dural fistulas and cavernous carotid (CC) fistulas may be embolized with coils or flow-diverters for curative intervention while embolization of a tumor is performed to decrease the arterial blood flow to the tumor, making surgical resection safer.
Cerebral Embolization
Embolizations of the central nervous system (CNS), which includes the brain and spinal cord, is reported with 61624 Transcatheter permanent occlusion or embolization (eg, for tumor destruction, to achieve hemostasis, to occlude a vascular malformation), percutaneous, any method; central nervous system (intracranial, spinal cord) and supervision and interpretation (S&I) code 75894 Transcatheter therapy, embolization, any method, radiological supervision and interpretation. These codes describe coil embolization of a well-defined berry aneurysm or a wide-mouthed aneurysm requiring balloon assistance, and placement of a scaffolding stent (e.g., Neuroform™, Enterprise™, LVIS®, or LVIS® Jr.) or a flow diverter (e.g., Pipeline™ Flex, FRED™). After deployment of a coil, embolic material, a flow diverter, or glue, it is often necessary to determine the results of the embolization using follow-up angiography (75898 Angiography through existing catheter for follow-up study for transcatheter therapy, embolization or infusion, other than for thrombolysis).
Report 75898 for each fully documented follow-up imaging performed during and at the conclusion of a CNS embolization procedure. This code may be submitted more than once per patient encounter for CNS embolizations, with the exception of head and neck (non-CNS) embolizations, which are limited to once per session. Catheter placements or diagnostic imaging (which bundles catheter placements) are separately reported with embolization procedures.
Example: A patient with known left middle cerebral artery (MCA) bifurcation aneurysm presents for embolization. Via a right femoral access, a sheath is placed and a guiding catheter is advanced into the left common carotid artery, followed by placement of a microcatheter into the MCA (36217 Selective catheter placement, arterial system; initial third order or more selective thoracic or brachiocephalic branch, within a vascular family). Guiding angiography delineates the dimensions of the aneurysm. The aneurysm is selected, and a framing coil is placed with follow-up imaging, showing good positioning of the coil without vasospasm or distal vessel embolization (75898). Two more coils are placed to complete embolization (61624, 75894). Completion angiography (75898-59 Distinct procedural service) confirms complete occlusion of the aneurysm without complication.
Spinal Embolization
Percutaneous transcatheter spinal cord interventions (also CNS) are used primarily to diagnose and treat spinal AVMs. Spinal angiography may be initially performed, followed by embolization. Both are reported at the same session when the imaging is diagnostic in nature. The embolization codes remain 61624 and 75894. The spinal cord is considered to be one surgical site, and is coded as one embolization procedure, even if multiple vessels are embolized.
Other Embolization
Treatment of an AVM, arteriovenous fistula, carotid-cavernous (CC) fistula, or tumor in the CNS is reported with the same embolization codes as an aneurysm treatment (61624, 75894). Code 61624 is an inpatient-only procedure (C-status indicator) for Medicare patients.
When similar procedures for similar pathologies are performed in the head and neck region (non-CNS), report 61626 Transcatheter permanent occlusion or embolization (eg, for tumor destruction, to achieve hemostasis, to occlude a vascular malformation), percutaneous, any method; non-central nervous system, head or neck (extracranial, brachiocephalic branch) and 75894. These procedures are not necessarily inpatient procedures (not C-status indicator), and are routinely performed in outpatient settings. Another commonly performed head and neck embolization is treatment for epistaxis (nose bleed).
Example: The patient is a 14-year-old male with uncontrolled epistaxis. Via femoral access, a catheter is placed into the arch with imaging. Both common carotid arteries are selected and cervical carotid imaging is performed (36222-50 Selective catheter placement, common carotid or innominate artery, unilateral, any approach, with angiography of the ipsilateral extracranial carotid circulation and all associated radiological supervision and interpretation, includes angiography of the cervicocerebral arch, when performed ‒ Bilateral procedure). No fibromuscular dysplasia is seen. The right external carotid artery, internal maxillary artery, and sphenopalatine arteries are progressively selected and imaged (+36227 Selective catheter placement, external carotid artery, unilateral, with angiography of the ipsilateral external carotid circulation and all associated radiological supervision and interpretation (List separately in addition to code for primary procedure)), showing hypervascularity off the sphenopalatine, with no evidence of extracranial/intracranial communication. Embolization is performed with embospheres until stasis of flow (61626, 75894). The catheter is pulled back to the common carotid for completion angiography (75898), showing successful distal embolization without complication. The left side is selected, imaged, and embolized in a similar fashion. Final imaging on the left similarly shows no complication (no additional embolization code is used because the "nose" is one surgical site, and 75898 may be reported only once with non-CNS embolization procedures).
Cerebral Infusion Therapy
After aneurysm repair (for rupture), blood may spill into the subarachnoid space, settling on the cerebral vessels, causing irritation and spasm of the vessels around the repaired vessel. This is called vasospasm, and can be quite severe and may result in complete occlusion of the vessel (and resultant stroke) if not quickly treated. Because the onset of vasospasm symptoms may be rapid, emergent angiography and trans catheter treatment is usually necessary. This vasospasm therapy includes catheter placements, imaging, infusions of medications, and follow-up imaging.
It may be necessary to repeat the infusion treatment multiple times during the week following original repair of the aneurysm. Some commonly infused drugs to treat vasospasm include verapamil, papaverine, milrinone, and nimodipine. The injection of a drug is not separately reported.
NEW! Two codes were implemented in CPT® 2016 to describe initial and additional cerebral vessel infusion therapy, which includes infusions for cerebral vasospasm treatment and infusion of chemotherapy for brain tumors):
61650 Endovascular intracranial prolonged administration of pharmacologic agent(s) other than for thrombolysis, arterial, including catheter placement, diagnostic angiography, and imaging guidance; initial vascular territory
+61651         each additional vascular territory (List separately in addition to code for primary procedure)
Code 61650 describes the initial cerebral territory treated, and +61651 describes each additional cerebral territory treated. By CPT® definition, there are three cerebral territories: the right cerebral hemisphere, the left cerebral hemisphere, and the posterior fossa territory. These are supplied by the internal carotid and vertebral arteries.
To justify use of codes 61650 and +61651, the infusion therapy must total at least 10 minutes (continuous or intermittent). Codes 61650 and +61651 cannot be submitted for treatment of "iatrogenic" vasospasm, which sometimes occurs after carotid stent or embolization procedures. Vasospasm treatment may require use of a specialized balloon to dilate a vasospastic vessel. Codes 61640-61642 describe this type of balloon dilation; however, when associated with and performed at the same session as the infusion therapy, the balloon dilation codes are bundled into the same territory.
Example: The patient is 31 years old; two days superiorly projecting, anterior communicating artery aneurysm embolization for subarachnoid hemorrhage, now with decreased mental status. Patient is brought emergently to the angiography suite. Via femoral access, right and left internal carotid selection with cerebral angiography is performed along with selective left vertebral angiography. This shows diffuse vasospasm of the vertebrobasilar system and both cerebral territories. A 15-minute verapamil infusion was performed in the right internal carotid artery, followed by the same procedure in the left internal carotid and right vertebral. Follow-up imaging shows improved perfusion diffusely (61650, +61651, +61651).
Note: All catheter placements, imaging, and infusion therapy are bundled in these new codes for 2016.
Cerebral Stroke Therapy
Non-hemorrhagic stroke may require immediate intervention by a neuro-interventionalist to prevent permanent disability. Treatment includes catheterization and imaging of the affected regions of the brain, any method, to remove identified thrombus (including infusion thrombolysis and thrombectomy techniques), and treatment of any associated intracranial stenosis/occlusion with angioplasty (61630 Balloon angioplasty, intracranial (eg, atherosclerotic stenosis), percutaneous) or stent placement (61635 Transcatheter placement of intravascular stent(s), intracranial (eg, atherosclerotic stenosis), including balloon angioplasty, if performed).
NEW! CPT® 2016 includes:
61645 Percutaneous arterial transluminal mechanical thrombectomy and/or infusion for thrombolysis, intracranial, any method, including diagnostic angiography, fluoroscopic guidance, catheter placement, and intraprocedural pharmacological thrombolytic injection(s)
Code 61645 includes all the above procedures (when done) performed on one cerebral territory for diagnosis and treatment of a stroke. If two cerebral territories are treated, report 61645 twice. Stroke and vasospasm may occur at the same session; however, coding guidelines allow you to report only one of the two procedure codes at a single session, with 61645 preferentially-billed over 61650.
New! CPT® codes 61645, 61650, and +61651 are inpatient-only procedural codes for Medicare patients, and are all-inclusive of imaging, catheter placements, angioplasty, and/or stent placement.
Example: A 45-year-old male with patent foramen ovale presents with left hemispheric stroke. He is emergently taken for computed tomography scan of the brain (no hemorrhage identified), and then to the angiography suite. Via a femoral access, selective left carotid angiography is performed of the neck and head, demonstrating occlusion and thrombus in the left MCA distribution. This involves M1, superior and inferior M2 segments. Initial infusion of tissue plasminogen activator (TPA) is performed, followed by placement of a stent retriever device for thrombus extraction. Follow-up angiography shows residual thrombus in the superior M2 segment. Further infusion of TPA over 10 minutes is performed after balloon maceration of thrombus. Angiography shows clearing of thrombus with some iatrogenic vasospasm in the high internal carotid artery. This is treated with 5 mg infusion of verapamil over 10 minutes. Vasospasm resolved, and excellent perfusion to the MCA distribution is demonstrated (61645).
Note: All catheter selections, imaging, infusion therapy, balloon maceration, clot extraction, and follow-up imaging are bundled with 61645. Vasospasm infusion therapy for iatrogenic vasospasm is not reported with a CPT® code.
Cerebral Venous Therapy
Venous intervention of the cerebral system may involve patients with venous thrombosis, which may be treated with venous thrombectomy (37187 Percutaneous transluminal mechanical thrombectomy, vein(s), including intraprocedural pharmacological thrombolytic injections and fluoroscopic guidance, 37188 Percutaneous transluminal mechanical thrombectomy, vein(s), including intraprocedural pharmacological thrombolytic injections and fluoroscopic guidance, repeat treatment on subsequent day during course of thrombolytic therapy), venous infusion thrombolytic therapy (37212-37214), and venous approach to treatment of dural or CC fistulas. The above-listed thrombolysis and thrombectomy codes may be performed in the outpatient setting for Medicare recipients; while venous cerebral embolization requires inpatient status. Venous embolization procedures of the CNS are described by the same CPT® codes as arterial embolization (61624, 75894); however, the treatment of venous thrombus is described by the peripheral codes because 61645 reports only treatment of arterial cerebral thrombus/embolus.
Example: Patient is a 2-year-old with dehydration and superior sagittal sinus thrombosis. Via femoral venous access, a catheter is advanced into the right jugular vein with imaging (36012 Selective catheter placement, venous system; second order, or more selective, branch (eg, left adrenal vein, petrosal sinus), 75860 Venography, venous sinus (eg, petrosal and inferior sagittal) or jugular, catheter, radiological supervision and interpretation), then advanced into the superior sagittal sinus with imaging (75870 Venography, superior sagittal sinus, radiological supervision and interpretation). A thrombectomy catheter is used to remove some thrombus (37187), followed by placement of an infusion catheter. Infusion of TPA is initiated (37212 Transcatheter therapy, venous infusion for thrombolysis, any method, including radiological supervision and interpretation, initial treatment day) at 1 mg/hr. Patient is sent to intensive care unit for monitoring.
Note: This is a venous intervention. Do not use 61645 for cerebral "venous" therapy. Thrombolysis and thrombectomy of a venous structure is a "day of service" procedure and cover work related to these procedures from midnight to 11:59 pm.
Simplifying Complex Procedures
Neuro-interventional coding requires an understanding of the following:
Arterial and venous anatomy of these complex regions;
Catheter selectivity codes; and
Diagnostic imaging codes (along with the bundling issues associated with these imaging procedure codes).
With knowledge of these prerequisites, the 2016 addition of comprehensive codes for treatment vasospasm and stroke related to thrombosis/embolism will simplify coding for some of the most complex procedures performed in the CNS.
---
David Zielske, MD, CIRCC, COC, CCVTC, CCC, CCS, RCC, or Dr. Z, is the founder and CEO of ZHealth, LLC, and ZHealth Publishing, LLC. He practiced as an interventional radiologist for 15 years and has 16 years of experience as a coding reviewer and educator. Dr. Z is Board Certified in Radiology with the Certification of Added Qualification (CAQ) in Interventional Radiology (ABR) (1995, 2005). He was on the AAPC National Advisory Board from 2005-2009, and is a member of the Nashville, Tenn., local chapter.
Latest posts by Guest Contributor
(see all)