The Chapterhood of the Traveling Quilt
In AAPC News
May 20, 2016
Comments Off

on The Chapterhood of the Traveling Quilt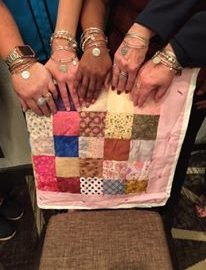 The Philadelphia, PA Coding Symposium, like many AAPC chapter events, is a great place for keeping up with the networking and meeting up with old friends. The symposium was held on May 13, 2016 and it didn't fail to connect with a new friend, Jeanne Gershman. Jeanne graciously donated a beautiful lap quilt for the event, and the winner donated the quilt back. Right then and there, the "Chapterhood of the Traveling Quilt" began.
Here's how it works: A chapter will host an event (chapter meeting, workshop, seminar, etc.) and have a raffle for the lap quilt. Whoever "wins" the raffle actually wins two chances:
1) the opportunity to select the next chapter the quilt visits, and
2) the chance to win the quilt at the end of the tour
So, let's say the current chapter winner selects Portland, Ore. as the next chapter to receive the quilt, the officers ship the quilt, along with the raffle tickets, and the story of the quilt. The next chapter hosts their event and the same process occurs. This process will continue, and the quilt eventually travels all around the country with the sole purpose of generating money for the hardship scholarship fund. At the end of the tour, everyone who purchased raffle tickets is entered into the grand prize drawing; the quilt. Fear not, if your local chapter is not a recipient of the traveling quilt, you can still purchase raffle tickets by contacting Judy Wilson (judy.wilson@aapcca.org).
Full details will be shared with all local chapter officers, including how to mail, who to send the raffle tickets and money. Every local chapter member has the opportunity to impact a member. This event will promote networking among chapters, officers, and members to encourage a stronger bond in addition to helping a great cause. So get to your local chapter event because you never know where the quilt will appear. It's up to all of us to keep the "chapterhood of the traveling quilt" moving.
This will be a fun way to involve as many chapters and chapter members to help our members in need, and feel a part of the bigger picture. The goal is for the quilt to travel to as many chapters as possible before Healthcon 2017, in Las Vegas.
Latest posts by Brenda Edwards
(see all)