Record-breaking Attendance at HEALTHCON 2016
By Brad Ericson
June 1, 2016
Comments Off

on Record-breaking Attendance at HEALTHCON 2016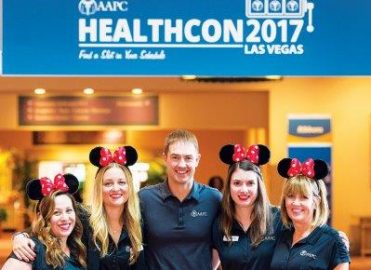 Members gather at "the happiest place on Earth"
to learn about the business side of healthcare.
Nearly 2,700 attendees gathered in April at Disney's Coronado Springs Resort, in Orlando, Florida, for HEALTHCON — AAPC's 24th annual national conference. With the highest attendance in AAPC's conference history, attendees represented every state in the United States, as well as international visitors from the Bahamas, Canada, India, Qatar, South Africa, South America, and United Arab Emirates.
The pastel-painted casitas, ranchos, and cabanas of Disney's Coronado Springs Resort, lining the shores of the shimmering Lago Dorado, paved the way for members and attendees to navigate to sessions, social events, and networking opportunities.
Let's Get with the Program
AAPC CEO Jason VandenAkker opened HEALTHCON with an overview of the organization's growth, now totaling over 155,000 members, of which nearly 105,000 carry AAPC certifications in medical coding, billing, practice management, auditing, and compliance. VandenAkker referenced Walt Disney's challenges in creating the Disney Company, noting the failures Walt Disney overcame to achieve his dream of having his cartoons viewed worldwide. VandenAkker reminded healthcare professionals that they will face similar challenges and failures throughout their careers, yet those who are focused on their objective and exercise persistence will persevere.
With more than 90 educational sessions covering a wide spectrum of topics, attendees had the opportunity to share and receive the gamut of current events in the industry. Topics included medical coding for outpatient and inpatient services, career development, auditing, compliance, and other essential issues relevant to healthcare business professionals.
Many sessions focused on growing trends in the field, such as risk management, telemedicine, value-based payments, and new roles such as scribing, healthcare techniques, and technology.
The Anatomy Expo was very popular. Attendees got an in-depth look at the anatomic and physiologic degrees of the human body.
The Business Healthcare Expo offered attendees insights to facilitate workplace improvements, from human resources to physician compensation. Presenters represented a variety of backgrounds and included the largest panel of physician presenters.
We Are a Generous Bunch
AAPC Chapter Association's Hardship Scholarship Fund, which offers financial aid to AAPC members struggling to cover the cost of membership and certification, raised more than $10,000 via member contributions, a raffle, and the second annual Run4One run/walk event. All proceeds benefit the fund.
Brenda Edwards, CPC CPB, CPMA, CPC-I, CEMC, CRC, was very taken back by the generosity of AAPC members.
"The thing that touched me the most, and is very near and dear to me, is the response from members to the Hardship Scholarship Fund," Edwards said. "Michael Miscoe, [Esq, CPC, CPCO, CPMA, CASCC CCPC, CUC] made his donation and challenged attendees to contribute 'just one dollar,' which raised $1,500. Well, between the Run4One, the raffle for the quilt, and just the generosity of our members, and AAPC's matching donation, we exceeded our expectations to help our members in need. I believe this is the most we have ever raised. Jason VandenAkker mentioned the kindness of our members in his conference welcome speech and the donations really show that kindness."
Alex McKinley, AAPC's senior marketing communications manager (aka "AAPC Alex" on Facebook), also contributed to the cause by making his way through the crowds, getting to know as many members as possible, and taking pictures with them for a dollar. All contributions went to AAPC Chapter Association Hardship Scholarship Fund.
People Make the Magic Happen
As usual, HEALTHCON offered attendees many opportunities to network, reconnect, and learn how to advance their career. Through local chapters, general sessions, breakout sessions, and mingling with exhibitors, HEALTHCON attendees were exposed to a new and exciting world, beyond their wildest imagination.
Exhibit hall breaks turned into networking events where attendees walked into a crowded room full of strangers and quickly realized it was the best place to meet vendors, make new friends, and stockpile fun freebies.
Speaking of new friends, there were a lot of new faces this year. MariaRita Genovese, CPC, PCS, said there were "so many first time attendees, which demonstrates how our industry is growing in leaps and bounds. HEALTHCON is an amazing networking experience."
The magic was made possible by Melanie Mestas and her AAPC conference team: Sandra Nestman, Rachel Momeni, Amy Evans, and Kira Golding.
HEALTHCON will return to Las Vegas, Nevada, on May 7-10, 2017, the 25th anniversary of the annual national conference. Learn more about HEALTHCON at healthcon.com.
---
Ana Saiz is thought leadership coordinator at AAPC.
Latest posts by Brad Ericson
(see all)