Gather Around the Table with the 2015 Chapter of the Year
June 1, 2016
Comments Off

on Gather Around the Table with the 2015 Chapter of the Year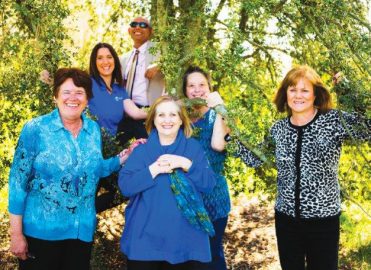 Monmouth-Ocean, New Jersey,
makes coding education and networking a family matter.
Being a family and providing exceptional education is at the heart of the Monmouth-Ocean, New Jersey, local chapter. Officer Liaison of Local Chapters Linda Litster knows why the Monmouth-Ocean won the 2015 Chapter of the Year "What sets them apart is that they continually go above and beyond with the educational material provided for their members. This chapter also has a feel of 'family.' For sure this chapter is AAPC."
The Monmouth-Ocean chapter members concur. "It is like visiting with family when you come to a meeting," said 2016 President Claire Bartkewicz, COC. Bartkewicz also served as the chapter's 2015 treasurer and has served on the AAPC Chapter Association Board of Directors.
The Meat and Potatoes of this Award
Monmouth-Ocean is celebrating their 18th year. New "family" members are added each year; there are approximately 400 members. Monthly chapter meetings usually attract roughly 50 members (the regulars), and January meetings pull in around 100 members.
The chapter has a diverse group of members. According to 2015 President Bonnie J. Ivler, RHIA, CPC, "The chapter members come from all areas, such as inpatient, outpatient, physician office, billing companies, long-term care, legal healthcare, financial healthcare, etc."
It takes an entire chapter to set out and achieve the Chapter of the Year award, but it also takes dedicated officers. These are the 2015 officers who helped to make this achievement possible last year:
President Bonnie J. Ivler, RHIA, CPC
Vice President Susan Buckman, CPC
Treasurer Claire Bartkewicz, COC
Secretary Gail Clonan, CPC-A
Member Development Officer Kim Bevel, CPC-A
Education Officer John Mustak Rahman, CPC, COC
Family Atmosphere with Full Bellies
Nothing says "family" like sitting down for a meal and having good conversation, and that's what Monmouth-Ocean meetings are like. The chapter has a very relaxed and friendly atmosphere; they do this "by offering a full hot dinner that starts one half hour before the business meeting," said Ivler. "Everyone can leisurely sign in and sit and talk, while enjoying great food."
The family dinning atmosphere carries over into their annual holiday party and awards dinner, where they give chapter members a special dinner (fancy tablecloths included) and hand out promotional "Monmouth-Ocean AAPC" gifts to attendees. They also reward members who have "gone the extra mile" in various ways, such as with education scholarships.
Every family has a baker or two, and this chapter has Muriel Ayres, CPC-A, and Lynda Tebbs, CPC. In fact, Ayres' baking has won her blue ribbons at county fair competitions. The best part about her culinary successes is that she shares them with chapter members. Ayers bakes yummy treats and packages them to give away as raffle prizes at the end of each meeting. Ivler said that Ayers helps in all areas. "She does an amazing job packing up and cleaning up after each meeting, making care packages out of leftovers for anyone to take, and she gives the balance to a local food bank," Ivler said.
The chapter's other baker, Tebbs, "brings tons of cookies and deserts, just because she likes to give," said Ivler. "She also is the first person you'll meet when you walk in our doors for Coders' Day, and you are offered a great smile."
The officers make sure no one feels left out during a local chapter meal. "When a new member comes to our meetings we always make sure that we have someone for them to sit with," said Ivler. "We make them feel very welcome and make sure they know our procedures of signing in and getting them a plate, etc."
Although food is one aspect that helps to make this chapter a family, another is that members truly care about each other. "We all do what we do because we enjoy it so much, and we have built really special friendships through this chapter," Ivler said. "We have been through births, deaths, weddings, illnesses, grandchildren, and more together; and we have always been there for each other."
Family Is Forever
It's tough when a family member moves away to pursue other opportunities, but it happens — even at the Monmouth-Ocean chapter. Ivler said, "We have a member named Addie [Adeline Hart, CPC] who moved away to another state, and she still not only comes to our events, but comes to work them as though she had never left." As far as the chapter is concerned, she hasn't left. "Addie is also involved with her local chapter, where she moved, but we are her 'home,'" Ivler said. Hart even drove up from Delaware to be in the chapter photos for this article.
Offering Education Galore
Another familial trait is how serious this chapter takes educating their members. Their education materials and offerings surpassed all other chapters in 2015. In addition to holding their required monthly meetings, Monmouth-Ocean proctored five certification examinations, and almost all of them had participants with disabilities, which meant 8-hour exams. Ivler said, "One of our exams was offered on a Sunday to accommodate people with religious or other special needs who otherwise could not take the exam."
Besides winning the 2015 Chapter of the Year award, one of the biggest accomplishments and successes of Monmouth-Ocean in 2015, according to Bartkewicz, was hosting their 11th annual New Jersey Coder's Day seminar. "We have more than 300 attendees each year, and 20-25 vendors," said Bartkewicz. "It is such a great day!"
And just like family, Monmouth-Ocean members know they've got each other's back. For example, when Lynn Handy, COC, CPC, CPC-I, was stuck in a Texas airport due to a flood, Nancy Clark, COC, CPC, CPB, CPMA, CPC-I, and Judy Wilson, COC, CPC, CPCO, CPC-P, CPB, CPPM, CPC-I, CANPC, did an impromptu presentation using Handy's PowerPoint slide presentation. Ivler said, "It was an example of the incredible people that we have in AAPC and also the caliber of people. It was just about the best 'on the cuff' presentation I have ever witnessed and many people really believed that Judy was a cardiologist!"
The Monmouth-Ocean chapter has worked hard to build relationships with area hospitals, too. Ivler said, "We have become very well known in our area, and the hospitals know us. We have the support of a very big hospital group that has a wonderful outreach program." This connection has enabled the chapter to get "some very special and very interesting speakers," according to Ivler.
Interesting speakers make for exciting presentations, including:
Computer programs to use in the workplace to enhance members' careers
Healthcare data collecting – how to use it, present it, and set up programs to make it work better for members
Robotic surgery and body parts
Dementia and Alzheimer's, presented by the Alzheimer's Association of New Jersey
Chair yoga
Blood pressure, diabetes, heart, and chiropractic screenings were presented at May MAYnia. Advanced practice nurses from the local hospital did screenings on members before the speakers started and during break time.
Proper nutrition to help avoid certain diseases. It was presented by a chiropractor, working in conjunction with a Pampered Chef vendor, to teach how to prepare easy, healthy meals.
Besides the usual chapter requirements for education, Monmouth-Ocean offered seminars and other educational opportunities in 2015:
April Audit Validation Seminar – Monmouth-Ocean joined New Jersey Health Information Management Association (NJHIMA) for a half day seminar on Audit Validation, provided pro bono by Deborah Gardner Brown.
Coders' Day 2015 – The chapter held their 11th annual New Jersey Coder's Day coding and billing seminar.
Bootcamps – They offered extra boot camps on weekends at very reasonable prices.
Mentoring – Members volunteer to be mentors for newer coders.
Job Posting – The chapter posts on their website job offerings from reliable local sources and also announces them at meetings.
Review Classes – They held review classes for certification exams and ICD-10 proficiency certification.
Joint Meetings – They allow the chapter to supply full dinners and financial aid to their members without having to go to HEALTHCON for these funds.
Exams Are Available to All – Members volunteer on Saturday or Sunday, usually for 8 hours at a time, to give members with disabilities the opportunity to take the certification exam in the time frame necessary.
Officer Training – They participated in Officers' Training, which was sponsored by the Toms River, New Jersey, local chapter President Kenneth Bruce, CPC.
Charity Abounds
Ayres isn't the only one in the chapter with a giving spirit. Every year, the Monmouth-Ocean chapter awards a scholarship in memory of a past chapter officer, Marie Lassen. Bartkewicz said, "Marie did a lot of work, but she was a 'behind the scenes' type of person. So Marie's award goes to a member who has helped the chapter a lot during the year, not for any glory or recognition, but kind of incognito." The chapter calls it the "Unsung Hero Award."
A presentation by the Alzheimer's Association of New Jersey also moved them to donate the money they would normally use for giveaway favors at May MAYnia to the Alzheimer's Association of New Jersey.
The Monmouth-Ocean chapter also donates to Rose's Fund for Animals at their award's dinner every year. An impressive 100 percent of donations go to helping animals. Felecia C. Bernstein, CPC, is very active in this charity and is the muscle behind getting members to support this important charity.
Lastly, Monmouth-Ocean donates $500 to Project AAPC every year.
Bright Future Ahead
The Monmouth-Ocean chapter plans to stay one step ahead of what technology and online education has been doing to local chapter attendance. "As some chapters have dwindled and lost momentum, Monmouth-Ocean chapter seems to continuously grow and succeed," Ivler said. Monmouth-Ocean plans to keep attendance up by offering what online continuing education units (CEUs) can't: social interaction. "It's very important to keep our education current, but like many other organizations, CEUs can now be gotten at home, online, without having to interact with others," Ivler said. To keep chapter attendance up, their monthly educational meetings will continue to be social dining events that are centrally located and accessible to parkways and that offer free parking and a great, catered dinner, desert, and beverages for $10.
Monmouth-Ocean is excited about the AAPC Regional Conference in Atlantic City, as well. The chapter always has representation at all national and regional conferences, either by Bartkewicz, Clark, or Barbara J. Cobuzzi, COC, CPC, CPCO, CPC-P, CPC-I, CENTC. Bartkewicz said enthusiastically, "We will be out in full force for the regional conference in Atlantic City!" They may even rent their own private bus to transport all the chapter members as a group.
The chapter plans to continue keeping members up to date on the latest medical technologies. "The future will be wonderful for this chapter as we all plan to keep it current, bring the best education to everyone, and continue to make it an atmosphere for all members to enjoy," said Ivler.
---
Michelle A. Dick is executive editor at AAPC.
Latest posts by Michelle Dick
(see all)