Project Xtern Helps Break Barriers
By Brad Ericson
June 1, 2016
Comments Off

on Project Xtern Helps Break Barriers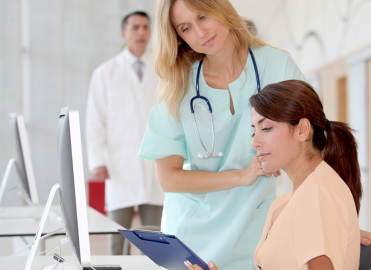 It's a win/win for the extern,
the mentor, and the healthcare industry.
It seems so unfair. You studied so hard, staying awake late hours to master new (and often illogical) concepts. You practiced coding until your eyes glazed over, you tabbed your books, and one day, belly filled with butterflies, you successfully tested for your credential. But your lack of experience still keeps you from landing your first job in the coding field.
AAPC's Project Xtern program may help you break through that last barrier. There are approximately 300 Project Xtern sites throughout the country where newly credentialed coders can get hands-on experience. While most externs don't receive financial pay, the experience and work references you gain can help you land a paying gig. Plus, the program is free to members who qualify, making on-site learning the icing on the educational cake.
Apprentices Get Experience
Judy Wilson, CC, CPC, CPCO, CPC-P, CPB, CPPM, CPC-I, CANPC, has hosted a Project Xternship site since 2012, and six aspiring coders have learned not only day-to-day coding, but anesthesia coding, as well. Externs are paired with experienced coders. "Interns do everything coding related," Wilson said. "We teach them to read and code from the actual surgical and anesthesia records. They find the correct codes and diagnoses for all procedures we do. They also get some billing experience in the way of filing claims and doing follow-up when the claim has denied."
Wilson credits the program with finding some awesome employees. "This is a wonderful program for both the employer and the newly certified coder," she said. Not only is Project Xtern a chance to learn from experts on site, but it's also a chance to match new coders with employers.
Wilson's most recent extern, Tracy McDonald, CPC-A, said the biggest surprise of her externship is how much there is to learn. "I was also surprised by the many different paths available to coders," she said. McDonald found her Project Xternship site through her local chapter. "Our local chapter president, Donna Stewart, COC, CPC, CPCO, CPC-P, CPMA, CPC-I, encouraged me to apply for a coding position with Judy Wilson. I am very thankful to be gaining the training and experience that will serve as the foundation for my career," McDonald said.
Become an Extern
According to Project Xtern Coordinator Ashlyn McGlone, becoming an extern begins with AAPC membership and certification. Benefits of participation are many, including:
Real-world, hands-on experience
Professional work applicable toward removal of your apprenticeship status
Accomplishments to put on your resume
Exposure to prospective employers
Project Xtern Approved Official Extern Sites (AOES) aren't coding schools. They're physician offices, group practices, billing companies, consultants, specialty facilities, hospitals, and healthcare payers.
You can find an AOES at www.aapc.com by looking up Project Xtern or calling 1-800-626-2633. If none are available in your area, contact AAPC's externship department and suggest sites in your area that might be interested. Provide a name, address, and phone number, and we'll work to contract with the sites. Don't be afraid to encourage a facility to be a site. It's a great way to introduce yourself to a potential mentor and to show them how dedicated you are to the field. It's also a good way to earn AAPC Bucks if a facility you recommend becomes an AOES.
Note: AAPC Bucks can be used like money to purchase any AAPC products and services, except membership.
Once you locate an AOES, it's up to you to contact them. Be ready with a resume and proof of AAPC membership, and be sure to look and sound professional at the interview. While externships are normally not paid, some sites may offer some compensation; that's between you and the AOES. Your hours also are decided by the AOES, but externs typically work 10-40 hours a week for 6 to 12 weeks.
Tips for Extern Success
McGlone provides tips for aspiring externs:
Update your resume and references.
Gather the coding resources you'll need to succeed.
Network with your local chapter, fellow students, friends, and family. The more people who know you're looking for an externship, the more successful you'll be.
Show up when you're scheduled on time.
Communicate well and tactfully with your AOES contacts and coworkers.
Volunteer to assist on others' vacations and breaks at the AOES.
Go to in-services, meetings, and other functions that will help you.
Be eager for feedback and constructive criticism from your AOES supervisor.
Keep in mind that the externship is to help you learn and demonstrate your skills, and the AOES may not be able to hire you when it's finished. In fact, most externs go on to find permanent jobs elsewhere thanks to their experience with their mentors at the AOES.
Find more information at www.aapc.com/medical-coding-jobs/project-xtern.
Becoming an AOES
McGlone encourages mentors to offer their workplaces to help an apprentice get a foot in the door. The benefits of mentorship include the extra help the aspiring coder brings, the chance to train a candidate in the culture and coding your facility enjoys, and the intrinsic benefits of being a mentor.
Few programs in coding allow facilities to use excellent medical coding and billing assistance from a certified professional at no cost, with no long-term commitment. There is no cost to the facility, and the relationship is between the AOES and the extern. The program is fully HIPAA compliant, and the facility is free to hold the extern to its risk policies.
During the relationship, AAPC asks that the AOES provides the extern a minimum of 60 percent hands-on coding and billing experience. An AOES must also evaluate the work habits and abilities of the extern in exchange for what is typically non-paid work. Registration is easily done online, and AOES sites receive a free webinar for doing so. More information is available at AAPC.com, or contact Ashlyn McGlone via email (ashlyn.mcglone@aapc.com).
---
Latest posts by Brad Ericson
(see all)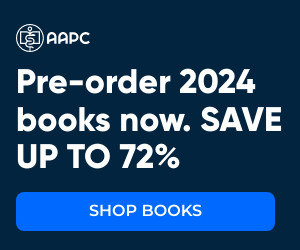 No Responses to "Project Xtern Helps Break Barriers"