Revitalize Wound Care Reporting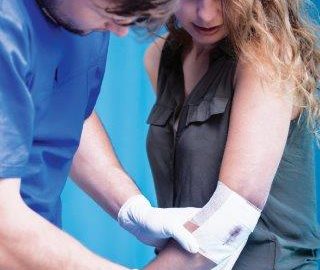 Develop a deeper understanding of debridement
coding with this quick review of essential elements.
Wound care involves assessment, management, and cleansing of the wound; simple debridement; and removal and reapplication of the wound dressings. Accurate reporting of wound care services requires a thorough understanding of skin anatomy, the codes that describe these services, and documentation requirements.
Go Skin Deep for Debridement
Wound care management and debridement involve the largest human organ: the skin. Figure A illustrates the different layers that make up the skin. A solid understanding of this anatomical area is essential for proper code selection.
Figure A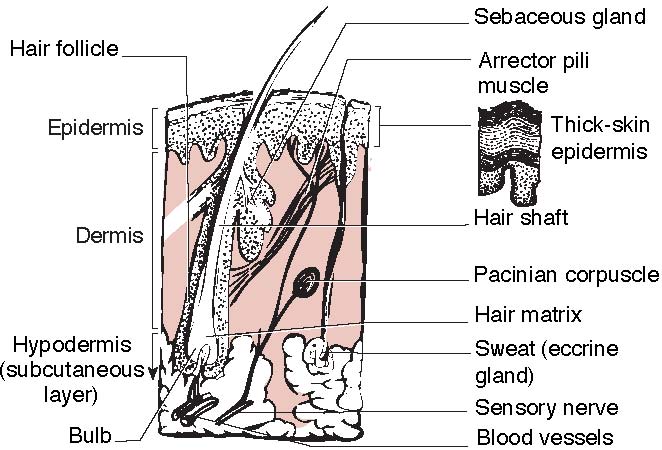 Medicare defines debridement as, "The removal of foreign material and/or devitalized or contaminated tissue from or adjacent to a traumatic or infected wound until surrounding healthy tissue is exposed." Clinicians and coders often mistakenly consider the total surface area (length x width) to be the driving force behind code selection. In fact, coding is based on the deepest level of tissue debrided or removed first, and the total surface area second.
Let's look at the codes.
Active Wound Care Management 
Not Involving Subcutaneous Tissue
97597 Debridement (eg, high pressure waterjet with/without suction, sharp selective debridement with scissors, scalpel and forceps), open wound, (eg, fibrin, devitalized epidermis and/or dermis, exudate, debris, biofilm), including topical application(s), wound assessment, use of a whirlpool, when performed and instruction(s) for ongoing care, per session, total wound(s) surface area; first 20 sq cm or less
+97598    ach additional 20 sq cm, or part thereof (List separately in addition to code for primary procedure)
Debridement
Involving Subcutaneous Tissue
11042 Debridement, subcutaneous tissue (includes epidermis and dermis, if performed) first 20 sq cm or less
+11045    each additional 20 sq cm, or part thereof (List separately in addition to code for primary procedure)
Involving Muscle and/or Fascia
11043 Debridement, muscle and/or fascia (includes epidermis and dermis and subcutaneous tissue, if performed); first 20 sq cm or less
+11046    each additional 20 sq cm, or part thereof (List separately in addition to code for primary procedure)
Involving Bone
11044 Debridement, bone, (includes epidermis, dermis, subcutaneous tissue, muscle and/or fascia, if performed); first 20 sq cm or less
+11047    each additional 20 sq cm, or part thereof (List separately in addition to code for primary procedure)
When multiple wounds are debrided all to the same depth, combine the debrided surface measurements to arrive at the appropriate code(s). The total surface area of each debrided wound must be documented separately, but each debridement may not be reported separately, unless performed on different tissue types.
Case Example 1: 15 sq cm of subcutaneous tissue is debrided from the right leg and 10 sq cm of subcutaneous tissue is removed from the left leg.
| | |
| --- | --- |
| CPT® | Units |
| 11042 | 1 unit |
| +11045 | 1 unit |
Use add-on codes when the total area of debrided tissue (at the same depth) is greater than 20 sq cm.
Case Example 2: 10 sq cm of muscle is debrided from one wound; 15 sq cm of devitalized tissue (epidermis and dermis) is debrided from a separate wound.
| | |
| --- | --- |
| CPT® | Units |
| 11043 | 1 unit |
| 97597-59     Distinct procedural service | 1 unit |
Medicare May Impose Limits
Be aware of place of service limitations, especially involving debridement of subcutaneous and deeper tissue. Medicare payers may be of the opinion that clinicians are unlikely to debride muscle and or bone (or possibly even subcutaneous tissue) in an outpatient clinic or office setting. Bone and muscle debridement is generally performed in the operating room. Check relevant local coverage determinations (LCDs) for clarification.
Also be aware that the Centers for Medicare & Medicaid Services (CMS) is of the opinion that, after the initial debridement is performed, there usually is nonecrotic muscle and/or bone remaining in a repeat (subsequent) debridement. As such, ongoing care should require only superficial debridement as the wound heals, and this service should be needed less often as the wound resolves itself. Repeated debridement of muscle and bone for extended periods may trigger denials and or audits.
Example: Muscle is debrided in the initial surgical debridement of a stage IV ulcer. For the subsequent debridement, only superficial slough is removed.
For the initial visit/initial debridement, report surgical debridement code 11043. For the subsequent visit, report selective debridement code 97597.
E/M Is Included
In most cases, it's inappropriate to report an evaluation and management (E/M) service in addition to a wound care service (e.g., debridement, application of an Unna's boot, etc.). The exception occurs if, during the wound care encounter, the provider performs (and documents) a significant, separately identifiable service. The E/M service must be unrelated to the scheduled visit for wound care and require medical evaluation and treatment over and above that for the wound care. Only then may it be appropriate to report an E/M code with a wound care code. To get the E/M code past system edits, append modifier 25 Significant, separately identifiable evaluation and management service by the same physician or other qualified health care professional on the same day of the procedure or other service.
Documentation
Wound care documentation should describe the wound, including size (length x width); depth; total sq cm; appearance; drainage; undermining; peri-wound character; presence of edema, infection, and disease causing underlying problems or complication(s) for the wound healing process. Documentation also should describe the method of debridement (scalpel, nippers, scissors, curette), and which deepest layer of tissue was removed or debrided (fibrin, devitalized epidermis and/or dermis, exudate, debris, biofilm; subcutaneous tissue; muscle and/or bone).
Chart notes must clearly describe the tissue as being cut away. Make sure the clinician cut away and removed the tissue, and not merely scraped away loose fragment tissues. This is an area where mistakes are made, and there is potential for up-coding (abuse). Such mistakes have repercussions upon audit that can lead to recoupment of monies — or worse, a case of fraud when there is a pattern of consistently coding for a higher level of debridement.
Documentation should specify which dressings were applied, post-op care instructions provided, progress of the wound, and on follow-up visit notes, future plans. Documentation should also specify wound improvement or measurable changes (e.g., decrease in drainage, inflammation, necrotic tissue or slough, pain, swelling, wound dimension changes, or declining improvement). This documentation helps to substantiate what was done to address the new condition. Steps might include oral antibiotics, further testing, biopsy of the wound, consultations requested for vascular intervention, or podiatric consultation for bracing or off-loading.
Remember: If it isn't documented, it wasn't done.
---
Barbara Aung, DPM, CWS, CPMA, CSFAC, has been in private practice for 22 years, where she also conducts clinical research in the field of wound healing and podiatric surgery. She serves on the American Podiatric Medical Association's Coding Committee. Aung is a Panel Physician at Carondelet St. Mary's Wound and Hyperbaric Center in Tucson, Ariz., a Healogic's Managed Facility. She is vice president of the Tucson, Ariz., local chapter.
Latest posts by Guest Contributor
(see all)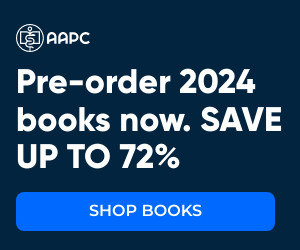 3 Responses to "Revitalize Wound Care Reporting"