Manage Hospital Staff Cellphone Distractions
In Facility
July 1, 2016
Comments Off

on Manage Hospital Staff Cellphone Distractions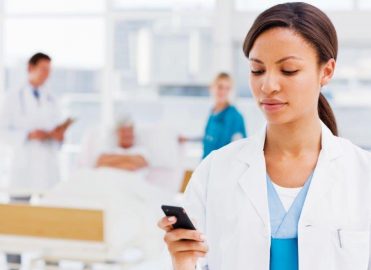 Without enforcing a policy for when it's acceptable for healthcare professionals to use cellphones, a patient's life could be at risk.
Let's face it: We have become a society tied to our cellphones. They connect us to friends and family, games, directions, events, photos, business transactions, and even patient emails in an instant. They are our lifeline to the world's information. Healthcare professionals use them to access encrypted messages and secured medical records, and to converse with colleagues; however, those same phones can become a life-threatening distraction when misused in a hospital.
Smartphones Are Making the Rounds
Without clear rules and policies for smartphone use, the device can become a problem for hospital staff. This is especially true during inpatient attending rounds, which is when supervising staff discuss and make decisions about patient care with residents. According to The Doctor's Tablet blog, "Setting Boundaries on Smartphone Use in Hospitals," a study conducted by the Albert Einstein College of Medicine:
… found that 57% of residents and 28% of faculty reported using smartphones regularly during these rounds. As we expected, the clear majority of smartphone use was to access medical references and resources, but team members also used their phones for personal texts and e-mails, and 15% of residents acknowledged using their phones for non-patient care uses (such as web-surfing).
You may have heard the story in December 2011 of a 56-year-old male patient with dementia who was harmed because a resident became distracted while on a smartphone. The patient needed a replacement percutaneous endoscopic gastrostomy (PEG) tube and the procedure was successful. Three days after the procedure, the patient was supposed to stop anticoagulation medication. The attending physician asked the resident to use her cellphone to enter the medication data into the hospital's computer system. Just as the resident began entering the order into her smartphone to stop the medication, she received a text message from a friend regarding an upcoming party, and she replied through text messaging. She never entered the information and the healthcare professionals moved on to the next patient. The patient suffered spontaneous bleeding into the pericardium from the dose error, which cost him an extra three weeks in the hospital.
Poor Policy Can Put Your Hospital at Risk
To avoid incidents such as social notifications interrupting patient care, hospitals are taking action; however, the policies aren't always enforced. A nurse in a hospital in North Carolina told Healthcare Business Monthly that her hospital's policy says personal phones while at work are not allowed except for breaks. "We are allowed to check our work email, but not supposed to check personal email (which they end up blocking, so you can't get into it from a work computer)," she said. The nurse also said that social media is blocked and staff isn't allowed on social media during work. "There can be disciplinary action for what you post on social media if management or higher ups find out, especially if it violates HIPAA," she said. As for doctors at the hospital in North Carolina, they are able to check personal email while working.
When it comes to enforcing staff policy, however, the nurse revealed:
Even though the policies state no one is supposed to use their cellphone, everyone does, and I've never seen any disciplinary action for it. Nurses leave their phones right out on the desk. And doctors, nurse practitioners, or physician assistants use cellphones for pretty much all communication from what I see when they are on the unit.
The policy does state that for "extenuating circumstances" or emergencies you can have your phone out during work if approved by management.
Are cellphones a problem in your workplace? A good indicator is "when there are people sitting on their phones when you need help, or call bells are going off and stuff needs to be done," the nurse said.
Stringent Policies Are Key
Another nurse who works at a hospital system in Western New York (WNY) said her hospital's cellphone policy is in the "Dress Code" section of the employee manual. The Dress Code policy "prohibits cell phone use during working hours. This applies to everyone, but doctors carry their cell phones everywhere and use them because they call patients, each other, etc." The hospital system discourages personal internet/Facebook use by blocking the sites. The WNY nurse said, "If you try to log onto Facebook, for example, you will get an error message, and an "ACCESS DENIED" message."
Aside from the provision for doctors, the WNY hospital is more stringent on their cellphone use, and employees are encouraged to not use their phones on the premises even when their shift is over. The WNY nurse said, "Like, if you're leaving and want to call your husband to tell him you're on your way home or whatnot, they encourage you to wait until you're in your car to call." The hospital feels the sight of an employee on a cellphone sends a message to visitors that the employee is "unavailable" to help them if they're lost, unsure of where to go, etc.
Implement Staff Smartphone Policy and Stick to It
Because smartphones and other mobile devices may be necessary for hospital communication between healthcare professionals, especially doctors, they can't be restricted all together. To avoid healthcare staff misusing smartphones for non-work related functions that may compromise patient care, there are policies you can implement. According to U.S. National Library of Medicine research, these are some solutions to deter healthcare staff from inappropriately using smartphones:
Create specific Wi-Fi hotspot zones for smartphone use. This will minimize their use in sensitive and restricted areas. These zones can be in cafés or break rooms where healthcare professionals are not tending to work-related activities.
Create no-phone zones in sensitive areas such as intensive care units (ICUs), operating rooms, and critical care units.
Have staff personal devices out of reach and use hospital-provided devices that contain preinstalled job-specific functions and apps.
Set up to-do checklists in every room where work-related tasks are performed to remind healthcare providers of what needs to be done. This also helps to decrease errors due to smartphone distraction and related multitasking.
Set up an intra-company social network for staff to communicate and exchange information in a secure fashion.
Have voice-function capabilities integrated into all health-related apps used at the workplace, allowing staff to communicate hands-free when necessary.
Have staff create a "high alert" list of important phone numbers, messages, and emails on their phones. These numbers would be permitted to alert the healthcare professional during work. All other numbers and emails would not alert the user and/or go into "do not disturb" mode.
As for keeping protected health information (PHI) secure on hospital staff smartphones, the U.S. National Library of Medicine suggests these best practices:
Ensure all digital data is appropriately encrypted, and network and devices associated with the network are password-protected.
Limit high-risk share interfaces such as Bluetooth and Infrared.
Set up required security patches and permission to access company networks/intranets on personal devices.
Generate security alerts/warning messages if a compromised or unauthorized device is used on the network.
Generate security messages to users who access unscrupulous or potentially unauthorized websites.
Establish strict regulations for taking pictures and videos via smartphones.
Provide staff with periodic and relevant training in ethics and conflicts of interest.
Ensure prior permission is obtained before taking photos and videos at work. While taking photos and videos, all must adhere to organizational ethics and conflict-of-interest policies.
In an upcoming article, we'll cover how to manage smartphone distractions and HIPAA violations of patients.
Resources
Rachel J. Katz, MD, The Doctor's Tablet, "Setting Boundaries on Smartphone Use in Hospitals" (December 24, 2013): http://blogs.einstein.yu.edu/setting-boundaries-on-smartphone-use-in-hospitals/
Rachel J. Katz, MD, The Doctor's Tablet, "Smartphones, Millennials and Policy on Hospital Rounds" (February 20, 2014): http://blogs.einstein.yu.edu/smartphones-millennials-and-policy-on-hospital-rounds/
Agency for Healthcare Research & Quality, "Order Interrupted by Text: Multitasking Mishap" (December 2011): https://psnet.ahrq.gov/webmm/case/257
U.S. National Library of Medicine, National Institutes of Health "Distraction: an assessment of smartphone usage in health care work settings," August 27, 2012:
www.ncbi.nlm.nih.gov/pmc/articles/PMC3437811/
---
Michelle A. Dick is executive editor at AAPC and a member of the Flower City Coders, Rochester, N.Y., local chapter.
Latest posts by Michelle Dick
(see all)