Think Twice Before Sticking It in Your Ear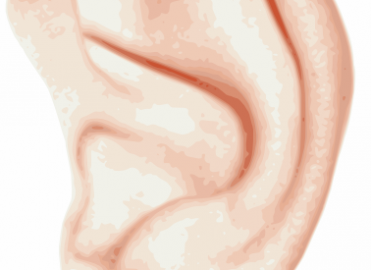 As curious kids, the sage advice "Don't put anything in your ear smaller than your elbow" didn't stop my friends or me from putting many things into our ears (and mouths and noses) that weren't intended to go there. As a (sensible adult) coder, now when an object ends up in an ear, I need to determine whether it's there by way of nature or some other manner, as well as how the object was removed.
Removal of Foreign Object
Removal of a broken cotton swab, an insect, or a Cocoa Puff™ from an ear qualifies as the removal of a foreign body. Removal of a foreign body from the external auditory canal without general anesthesia is coded 69200 Removal foreign body from external auditory canal; without general anesthesia. This code is unilateral, so if the patient sticks a Cocoa Puff™ in both ears, report 69200 on a single claim detail line and append modifier 50 Bilateral procedure.
Note: Individual payers may have different rules on billing unilateral procedures performed bilaterally, and may prefer that the procedure code be billed on two separate line items, appended with modifier RT Right side or LT Left side.
The type of removal described by 69200 is performed under direct visualization with an otoscope. Forceps, a cerumen spoon, or suction is used to remove the foreign body. In the case of a live insect, mineral oil is usually dropped into the ear to immobilize the insect before it is removed.
If the patient cannot tolerate the procedure while awake, general anesthesia may be used. This may also be the case if the foreign body is so large that an incision is made into the external meatus to enlarge the opening before the foreign body can be extracted. In this instance, report 69205 Removal foreign body from external auditory canal; with general anesthesia. This procedure is also unilateral.
Code 92502 Otolaryngologic examination under general anesthesia is considered a standard of medical/surgical practice when performed with the removal of a foreign body. As such, do not report it separately if the examination is performed on the same ear and during the same encounter as the foreign body removal.
Removal of Cerumen
Impacted cerumen (ear wax) is typically extremely hard and dry and accompanied by pain and itching. Impacted cerumen obstructing the external auditory canal and tympanic membrane can lead to hearing loss. There are two different methods for removing impacted cerumen. (For cerumen removal that is not impacted, refer to evaluation and management codes.)
Cerumen Removal: Instrumentation
Report 69210 Removal impacted cerumen requiring instrumentation, unilateral if instrumentation is used to remove impacted cerumen. Code 69210 captures the direct method of impacted earwax removal using curettes, hooks, forceps, and suction.
CPT® considers this procedure to be unilateral, stating, "For bilateral procedure, report 69210 with modifier 50." The Centers for Medicare & Medicaid Services (CMS) sees things differently. In the 2014 Medicare Physician Fee Schedule, CMS stated its opinion that the procedure will typically be done on both ears at the same encounter because "the physiologic processes that create cerumen impaction likely would affect both ears." CMS also said, "Given this, we will continue to allow only one unit of CPT 69210 to be billed when furnished bilaterally." The Medicare Physician Fee Schedule Look-up Tool on the CMS website lists procedure code 69210 as bilateral; appending modifier 50 is unnecessary.
Bottom line: Medicare will pay the same amount for 69210 whether it is performed on one ear or two, even though the CPT® descriptor stipulates it is unilateral. Other payer policies may differ from Medicare's.
Cerumen Removal: Irrigation
New procedure code 69209 Removal impacted cerumen using irrigation/lavage, unilateral describes an indirect and less invasive method of cerumen removal. The creation of this code for CPT® 2016 was warranted to differentiate between direct and indirect approaches of removing impacted cerumen performed or supervised by physicians or other qualified healthcare professionals.
Report 69209 when the removal of impacted cerumen does not require instrumentation. Irrigation/lavage involves using a continuous low pressure flow of liquid (e.g., saline solution) to gently loosen impacted cerumen and flush it out, with or without the use of a cerumen softening agent (e.g., cerumenolytic), which may be administered days prior to, or at the time of, the procedure.
Only one method of impacted cerumen removal (i.e., either 69209 or 69210) may be reported when both are performed on the same day, on the same ear. Procedure code 69209 is unilateral. If performed bilaterally, report 69209 on a single claim detail line with modifier 50 appended.
Note: Individual payers may have different rules on billing unilateral procedures performed bilaterally and may prefer the procedure codes to be billed as separate line items with modifiers RT and LT for the right and left ears, respectively.
Tip:
Don't confuse procedure code 69020 Drainage external auditory canal, abscess with the service described by procedure code 69209. Although both describe a method of irrigation/lavage and/or drainage, 69209 is specific to impacted cerumen and 69020 is specific to abscesses.
Cerumen Removal with Audiologist Service
HCPCS Level II code G0268 Removal of impacted cerumen (one or both ears) by physician on same date of service as audiologic function testing was created to allow payment to a physician who removes impacted cerumen on the same date a contracted or employed audiologist performs audiologic function testing.
CMS does not separately reimburse audiologists for removal of cerumen because this is considered inherent in the audiologic function test. If a physician removes the impacted cerumen on the same day as the audiologic function testing, however, the physician (or other qualified healthcare practitioner) may separately report G0268.
The moral of this story is: The next time you're thinking about sticking something in your ear to remove some bothersome earwax, think twice.
Resources
2014 Medicare Physician Fee Schedule
Medicare Physician Fee Schedule Look-up Tool
---
Maryann C. Palmeter, CPC, CENTC, CPCO, CHC, is employed with the University of Florida Jacksonville Healthcare, Inc. as the director of physician billing compliance where she provides professional direction and oversight to the billing compliance program of the University of Florida College of Medicine – Jacksonville and its practice plan. She has over 30 years of experience in federal and state government billing and compliance regulations gained through working on both the physician billing and government contractor sides of the healthcare industry. Palmeter served on the National Advisory Board from 2011-2013 and served as the board's secretary from 2013-2015. She is the education officer for the Jacksonville, Fla., local chapter. Palmeter received AAPC's "Member of the Year" award in 2010.
Latest posts by Maryann Palmeter
(see all)
One Response to "Think Twice Before Sticking It in Your Ear"