Brace Yourself for Change: CMS Says No More Consults
Ongoing consultation confusion and transfer of care issues fuel Medicare's decision.
By Suzan Berman, CPC, CEMC, CEDC
Medicare no longer will pay for consultations come Jan. 1. The ruling is for both outpatient (99241-99245) and inpatient (99251-99255) services. The decision follows a long period of open comment and consideration by the Centers for Medicare & Medicaid Services (CMS). To confuse matters more, consultation codes remain in the 2010 CPT® manual. This is because the American Medical Association (AMA) — not CMS — publishes CPT®. At press time, there has been no indication from third-party payers as to how they would treat this CMS decision. Whether or not they will continue to honor claims for consultative services billed as such is anyone's guess.
CMS detailed its decision in the Medicare Physician Fee Schedule (MPFS) Final Rule, published in the Federal Register Oct. 30. (See www.federalregister.gov/OFRUpload/OFRData/2009-26502_PI.pdf. The section specific to consultations begins on page 162.)

Inconsistent Code Usage Prompts Action
Because of ongoing confusion surrounding consultation requirements and transfer of care issues, Medicare determined that the consultation codes have not been used reliably or consistently by all physicians and carriers. CMS references an Office of Inspector General (OIG) report that found Medicare allowed approximately $1.1 billion more in 2001 than it should have for services billed as consultations. According to the report, approximately 75 percent of services paid as consultations did not meet all applicable program requirements (per Medicare instructions), resulting in improper payments. Not only have providers been applying the codes incorrectly, the interpretations of the local carriers "were not universally equivalent or acceptable to the physician community and resulted in denials in different localities." Such problems have persisted despite ongoing efforts by CMS and the AMA to clarify the services and requirements.
The Final Rule reasons further that continued "watering down" of the consultation reporting requirements has undermined the rationale for any payment differential between those services and, for instance, new or established office visit services.
For both primary and secondary payment, the consultation codes will be considered non-covered and not reimbursable by CMS.
Consult the Decision Tree for New/Established Patient Status
In the outpatient setting, CMS will pay only new and established office or other clinic visits. As such, offices and physicians must understand clearly the rules distinguishing a new patient from an established patient. A new patient is a patient that wasn't seen by anyone within the department/division/specialty within the past three years. If a new problem is presented and the patient has been seen within the past three years, the patient is considered established and the 99211-99215 series is used. If the patient has not been seen by anyone within the department/division/ specialty within the past three years, the patient is new and the 99201-99205 codes are billed.
If there is any doubt as to a patient's status, CPT® contains a "Decision Tree for New vs. Established Patients" in the Evaluation and Management Service Guidelines to guide the determination.
Initial Visit Now Coded to Different Series
In the hospital setting, the initial inpatient services historically have been used only by the admitting physician. This will change. All initial visits now will be billed with series 99221-99223. The Final Rule instructs, "Outside the context of telehealth services [discussed below], physicians will bill an initial hospital care or initial nursing facility care code for their first visit during a patient's admission to the hospital or nursing facility in lieu of the consultation codes these physicians may have previously reported."
The admitting service will append a modifier (most likely new-for-2010 HCPCS Level II modifier AI Principal physician of record) to link the service to the admitting provider. The documentation requirements for the lowest level of initial visit are very similar to that of the 99253 Inpatient consultation for a new or established patient, which requires these 3 key components: A detailed history; A detailed examination; and Medical decision making of low complexity. Counseling and/or coordination of care with other providers or agencies are provided consistent with the nature of the problem(s) and the patient's and/or family's needs.
If a patient is sent to another physician for opinion or advice, the communication back to the requesting physician shouldn't change; however, it now will no longer be a requirement. Further policy by CMS will be introduced if a decrease in this communication is noted.
Telehealth Consultations Get New Codes
By law, telehealth services must include "professional consultations." The Final Rule allows, "We recognize that consultations furnished via telehealth can facilitate the provision of certain services and/or medical expertise that might not otherwise be available to a patient located at an originating site Therefore, for CY 2010, we proposed to create HCPCS codes specific to the telehealth delivery of initial inpatient consultations."
The telehealth consultation codes will be:
G0425 Initial inpatient telehealth consultation, typically 30 minutes communicating with the patient via telehealth
G0426 Initial inpatient telehealth consultation, typically 50 minutes communicating with the patient via telehealth
G0427 Initial inpatient telehealth consultation, typically 70 minutes or more communicating with the patient via telehealth
The Final Rule explains, "The purpose of these codes would be solely to preserve the ability for practitioners to provide and bill for initial inpatient consultations delivered via telehealth. These codes are intended for use by practitioners when furnishing services that meet Medicare requirements relating to coverage and payment for telehealth services."
Upon eliminating consultation codes, Medicare will increase work RVUs of the other evaluation and management (E/M) codes in a budget neutral manner. Codes to receive additional values include: nursing home visits, new patient visits, established patient visits, initial hospital services, and subsequent visits. A slight increase in surgery reimbursement also will be amended to increase payment for the E/M component of global surgical packages for surgeries with 10- or 90-day global periods.
Although the Final Rule leaves some questions unanswered, you will have to prepare for this major change — and do so quickly (by Friday, Jan. 1). To help get you started, I've included a "to do" list for you to consider.
"To Do" List
Are you ready for 2010? Use this checklist to prepare for the impending changes to consultation and other E/M medical coding. Check off each item as you complete it.
1. Update all fee slips/encounter forms.
2. Update all inpatient billing cards and spreadsheets.
3. Establish appropriate edits in your billing system.
a. Identify consultations billed erroneously to Medicare.
b. Check new patient services billed to established patients.
c. Check modifier usage on the part of the admitting service on the initial visit of a hospital stay.
4. Hold education sessions and develop materials to explain this to physicians, scheduling staff, support clinicians, coders, management, etc.
5. Contact other top payers to confirm how they will be handling consultations.
6. Update reference material.
Latest posts by admin aapc
(see all)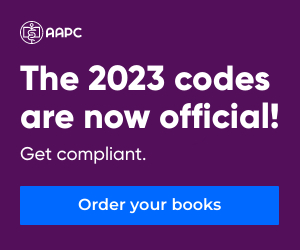 4 Responses to "Brace Yourself for Change: CMS Says No More Consults"