Are Discounts and Waivers Illegal?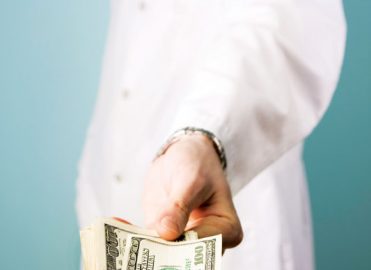 A discount is a reduction in the amount of what a patient owes. Usually, these are contractual and negotiated between the insurance carrier and the provider. A waiver would be intentionally not perusing your right to collect a deductible or co-payment.
Provider offices are seeing larger deductibles and co-payments as carriers are making the patient bear more financial cost for their health services. The objective would be to have the patient take an interest in their care and also to reduce unnecessary services.
Practice managers remember that not collecting or forgiving patient's deductibles and co-payments can be viewed as unlawful inducement—even more so if done on a routine basis. It can actually be viewed as a violation under the Anti-Kickback Statute. There are safe harbors for some waiver of co-payments and deductible (for example, patients treated at Federally Qualified Health Center (FQHC) or under a public health service grant).  Remember, these are mostly indigent care providers, and even these have conditions that they must met. The Office of Inspector General (OIG) stated in 1994, "Routine waiver of deductibles and co-payments by charge-based providers, practitioners or suppliers is unlawful because it results in (1) false claims, (2) violations of the anti-kickback statue, and (3) excessive utilization of items and services paid for by Medicare." It actually results in a misstatement of actual charge and/or cost of the service perform by the provider.
Some examples of improper waivers are advertisements stating Medicare accepted as payment in full, or insurance accepted as payment in full and no out of pocket expense. Advertisements offering discounts to Medicare patients are improper. Even routine use of financial hardship forms is considered to be improper waiver of payment. There are potential penalties for doing any of the mentioned discounts or waivers. Possible false claims or anti-kickback statue penalties include civil and monetary penalties, criminal fines, exclusion, and even imprisonment.
There are discounts that are legal. Some examples that the OIG will permit are:
if the amount of the discount is related to what it would cost to collect the deductible or co-payment,
if a discount is offered to all patients for all services, regardless of the diagnosis or the length of treatment.
Remember: no cost are to be sifted to Medicare, Medicaid, or any other government program. OIG will permit free testing or services (for example, during a health fair), as long as the service does not require you to use a certain provider. Also, the patient should not be offered a special discount for any follow up services. OIG also will allow free transportation for patients if it is open to all patients (e.g., it cannot be limited to special group of patients). Even this must follow rules, as transportation must be reasonable and must be to a local physician office, and public transportation and parking must be limited or difficult for the patient to get. This cost cannot be sifted to any federal program for payment.
All non-routine waiver of deductibles and co-payment must be documented and should not be routine. Make sure your practice has developed a policy and procedure for determining patient financial situation. The most important part is that the practice follows the policy and procedure.
As a practice manager, you should do periodic audits of patient accounts to verify that policy and procedure are being followed. Clearly identify who has authority for making discount and/or waiver decisions. Best practice would be to develop a criteria for waiver based on income and expenses, larger than usual bills, or a catastrophic situation, such as sudden major illness. Make sure to get documentation from patient that shows the inability to pay the deductible or co-payment, such as pay stubs or tax returns. The practice should also have the patient sign a statement that all information is truthful. The policy should be updated annually base on the federal poverty guidelines.
Practice Managers should look for warning signs of problems when they see increasing or large amounts of bad debt.
The practice must train the staff on matters related to waivers and discounts. Adapt your training based on your periodic audits.
Latest posts by Judy Wilson
(see all)