Hot Off the Presses
By Brad Ericson
August 1, 2016
Comments Off

on Hot Off the Presses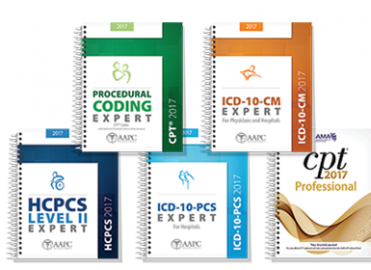 AAPC's 2017 codebooks are a reflection of its members and their needs.
Codebooks are as important to us as knives are to a chef. The feel, familiarity, and trust we enjoy when we open a codebook is not too different from what a top chef enjoys when she grasps her trusty knife and begins to cut. Knives eventually wear out, and new ones take some getting used to. The same can be said for codebooks.
With that in mind, AAPC quit putting its own covers on other publishers' books and started offering our own. The transition still proves both scary and satisfying — in that child-rearing way. But it takes a village to develop good books; and thanks to the input and work of our credentialed members, AAPC codebooks are maturing quickly.
Next year's codebooks reflect a thawing of the ICD-10 code freeze. As payers stop accepting unspecified codes when the grace period ends, they'll be looking for 2017 codes. This year, there are more than 7,000 new, deleted, and revised codes in ICD-10-CM and 3,000 in ICD-10-PCS. We have every reason to believe CPT® and HCPCS Level II codes will be updated next year, as well.
We listen carefully to suggestions and feedback from purchasers and make improvements every year. For example, our 2016 books included several improvements requested by members — including our exclusive fold-out covers that feature all the modifiers — and were developed not only for day-to-day coding, but also synced with our credential training materials.
For 2017, members suggested more improvements to the books, and we can't wait to share them with you. Here are just some of the exciting changes:
Less Muss and Fuss – We're moving to a stronger, less shiny paper. This will help prevent tearing and eliminate the tiring glare some members report. Our books will be vacuumed this year to eliminate much of that snow-like paper dust coil-bound books shed. We will also provide rules in the ICD-10-CM indexes to make finding the right code easier.
More Universal – We're combining the physician and facility ICD-10-CM information into one volume, so you won't need separate books to bill physician, outpatient, and inpatient. And you can count on the AAPC ICD-10-CM book to have the information you'll need when you sit for the CIC® exam.
Reporting-friendly – The move to a value-based payment system means providers will need to capture the right codes for optimum quality reporting in 2017 and subsequent reimbursement in 2019. To help you with this, we are crosswalking G codes with CPT® codes in Procedural Coding Expert and HCPCS Level II. Capturing this information will pay off when the Medicare Access and CHIP Reauthorization Act is fully implemented in 2019.
More Helpful Features – We're adding a lot more to our already feature-rich books. For example, ICD-10-CM books will include information to help you identify Z codes with long-term use of drugs and those used as primary diagnoses. Guidelines will be in lay language within each chapter, along with examples.
We hope you'll continue AAPCs codebooks and share your feedback. More than any other codebooks, ours reflect the response from our members.
AAPC is committed to supporting all members – new and long-time – with the training and resources you need to perform your job. If you'd like more information about our books, visit our website at www.aapc.com, or call us at 800-626-2633.
---
Brad Ericson, MPC, CPC, COSC, is publisher and a member of the Salt Lake City, Utah, local chapter.
Latest posts by Brad Ericson
(see all)