Establish Causal Relationships in Diabetes Documentation
August 1, 2016
Comments Off

on Establish Causal Relationships in Diabetes Documentation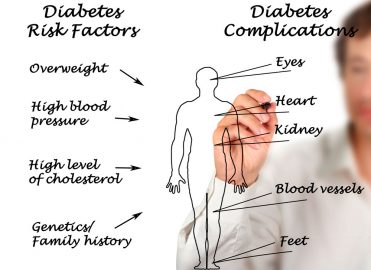 If you're still confused about coding diabetes manifestations, look to Coding Clinic.
The American Hospital Association's (AHA) Coding Clinic provides welcome relief for diabetes coders, describing new documentation requirements for establishing causal relationships in ICD-10-CM.
The change occurs in Coding Clinic, second quarter 2016:
Question: The AHA Central Office has received several questions requesting clarification of the advice published in the First Quarter 2016 issue regarding diabetes and associated conditions. The published advice is based on Guideline Section I.A.15 which says: The word "with" should be interpreted to mean "associated with" or "due to" when it appears in a code title, the Alphabetic Index, or an instructional note in the Tabular List. The classification presumes a causal relationship between the two conditions linked by these terms in the Alphabetic Index or Tabular.
Answer: The following example from the Alphabetic Index for the main term "Diabetes" and the subterm "with" demonstrates this linkage:
Diabetes, diabetic (mellitus) (sugar) E11.9
with
Amyotrophy E11.44
Arthropathy NEC E11.618
Autonomic (poly) neuropathy E11.43
Cataract E11.36
Charcot's joints E11.610
Chronic kidney disease E11.22
The subterm "with" in the Index should be interpreted as a link between diabetes and any of those conditions indented under the word "with." The physician documentation does not need to provide a link between the diagnoses of diabetes and chronic kidney disease to accurately assign code E11.22, Type 2 diabetes mellitus with diabetic chronic kidney disease. This link can be assumed since the chronic kidney disease is listed under the subterm "with." These conditions should be coded as related, even in the absence of provider documentation explicitly linking them, unless the documentation clearly states the conditions are unrelated and due to some other underlying cause besides diabetes. For conditions not specifically linked by these relational terms in the classification, provider documentation must link the conditions in order to code them as related.
Coding Clinic is accepted as an authority on ICD-10-CM rules for the Centers for Medicare & Medicaid Services (CMS) and private payers. This ruling tells you that entries linked in the Index under "Diabetes/with" have a causal relationship when the provider documents both conditions in the same note. Previously, many coders and auditors required stronger linkage language including "due to diabetes," "diabetic," or "as a complication of diabetes" to code a relationship between two conditions.
Don't Presume Linkage
Although Coding Clinic has loosened most causal relationship requirements of diabetes coding, it has tightened others. For ICD-9-CM, Coding Clinic indicated that a causal relationship should be assumed between diabetes and osteomyelitis if both conditions were documented for the same date of service. This guidance changed for ICD-10-CM:
Question: A woman, who has had type 1 diabetes for 40 years, developed chronic osteomyelitis of the R heel and presents to the infectious disease clinic for follow-up. The provider also noted, 'Chronic renal impairment (creatinine 290) due to diabetes.' While at the clinic the patient became hypoglycemic and was treated. Does ICD-10-CM assume a relationship between diabetes and osteomyelitis when both conditions are present? How should this case be coded?
Answer: No, ICD-10-CM does not presume a linkage between diabetes and osteomyelitis. The provider will need to document a linkage or relationship between the two conditions before it can be coded as such. This information is consistent with that previously published in Coding Clinic (for ICD-10-CM), Q4 2013, page 114.
Assign code M86.671 Other chronic osteomyelitis, right ankle and foot as the first-listed diagnosis. Assign codes E10.649 Type 1 diabetes mellitus with hypoglycemia without coma, E10.29 Type 1 diabetes mellitus with other diabetic kidney complications, and N28.9 Disorder of kidney and ureter, unspecified as additional diagnoses.
Note that osteomyelitis is not a disorder that appears under "Diabetes/with" in the Index.
Clear Up Confusion on Other Coding Cases
Other coding scenarios addressed in Coding Clinic for ICD-10-CM regarding diabetes include:
For diabetic gastroparesis, report E–.43 (depending on the type of diabetes with diabetic autonomic (poly)neuropathy) and K31.84 Gastroparesis. There is no instruction in the code set stating a second code for gastroparesis is required, but Coding Clinic advises you to identify the manifestation, when possible, as in the case of gastroparesis.
For gestational diabetes controlled with oral medication, report O24.41- Gestational diabetes mellitus in pregnancy and a code for long-term drug therapy (Z79.899 Other long term (current) drug therapy). In October 2016, a new code will be available to report long-term use of oral hypoglycemic.
A patient with type 2 diabetes documented with diabetic ketoacidosis (DKA) is reported with E13.10 Other specified diabetes mellitus with ketoacidosis without coma. No code exists for DKA with type 2 diabetes.
Report hyperglycemia (E–.65) in addition to any other diabetic complications. You may report any diabetes codes together, including the code for high blood sugars.
Best practice is to review Coding Clinic each quarter. An easy and inexpensive way to keep up with Coding Clinic is to purchase it as an add-on to your software subscription.
---
Sheri Poe Bernard, CPC, COC, CPC-I, CCS-P, is a coding education and risk adjustment consultant and author of the AMA publication, Netter's Atlas of Surgical Anatomy for CPT® Coding. Her 25-year career in coding and reimbursement includes developing coding curriculum and references for AAPC, the AMA, DecisionHealth, Elsevier, Optum360, and Staywell. Bernard is a member of the Salt Lake City, Utah, local chapter.
Latest posts by Sheri Poe Bernard
(see all)
No Responses to "Establish Causal Relationships in Diabetes Documentation"