MACRA: Moving from Volume to Value
August 1, 2016
Comments Off

on MACRA: Moving from Volume to Value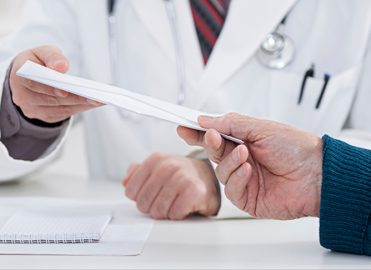 Start now to ensure your business processes support MIPS and APM requirements.
Under the direction of the Medicare Access & CHIP Reauthorization Act of 2015 (MACRA), the Centers for Medicare & Medicaid Services (CMS) is charged with implementing a Quality Payment Program that pays healthcare providers for the quality of their work, not the quantity. For starters, the federal agency is proposing to create two new quality-based payment systems: the Merit-based Incentive Payment System (MIPS) and advanced Alternative Payment Models (APM).
To that end, CMS outlines four strategic goals:
1. Design a patient-centered approach leading to better, smarter, and healthier care;
2. Develop a program that is meaningful, understandable, and flexible for clinicians;
3. Design incentives that drive delivery system reform principles and participation in APMs; and
4. Ensure attention to excellence in implementation, effective communication, and operational feasibility.
What You Need to Know About MIPS
CMS touts the MIPS program as a "fresh start." The program will retire the Physician Quality Reporting System (PQRS), Value-based Payment Modifier (Value Modifier), and the Medicare Electronic Health Record (EHR) Incentive Program (or Meaningful Use), along with their individual financial penalties or rewards, in exchange for a positive, neutral, or negative payment adjustment. Components of these programs are being carried forward into the MIPS program across four performance categories:
1. Quality
2. Resource use
3. Clinical practice improvement activities (CPIA)
4. Advancing care information (ACI)
For 2019, these performance categories will be weighted on a 0-100 scale (as shown in Figure A), and will contribute to a composite performance score. This score will be compared to a performance threshold that CMS will calculate based on available data from the 2017 reporting period. The scores from 2017 will determine payment adjustments in 2019.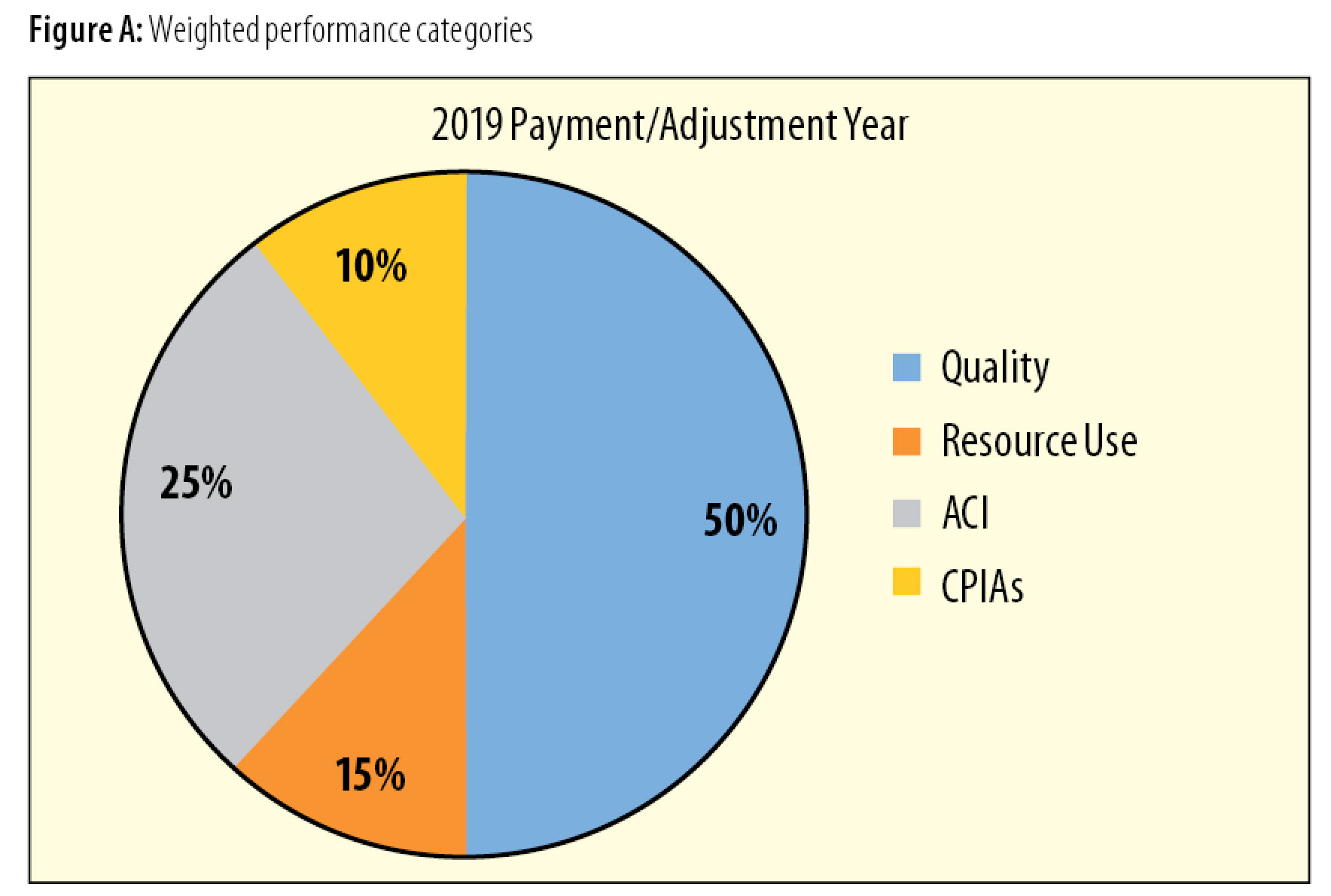 Who Is Affected by MIPS?
The proposed rule changes the definition of an "eligible professional" to include only physicians and traditional mid-level providers (physician assistants, nurse practitioners, clinical nurse specialists, and certified registered nurse anesthetists). There is flexibility in the legislation to expand and include other types of MIPS-eligible clinicians after the first two years of the program.
MIPS applies only to eligible clinicians, not to hospitals or other facility types. Also excluded are:
Eligible clinicians in their first year of Medicare Part B participation
Eligible clinicians defined as having a low volume threshold, which is proposed as Medicare annual billed charges of less than $10,000 and 100 Medicare patients or less
Certain participants in advanced APMs
CMS expects the majority of eligible clinicians to participate in MIPS in the first year, with substantial growth of APMs in the future.
MIPS Performance Categories
As shown in Figure B, MIPS reporting on the four performance categories can be achieved at the individual level, or as a group of eligible clinicians using a group Tax Identification Number (TIN). CMS seeks feedback through the rule-making process to enable "virtual groups" to report together beginning in the 2018 performance year.
Figure B: 2017 MIPS Reporting Methodologies
Individual
Group (25+ eligible clinicians)
Quality
QCDR
Registry
EHR
Administrative claims
no data submitted)
Claims
QCDR
Registry
EHR
Administrative claims (no data submitted)
CMS Web interface
CAHPS for MIPS survey
Resource Use
Administrative claims
no data submitted)
Administrative claims
no data submitted)
CPIA
Attestation
QCDR
Registry
EHR
Administrative claims
no data submitted)
Attestation
QCDR
Registry
EHR
CMS Web interface 
ACI
Attestation
QCDR
Registry
EHR
Attestation
QCDR
Registry
EHR
CMS Web interface
Quality
Digging deeper into the largest performance category, there are no changes to current reporting methodologies, but the number of reported measures is reduced from nine to six and there is no requirement to report on multiple quality strategy domains (although it's still recommended).
For patient-facing clinicians, one crosscutting measure is required and one outcome measure must be included. In absence of an applicable outcome measure, a "high priority" measure may be substituted, which focuses on patient experience, patient safety, efficiency, care coordination, or appropriate use criteria. The performance threshold will vary between 80-90 percent of all patients (not just Medicare), according to the chosen reporting mechanism. Population measures will be calculated automatically through claims data.
Resource Use
This category will compare resources used to treat similar care episodes and clinical condition groups across practices, and requires no separate data submission. Performance will be based on claims data and include per capita cost and the Medicare spending per beneficiary measure. Key changes from the Value Modifier will be the addition of 40+ episode specific, focused measures and performance evaluation will be at the individual clinician level.
CPIA
Activities will be flexible in their inaugural year. Performing 1 of 90 activities from the following nine categories will earn you partial credit, and achieving more will increase your score:
1. Care coordination
2. Beneficiary engagement
3. Patient safety
4. Expanded practice access
5. Population management
6. Achieving health equity
7. Emergency preparedness
8. Participation in an APM or medical home
9. Integrated behavioral and mental health
Accredited patient-centered medical homes automatically earn the highest possible points in this category, and participation in an APM will automatically satisfy 50 percent of this category. Partnering with a qualified clinical data registry will satisfy performance requirements of multiple CPIAs.
ACI
This category requires a full year of reporting. In a change from Meaningful Use, eligible clinicians are able to report at the group level under MIPS, and increased flexibility is evident through reduced objectives and no thresholds. CMS expects the performance weight of this category to reduce over time, as EHR adoption increases.
As shown in Figure C, scoring for this category includes a base score (required) of 50 points, a performance score of 80 points, and the ability to achieve a bonus point, for a total of 131 points. Scores of 100 or more will be given full credit for this performance category.



The required six objectives for the base score (50 points) include:
Protecting Patient Health Information (attestation)
Public Health and Clinical Data Reporting (attestation)
Patient Electronic Access (numerator/denominator)
Coordination of Care through Patient Engagement (numerator/denominator)
eRx (numerator/denominator)
Health Information Exchange (numerator/denominator)
The performance score (80 points) options are flexible, and allow for choices that best align with a practice or specialty. Measures will be selected from patient electronic access, coordination of care through patient engagement, or health information exchange.
The bonus point can be earned by reporting to one public health registry beyond the required immunization reporting.
What to Do Now?
Review your current performance and participation status in PQRS, Value Modifier, and Meaningful Use to prepare for MIPS, and to identify gaps requiring remediation before year-end. Be diligent in understanding your cost, utilization, and quality benchmarks. If you don't have a Quality Improvement plan, now is the time to develop one.
The APM Advantage
For years 2019 through 2024, as shown in Figure D, an eligible clinician who participates in an advanced APM is excluded from MIPS adjustments and receives a 5 percent Medicare Part B incentive payment. For years 2026 and later, eligible clinicians stand to gain even more.



APMs come in many shapes and sizes. Through the rule-making process, they are defined as payment models that derive from:
Section §1115A of the Social Security Act
Shared Savings Program under §1899 of the Social Security Act
Demonstration Project under §1866C of the Social Security Act
A demonstration required by federal law
Other payer models
As proposed by CMS, Advanced APMs must meet the following criteria:
≥ 50 percent of participants required to use certified electronic health record technology;
Provides payment for Medicare Part B based on quality measures comparable to those of MIPS;
Must bear more than a "nominal" amount of risk for monetary losses or be a Medical Home Model (expanded under §1115A of the Social Security Act)
CMS has deemed the following payment models as advanced APMs for the 2019 payment year:
Shared Savings Accountable Care Organization (ACO) (tracks 2 and 3)
Next Generation ACO
Comprehensive ESRD Care
Comprehensive Primary Care Plus
Oncology Care Models
Qualifying APM Participants
Confusingly, there are eligible clinicians who belong to an APM (advanced or non-advanced) who will still be required to participate in MIPS. The proposed rule outlines special scoring and data submission rules for "MIPS APM" clinicians. MIPS APMs will have the same reporting categories as MIPS eligible physicians (quality, resource use, clinical improvement, and advanced care information), but with varying requirements and performance weights based on the type of APM.
Example: Eligible clinicians participating in a one-sided risk Track 1 Medicare Shared Savings ACO, which is a non-advanced APM, would not quality for a MIPS exemption; however, they would receive credit for APM participation and reduce their full MIPS reporting requirements.
To confuse matters even more, eligible clinicians who participate in an advanced APM, and meet the patient count or payment amount threshold and applicable performance criteria in a given performance year, are Qualifying APM Participants (QPs), and are exempt from MIPS reporting (as shown in Figure E). There are two types of qualified participants: fully and partially. A fully qualified participant meets higher thresholds compared to a partially qualified participant, and is eligible to receive a 5 percent bonus payment beginning in 2019 through 2025. Beginning in 2026, QPs will receive a higher fee schedule update.
Figure E: The threshold score for each method is compared
to the corresponding QP threshold table and CMS takes the better result.
| | | |
| --- | --- | --- |
| Payment Year | Payment Amount Method | Patient Count Method |
| 2019/2020 | 25 percent | 20 percent |
| 2021/2022 | 50 percent | 35 percent |
| 2023/2024+ | 75 percent | 50 percent |
Even though partially qualified participants are not eligible for the bonus payment, they do have the advantage of deciding whether they wish to participate in MIPS. If they perform well, they qualify for MIPS incentives. Bonus payments to fully qualified participants will be made to the advanced APM entity through which the eligible clinician met the threshold (not directly to the clinician).
The reporting period for 2017 is 12 months and will end on Dec. 31, 2017. CMS will also use this date to determine if an eligible clinician TIN is included in the list of participating providers for the APM. Data submission for the reporting year will be final on March 31, 2018, and CMS will notify advanced APM entities of their eligible clinicians' qualified participant status "as soon as practical" following the end of the reporting period. Unfortunately, if an eligible clinician is not deemed a QP, it will be too late to report in MIPS because the reporting period will have ended.
How to Prepare
The 962-page proposed rule includes detailed information on scoring, opportunities for additional support for small practices, future inclusion of commercial payer and Medicaid APM models, etc. The final rule will be published no later than Nov. 1, 2016, but do not wait to prepare. Focus your efforts on reviewing quality metric reporting data, aligning the data to a quality initiative plan, and gaining a clear understanding of your patient population. If you are not participating in a clinical data registry, it may be time to start. Review your business processes to ensure they support the MIPS/APM requirements.

Resources
Notice of Proposed Rule Making, MACRA, Quality Payment Program

Latest posts by Penny Osmon Bahr
(see all)