Combat Common Denials in Orthopedics Coding
August 1, 2016
Comments Off

on Combat Common Denials in Orthopedics Coding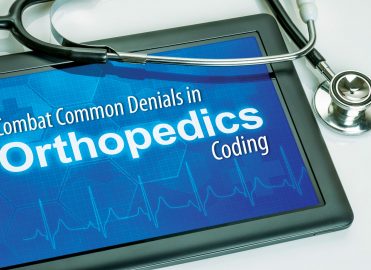 Part 2: Knowledge is your best defense against up-coding and missing or insufficient documentation.
This month, we conclude our review of common mistakes leading to orthopedic claims denials, with tips to avoid those mistakes. In the last issue, we discussed unbundling and medical policies. Now, we'll discuss up-coding and no or insufficient documentation.
Note: Although this article uses orthopedic examples, much of the information is applicable in any outpatient setting.
Common Triggers of Up-coding
Electronic health record (EHR) templates, cloning (i.e., copying and pasting), rolling EHRs, etc., have likely contributed to higher-level evaluation and management (E/M) billings. Auditors examine E/M claims for up-coding, outliers, medical necessity, and misuse of the 1995 and 1997 Documentation Guidelines for Evaluation and Management Services.
E/M Leveling
Although the documentation guidelines (DGs) have helped to curb up-coding, medical necessity trumps coding rules. If the level of acuity for a diagnosed condition remains at the same level or increases over time, the payer may become suspicious. For the initial problem, the E/M level should be higher due to the need for a thorough history, exam, and medical decision-making. After the treatment plan has been established and the diagnosis confirmed, the level of the E/M should decrease over time, along with the need for a comprehensive history and exam.
Example: An established patient reports to the office on Monday for a slip and fall with shoulder pain and limited movement. This is a new problem. The provider performs a detailed history and detailed exam. The provider orders X-rays, physical therapy, rest, ice, and over-the-counter medication. The patient is diagnosed with a sprain. The first encounter is reported 99214 Office or other outpatient visit for the evaluation and management of an established patient, which requires at least 2 of these 3 key components: A detailed history; A detailed examination; Medical decision making of moderate complexity.
After four weeks of physical therapy and recommended treatment, the patient reports feeling better with minor discomfort with over-exertion. The provider performs a limited exam and confirms a decreased range of motion. The provider gives an injection with two more weeks of physical therapy and reports 99213 Office or other outpatient visit for the evaluation and management of an established patient, which requires at least 2 of these 3 key components: An expanded problem focused history; An expanded problem focused examination; Medical decision making of low complexity.
The patient returns in two weeks and the physician notes the patient's full improvement. The provider reports 99212 Office or other outpatient visit for the evaluation and management of an established patient, which requires at least 2 of these 3 key components: A problem focused history; A problem focused examination; Straightforward medical decision making.
This example shows the anticipated reduction in the acuity level as the patient's condition improves. Had the provider continued to report 99214 throughout the course of treatment, the payer likely (and rightly) would raise questions about the medical necessity of the services.
The exception to this would be if a change in health occurs to prompt a higher level E/M service. Such changes include new complaints, exacerbations, reactions, unanticipated changes in condition, or lack of improvement on the established treatment plan. These situations usually require a provider to conduct further research and may warrant a change in the treatment plan. This additional work may support a higher-level E/M code.
Using 20680
Up-coding is also common with 20680 Removal of implant; deep (eg, buried wire, pin, screw, metal band, nail, rod or plate). CPT® Assistant (June 2009) addresses the differences between CPT® 20680 and 20670 Removal of implant; superficial (eg, buried wire, pin or rod) (separate procedure). Additional clarification is provided in the March 2014 CPT® Assistant.
CPT® 20680 should be reported for:
Proximal radius, other than radial head prosthesis;
Distal humerus or proximal ulna, other than humeral or ulnar prosthesis; or
Hardware other than humeral and/or glenoid prosthesis.
In other circumstances, report 20670, unless a specific implant removal code exists (e.g., 27704 Removal of ankle implant, 26320 Removal of implant from finger or hand, or 24160-24164 Removal of prosthesis includes debridement and synovectomy when performed …). Providers using a small incision, or pulling or unscrewing an implant from a superficial wound, should report 20670.
For example, for the removal of a screw from the wrist or ankle, 20670 is likely most appropriate because muscle, fat, tissue, etc.,
are often limited in these areas; thereby allowing for superficial incisions. If the service does not require a layered closure, many auditors will consider 20670 to be the most appropriate code. The type of implant is not necessarily important.
Shoulder Surgery vs. Debridement
CMS also scrutinizes shoulder surgery claims for up-coding. Both the American Medical Association (AMA) (CPT® Changes 2002: An Insider's View) and the American Academy of Orthopaedic Surgeons (AAOS) (April 2004 Bulletin) have stated that a distal claviculectomy requires approximately 1 cm (or 8-10 mm) of bone to be removed to report 23120 Claviculectomy; partial or 29824 Arthroscopy, shoulder, surgical; distal claviculectomy including distal articular surface (Mumford procedure). Anything less is debridement. If you bill the service as a claviculectomy, it will most likely be denied for up-coding.
CPT® +29826 Arthroscopy, shoulder, surgical; decompression of subacromial space with partial acromioplasty, with coracoacromial ligament (ie, arch) release, when performed (List separately in addition to code for primary procedure) is an add-on code for arthroplasty. A subacromial decompression without documentation of an acromioplasty is debridement. Documentation should address changes to morphology of the acromion, and not just a skeletalization of it. Removal of osteophytes or skeletalizing the acromion is a form of debridement.
The morphology of the acromion may indicate type I (flat), type II (curved), or type III (hooked). There may also be reference to a type IV, for a convex appearance. The documentation cannot simply indicate the morphology type, however; it also must indicate a change in the morphology to qualify as acromioplasty. Consequently, the operative report must indicate either the term acromioplasty and/or a change in the acromion morphology. The preferred documentation for clinical documentation improvement should indicate the change in morphology.
Be cautious to observe the differences between 29822 Arthroscopy, shoulder, surgical; debridement, limited and 29823 Arthroscopy, shoulder, surgical; debridement, extensive. Code 29823 requires that three or more areas of soft tissue are addressed and a chondroplasty of the humeral head or glenoid and associated osteophytes, or front and back of the shoulder, per the April 2004 and April 2006 AAOS Bulletins. If the documentation does not meet these requirements, the service may be down-coded to 29822. Some payers may deny the services and require the provider to appeal or to submit a corrected claim.
Appeals and Corrected Claims Done Right
You can appeal up-coding accusations, but without new information, it is difficult to obtain payment. Providing new information, including changes to the record or changes to clear and specific documentation, may result in allegations of altering a record and falsifying documents to obtain reimbursement. Corrected claims are often the best way to handle up-coding. Providers should clearly state charges reflect a corrected claim and prior claims should be voided; however, this increases the risk of potential duplicate payments if overpayments are not refunded, or payers may deny the services as duplicate billings without clear notice of the corrected claim.
Supply Proper Documentation
CMS allows you to report certain codes with assistant surgeon modifiers AS, 80, 81, or 82. Medicare's physician fee schedule relative value file includes an indicator to designate which codes may be paid for an assistant and which codes may be paid with medical necessity documentation. This is the key to documentation for the assistant-at-surgery charges. Both AAOS and AMA have indicated that documentation must include the medical necessity of the assistant and their role as documented by the surgeon. Without this information, there is no indication the assistant did more than simply observe the surgery.
X-rays and other radiology services also require significant documentation. In the 2016 CPT® codebook, the AMA clarifies that radiology services require an interpretation and report. This requirement is found in CPT® Assistant, but was not mentioned in the CPT® codebook until this year.
Without a written interpretation and report, there is no documentation that a radiology service occurred. It may have been a review of a report, technical component only, or a different service than billed. To support an X-ray, the written report must include:
An order with the reason for the X-ray and name of the ordering provider;
The number or types of views;
The body part imaged; and
The findings (interpretation).
Example: X-ray of the knee showed narrowing of the medial and lateral compartments. Suprapatellar compartment was normal. No bone chips noted.
This note would not support an X-ray code. For the knee, there are four X-ray codes (73560, 73562, 73564, and 73565); three of these define the number of views. The last code requires documentation of both knees in the standing position for an anteroposterior view. None of this detail is covered in the documentation. The documentation also does not state the need for the X-ray, who ordered it, and if this is an interpretation or the review of a report.
Save Time and Money
When reviewing claims denials, review the documentation against coding rules, bundling rules, specialty boards and organizations, medical policies, and documentation rules. You must also assess the cost to appeal the denials.
Before pursuing appeals, consider the cost of the postage, the salary of the staff member drafting the appeal, the time needed to conduct the review and appeal, the time waiting on payment, the cost of the paper and ink for the appeal, and the potential risk of another denial.
Is the appeal worth the cost, and will the benefit of succeeding outweigh those costs? If the answer is yes, does the documentation contain sufficient evidence to support the denied services? Keep in mind, it's unethical and illegal to alter or fabricate records to obtain reimbursement. Documentation is the key, and it's the job of everyone to ensure documentation supports medical necessity, quality of care, coding, and billing requirements to avoid unnecessary denials.
Resources
AMA, CPT® Changes 2002: An Insider's View
AMA, CPT® 2016 Professional
AMA, CPT® Assistant, March 2014
AAOS Bulletin, "Accurately Code Shoulder Procedures," April 2004
AAOS Bulletin, "Shoulder Coding: Questions, Answers and Clarifications," April 2006
---
Michael Strong, MSHCA, MBA, CPC, CEMC, is the bill review technical specialist at SFM Mutual Insurance Company. He is a former senior fraud investigator, with years of experience performing investigations of fraud and abuse. Strong also is a former EMT-B and college professor of health law and communications. He is a member of the St. Paul, Minn., local chapter, and can be contacted at michaelallenstrong@yahoo.com.
Latest posts by Michael Strong
(see all)