Why AAPC is Passionate About Their Codebooks
By admin aapc
September 2, 2016
Comments Off

on Why AAPC is Passionate About Their Codebooks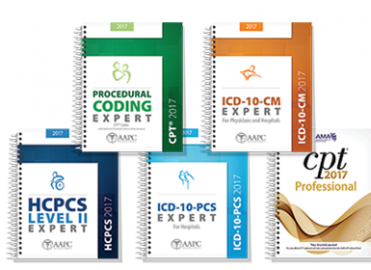 Healthcare Business Monthly (HBM) recently sat down with AAPC's publisher, Brad Ericson, MPC, CPC, COSC, to talk about this year's code changes and their impact on AAPC codebooks.
HBM: After last year's implementation of ICD-10, what's so important about the upcoming code season?
Ericson: There are a lot of changes in store for both ICD-10-CM and ICD-10-PCS, and they're coming at the same time the one-year grace period offered by the Centers for Medicare & Medicaid Services (CMS) and other payers ends. Come Oct. 1, we'll be required to report to the greatest specificity and accuracy, facing significantly less latitude, all the while implementing new, changed, and deleted codes. No more NOS [not otherwise specified] codes for us!
HBM: Where are the code changes to ICD-10? How about the
other code sets?
Ericson: Changes are pretty impressive. We're seeing nearly 2,000 new ICD-10-CM codes for 2017. There are 311 deletions and 425 revisions of existing codes. Many codes, such as the much-used diabetes codes, reflect a new focus on laterality.
There are new and clarified codes throughout the set. You'll also find new codes for hypertension, hoarding, prediabetes, and paper cuts, to name just a few.
ICD-10-PCS reflects around 3,500 changes; and the Section X addition, released at the last minute, last year, is fully implemented.
CPT® 2017 will have more than 700 changes, twice as many as usual. We won't know about HCPCS Level II changes until around the end of October, when CMS releases the 2017 code set.
HBM: What other changes can we expect in AAPC's codebooks this year?
Ericson: AAPC is lucky to be so connected to our members, and our books reflect the best of that relationship. We listen carefully to member suggestions and surveys, and adjust codebooks accordingly to make it easier for colleagues to learn and work.
For example, we heard our pages were too shiny, making them difficult and tiresome to read under fluorescent lights. We hand-picked less reflective, paper for 2017. We also put vertical lines in the Index to Diseases to make it easier to discern indentations. Inpatient coding students and their instructors, along with Certified Inpatient Coder [CIC™] credential aspirants, asked for more inpatient information in our ICD-10-CM books. We listened and to save coders money, we added the requested information to our existing book, rather than developing a separate hospital ICD-10-CM codebook.
We also corrected minor problems, and added additional information in all the books, thanks to members' feedback.
HBM: What additional information? Can you be more specific?
Ericson: For instance, we've added MS-DRG [Medicare severity diagnosis-related group] coding information to the ICD-10-CM book, so inpatient coders and those studying for their CIC™ exams can pair MCCs [major complications or comorbidities] and CCs with diagnosis codes.
We're adding CPT®/HCPCS Level II G code crosswalks to a couple of books to ease reporting when a patient is covered by a commercial or federal payer. We're also adding an appendix to identify Z codes with long-term use of drugs and an icon to denote a Z code as a first-listed diagnosis.
HBM: Tell us about the prices of this year's AAPC codebooks.
Ericson: Our goal is to keep quality high and prices low. I know from my career that codebook users – be they coders, billers, auditors, or providers – are often low on cash, and any relief is wonderful. It's a necessary evil that we need to update our resources when codes are revised.
Fortunately, members get special discounts as part of their AAPC membership, which helps take the sting out of buying new books every year. It's yet another reason membership is so worthwhile.
HBM: Are you sincere in your efforts to serve the AAPC community?
Ericson: You bet we are! Back when the 2016 edition was being developed, for example, we set out at the beginning of 2015 to pair the codebooks with our credentialing curriculum. This made it easier for both instructors and students to identify coding conventions in the codebooks. We also replaced CMS' HCPCS Level II and AMA's CPT® indexes with more comprehensive, applicable tools.
Our members aren't afraid to tell us what they need to succeed, be it through surveys, focus groups, or member forums. We also invited members to review draft books and recommend changes. We're the only codebook publisher with books developed by AAPC coders, which means AAPC books directly reflect our members' needs.
HBM: AAPC members develop the books?
Ericson: Yes, an amazing team led by Mary Compton, PhD, CPC; Beth Martin, BS, COC; and Georgia Green, CPC-A, carefully craft the books every year. We also circulate advance copies of the books to members via local chapters for advice.
This is significant. Most codebooks are developed and produced by companies more interested in general publishing or health insurance than coding or those who code. AAPC is made up of coders, billers, and other professionals who make the healthcare industry's revenue stream effective and fair. We recognize the significant role they play in healthcare, and strive to facilitate their success with quality information.
HBM: AAPC started developing its own books just three years ago. What do you expect in the future?
Ericson: We'll continue to listen and adapt our books to make them invaluable to AAPC members. As a result, the books will continue to evolve as our membership evolves. New codes, regulations, roles, and technologies demand constant change and improvement. Expect codebooks to be different three years down the road. That's my goal.
---
Ana Saiz is Thought Leadership coordinating editor at AAPC.
Latest posts by admin aapc
(see all)
No Responses to "Why AAPC is Passionate About Their Codebooks"