Clubfoot Deformities Get a Full Range of Understanding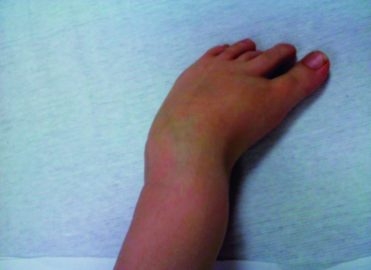 Clubfoot treatment and coding has come a long way since the '70s.
Clubfoot (talipes equinovarus) is a common congenital disorder, and one that has affected me personally. To help you better understand clubfoot, I'd like to share my experience and research, and some educational information about the condition.
How Clubfoot Happens
According to the American Academy of Orthopaedic Surgeons (AAOS), approximately one infant in every 1,000 births will have clubfoot, making it one of the more common congenital foot deformities. Boys are twice as likely as girls to have this condition, which can be detected with prenatal ultrasound. Both my son and I were born with clubfoot, but when I was born in the 1970s, treatment was nowhere near as advanced as it is today. Clubfoot can be bilateral, as in my case, or unilateral, as was the case with my son.
Clubfoot occurs during fetus development, when the tendons that connect the leg muscles to the foot bones are shortened, causing the foot to twist inward. The affected leg is slightly shorter and the calf is thinner due to underdeveloped muscles. In my son's case, his left foot was twisted so severely that his big toe was resting against the inside of his leg. If his clubfoot had not been corrected (as happens in many underdeveloped countries), he would be walking directly on his ankle instead of the sole of his foot.
Two Doctors Research
for Advancements in Treatment
The cause of clubfoot is still unknown; however, advancements have been made to pinpoint genetic or environmental factors. Matthew Dobbs, MD, an orthopedic surgeon at St. Louis Children's Hospital, has been researching and treating clubfoot for many years. Dobbs is convinced there is a genetic link for clubfoot: "Understanding the etiology is the first step toward the development of better treatment options and even working on preventive strategies." Dobbs is my son's physician, and he tested my husband and I, as well as my parents and my husband's mother, for his research.
Dobbs learned how to treat clubfoot from Ignacio Ponseti, MD, who invented the Ponseti Method of clubfoot treatment. My son and I met Ponseti in 2004 at the University of Iowa Hospitals and Clinics in Iowa City, Iowa, where he continued to see patients (at age 90!). Early in his career, Ponseti saw that the outcomes of clubfoot surgical treatments were not very good because patients (like me) had limited movement. Ponseti developed a treatment that makes the most of babies' flexible ligaments. His method is widely accepted today, all over the world. There is even a World Clubfoot Day celebrated every year on June 3.
The Ponseti Method consists of a series of casts, which are placed beginning shortly after birth. The baby's foot is gently stretched and held in place with a long-leg cast. The casts are changed weekly for approximately six to eight weeks, or until the foot is improved. After this, many babies require an Achilles tenotomy (which I had) — a minor procedure that involves cutting the tendon and allowing it to re-grow to a more natural length.
Bracing is required after the casting or tenotomy. The child is placed in shoes that are twisted outwards, with a bar in the middle. The bracing is very difficult for many parents to follow, and when not followed properly can result in the child requiring more surgery. The brace has to be worn even while sleeping, for a total of 23 hours per day. Dobbs invented the Dobbs Dynamic Abduction Brace, which allows for increased motion and easier use.
If the bracing portion is followed in its entirety, many children are able to live normal lives, without further issues. A small portion of children may have a deformity so severe that major reconstructive surgery must be performed, as in the case of my son. At age 7, he required an extensive procedure that required three incisions to transfer the tightened tendons and remove small bones from his foot. Unfortunately, the result is that he has very limited motion in his foot and frequently complains of pain. The image above shows my son's foot at age 7, prior to major reconstructive surgery. As you can see, even after two procedures, his foot is still twisted.
Coding Tips
Coding for clubfoot treatment following the Ponsetti and Dobbs methods are as complex as the procedures. The weekly casting procedures, the surgical treatments, and applicable supplies must be coded and billed accordingly.
Procedure Coding
For the weekly casting, report 29450 Application of clubfoot cast with molding or manipulation, long or short leg with modifier RT Right side or modifier LT Left side to indicate laterality. Use modifier 50 Bilateral procedure — or modifiers RT and LT, as the payer desires — if bilateral. Bill this code for each weekly cast change visit. The code has 0 global days; therefore, a modifier shouldn't be necessary for
the subsequent visits. You may also be able to bill for the casting supplies, if applicable, based on your facility (clinic vs. facility) and durable medical equipment (DME) status. An evaluation and management (E/M) service is not usually billable with 29450, except on the first visit.
After the casting procedures, an Achilles tenotomy may be performed. CPT® 27606 Tenotomy, percutaneous, Achilles tendon (separate procedure); general anesthesia is often appropriate if the child is not able to hold still for local anesthetic (27605 Tenotomy, percutaneous, Achilles tendon (separate procedure); local anesthesia). A cast is placed on the foot during the tenotomy procedure, but this is not billable because it's not a separately identifiable procedure.
More extensive procedures may be necessary if the deformity is severe. Some examples of these are hammertoe correction (28285 Correction, hammertoe (eg, interphalangeal fusion, partial or total phalangectomy)) and osteotomies (code range 28300-28309, depending on the affected bones in the foot).
DME Supply Coding
For the bracing, the following HCPCS Level II supply codes may be used, as prescribed by the physician:
L1960 Ankle foot orthosis, posterior solid ankle, plastic, custom fabricated
L2280 Addition to lower extremity, molded inner boot
L2300 Addition to lower extremity, abduction bar (bilateral hip involvement), jointed, adjustable
L2768 Orthotic side bar disconnect device, per bar
Billing these codes depends on your facility's DME status, and if you are billing for the orthotic providers that create the boots and ankle-foot orthosis (AFOs), also known as foot-drop braces. As the child grows, new AFOs and bigger bars will be required and may be billed, accordingly.
Diagnosis Coding
ICD-10-CM coding for clubfoot is tricky. If you look for "clubfoot" in the ICD-10-CM Alphabetic Index, you'll see Clubfoot (congenital) Q66.89. When you reference the Tabular List, however, Q66.89 describes other specified congenital deformities of the feet. Congenital clubfoot NOS is listed as a synonymous term. If the provider states talipes equinovarus, use Q66.0 Congenital talipes equinovarus. If your providers treat clubfoot regularly, educate them to document "talipes equinovarus" only if that is truly the case, or make sure they select the correct code in the electronic health record.
With proper treatment, many clubfoot cases are completely reversible. Today, the only motion I cannot perform is to squat with my feet on the ground (I must squat on my tiptoes). My son had to have several procedures to correct his foot; and at age 13, he must wear an insert in his shoe. He may need further corrective surgery, and will always have limited motion.
You can find more information about clubfoot by visiting www.miraclefeet.org or www.ponseti.info.
Resources
AAOS.org, (n.d.), OrthoInfo
Ignacio Ponseti, Wikipedia, May 27, 2016
Ivanhoe Broadcast News, March 16, 2009
---
Lori A. Cox, MBA, CPC, CPMA, CPC-I, CEMC, is coding team leader at MedKoder in Hannibal, Mo. She has more than 15 years of experience in multiple areas of healthcare including auditing and compliance. Cox has been certified since 2002 and is treasurer of the Quincy, Ill./Hannibal, Mo., local chapter. She is the Region 5 AAPC National Advisory Board representative.
2 Responses to "Clubfoot Deformities Get a Full Range of Understanding"