Get a Physician's Perspective on Documentation Improvement
September 1, 2016
Comments Off

on Get a Physician's Perspective on Documentation Improvement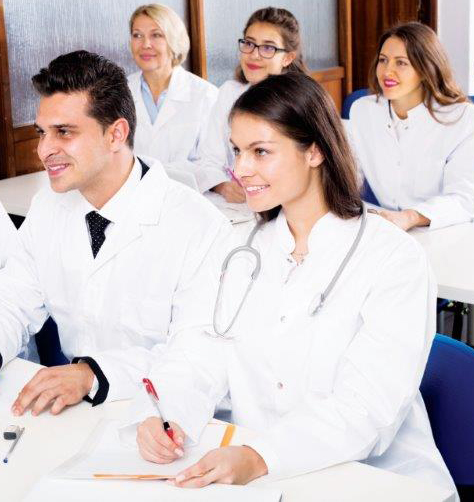 You'll obtain better results using a clinical approach to teach clinicians how to capture proper reimbursement.
The importance of accurate, specific, detailed documentation in the medical record is essential, yet educating providers on how to achieve it is not always easy. To improve outcomes, it helps to see documenting and coding from a provider's perspective. This requires understanding:
The importance of physician documentation on accurate and precise ICD-10-CM coding
Specific verbiage physicians need to use in documentation
Why improved clinical documentation facilitates quality care and appropriate reimbursement
The relationship between accurate and precise documentation, ICD-10 codes, risk adjustment, and the Five-Star Quality Rating System
Speak the Provider's Language
As a Certified Professional Coder (CPC®) and a physician, I understand both points of view. I've found that approaching documentation from a clinical perspective is helpful in teaching doctors the kind of verbiage and detail necessary to support their diagnoses. Emphasizing key diagnostic terms for providers to integrate into their progress notes makes sense to them. And demonstrating how they can expand their thinking during a patient evaluation to include more specific terminology is helpful.
When you begin the documentation improvement educational process:
Understand resistance to change (e.g., busy schedule, inadequate sleep, frustration with the electronic health record (EHR) etc.)
Ask for providers' input, and identify leadership who can support your efforts
Establish a relationship of mutual respect
Quantify potential financial and quality care incentives
Be sure educational programs work with providers' busy schedules
Offer support, and make sure providers can access it
To cite an example, doctors may feel overwhelmed when first introduced to the increased number of rheumatoid arthritis codes in ICD-10-CM. But among the five pages of ICD-10-CM codes for "Rheumatoid arthritis with rheumatoid factor," only four relevant points need to be documented to generate a very specific 5- to 6-character code. These are details a physician would likely be thinking about at the time of assessment. In other words, even though there are a lot more codes to choose from, providers simply must know which details they are already considering to document.
M05 Rheumatoid arthritis with rheumatoid factor
M05._complications – 4th character
M05.0 Felty's syndrome
M05.1 Rheumatoid lung disease with rheumatoid arthritis
M05.2 Rheumatoid vasculitis with rheumatoid arthritis
M05.3 Rheumatoid heart disease with rheumatoid arthritis
M05.4 Rheumatoid myopathy with rheumatoid arthritis
M05.5 Rheumatoid polyneuropathy with rheumatoid arthritis
M05.6 Rheumatoid arthritis with involvement of other organs and systems
M05.7 Rheumatoid arthritis with rheumatoid factor without other organ or systems involvement
M05.8 Other RA with RF
M05.9 RA with RF unspecified
M05._ _ specific joints vs multiple sites – 5th character
M05._ _ _ right/left? – 6th character
The four key diagnostic terms required to generate a specific and accurate code are:
With rheumatoid factor: When diagnosing rheumatoid arthritis (RA), "with rheumatoid factor" (versus without) is the first distinguishing and relevant piece of information that needs to be documented.
With rheumatoid complications or without: The ICD-10-CM requests a 4th character. The second key point that needs to be documented is whether there are associated rheumatoid complications (i.e., Felty's syndrome, rheumatoid lung disease with RA, rheumatoid vasculitis with RA, etc.), or the 4th character 7 may be used for "RF without other organ or systems involvement."
Joint involvement: A 5th character is required to specify which joints are involved. Involvement of the shoulder, elbow, wrist, hand, etc., must be documented, although the 5th character 9 can be used for "multiple sites." (This is not the same as using 9 in the 4th character for "unspecified." Advise providers to avoid unspecified codes whenever possible.)
Laterality: The affected side should be documented, if relevant, with a 6th character for right and/or left (but no code for bilateral, in this instance).
Invite physicians to look in an ICD-10 codebook for the 50 most common diagnoses they treat. Becoming acquainted with the necessary verbiage — rather than relying exclusively on lengthy and potentially truncated drop-down menus in an EHR — will yield more coding and diagnostic accuracy.
Teach the Basics
When educating providers, don't assume they understand coding, risk adjustment, hierarchical category conditions (HCCs), or the Five-Star Quality Rating System. Explain what a "family" of codes means; that codes may vary from three to seven characters; and that the length of a code may vary, even within the same family.
For example, within the E11 Type 2 diabetes mellitus code family, E11.3 Type 2 diabetes mellitus with ophthalmic complications requires either five characters (for diabetic cataract or with "other diabetic ophthalmic complication" — use an additional code to identify complication) or six characters (for retinopathies with or without macular edema). Encourage providers to refer to specialists' consultation reports for specific diagnoses, and to update medical records accordingly.
Providers appreciate consolidated training: Consider educating them to expand their clinical thinking at the time of evaluation to include improved documentation and any necessary actions for ICD-10, risk adjustment, and Five-Star Quality Rating measures.
Document Type of Diabetes (HCC) – first three characters
Type 1 – E10._ _ _
Type 2 – E11._ _ _
Use additional code to identify insulin use (long term) (current) Z79.4
Due to underlying condition – E08._ _ _
e.g., Cushing's; pancreatitis (chronic is HCC)
Drug or chemical induced – E09._ _ _
e.g., Steroids
Other specified diabetes mellitus – E13._ _ _
e.g., Due to genetic defects; status (post) pancreatectomy
Document Complications and Specifics – 4th – 6th characters
Type of DM: E08 to E13 
Complications of each type of DM: E08._ to E13._ (4th digit)
Specifics of each complication of each type of DM:
E08._ _ to E13._ _ (to 5th digit)
More detail about specifics of each complication:
E08._ _ _ to E13._ _ _ (to 6th digit)
ICD-10 Documentation,
HCCs, and Star Ratings Measures
When providers document diagnoses to the highest level of specificity and capture all appropriate HCCs, there will be more Star Ratings measures to fulfill (e.g., type 2 diabetes mellitus, rheumatoid arthritis).
For example, testing HgbA1C (screen for control of blood sugar) is a Star Ratings measure. If diabetes is diagnosed, there is additional testing necessary to comply with quality guidelines.
ABI/Flochec (screen for diabetic peripheral angiopathies)
NCV/monofilament screening for diabetic peripheral neuropathy
Ophthalmologic exam every two years (One year if there is an abnormal finding. Update the medical record to include the diagnosed ophthalmic complication.)
Urine microalbumin/Cr ratio (screen for nephropathy/chronic kidney disease (CKD))
eGFR and serum Cr (screen for CKD)
PTH if eGFR <60 (screen for hyperparathyroidism)
Check Vit. D if PTH abnormal (screen for Vitamin D deficiency)
Screening tests may reveal diabetic complications. Updating physician documentation accordingly will result in an accurate ICD-10 combination code assignment and risk adjustment. This is an opportunity to educate physicians about the use of relevant combination codes and "use additional code."
An Example of Combination Codes and HCCs:
E11.21 Type 2 diabetes mellitus with diabetic nephropathy
E11.22 Type 2 diabetes mellitus with diabetic chronic kidney disease and use addition code to identify stage of chronic kidney disease (N18.1-N18.6)
Stage 4, stage 5, and end-stage renal disease (N18.4-N18.6) also risk adjusts (HCC)
Use additional code to identify dialysis status (Z99.2)
E11.29 Type 2 DM with other diabetic kidney complication e.g., Type 2 DM with renal tubular degeneration
Support Your Physicians
To help promote positive reinforcement for providers:
1. Respect and acknowledge the actions they take and the results they receive.
2. Share data with them often.
3. Competition: Compare your physician with self, peers, and ratings.
4. Let them know the financial incentives of quality documentation.
5. Emphasize quality because providers want to do a good job.
6. Support them.
Be Sure the EHR Supports the Diagnosis
Here are some things to look out for in the EHR:
The patient problem list and PMH are often extensive and automatically regenerated in a new progress note
Many listed diagnoses are not addressed on the date of service, and may appear to be PMH
Providers should document any active conditions assessed at the time of service, at least once per year for HCCs
Medical record should be updated with additional or more-specific diagnoses from the emergency room, inpatient, specialist, test results, or other provider visits since the last date of service
Providers should document the associated diagnoses or conditions that exist at time of the visit that require or affect patient care or treatment, decision-making, or management. Consider:
All acute and chronic medical conditions
Complications
Manifestations
Mental, behavioral, neurologic, or congenital disorders
Obstetric, dermatologic, musculoskeletal diagnoses
Injuries or poisonings
Substance abuse
Infections
Signs and symptoms (if the primary diagnosis is not known)
Familiarize providers with the following ICD-10 verbiage:
Additional characters required
Code first underlying disease
Includes/excludes
With/Without (e.g., gangrene)
Mild, moderate, severe (e.g., malnutrition)
Single episode, recurrent (e.g., major depression)
Temporality (e.g., old myocardial infarction, now > four weeks)
Placeholder X use
Anatomic location
Accurate and detailed descriptions include location, size, depth, right/left (e.g., L97.412 Non-pressure chronic ulcer of right heel with fat layer exposed (If due to type 2 diabetes mellitus, code first E11.621 Type 2 diabetes mellitus with foot ulcer, for example.)
Using a clinical approach for documentation improvement education will help doctors understand and accept the necessity for increased specificity. Physician-to-provider education is optimal, but if this is unavailable, recruit physician leaders to support your educational efforts. Share information often and be accessible to offer support. Reward actions and positive outcomes.
---
Attention Providers
Document all pertinent history and physical findings. Don't check boxes off on an EHR unless the physical examination was done. Beware of auto fills. Ask for more blank spaces for free text on the EHR. Revisit the problem list, assessment, and treatment plans, and address activity of conditions. Don't just cut and paste.
Don't be tempted to choose a more specific diagnostic code on an EHR without additional chart documentation to back it up. Be prepared to support all diagnoses in a potential audit with specific and complete documentation.
---
SADSS: Provider Documentation Essentials
When improving your documentation of the patient encounter, ask yourself:
S: Can I be more specific?
A: Acuity/Chronicity
Document if the problem is:
Acute? Chronic? Acute on chronic?
Past medical history (PMH) vs. active and under treatment?
Affecting the care of current condition?
Why is the patient on medications?
D: Is the diagnosis due to a coexisting/comorbid condition?
Document the cause and effect/combination codes in ICD-10.
S: Does the medical record support the diagnosis?
History
Physical findings
Assessment
Treatment plan
Medication
Current year? HCC-risk adjustment
Update the EHR
It's not sufficient to code a more specific diagnosis without chart documentation to back it up
S: Are there quality measures to address for the Star Ratings?
Weighted x 1:
Breast/colorectal screening
Annual flu shot
Assess:
Physical activity
Body mass index (BMI)
Functional status
Pain
Medication review (document the condition treated)
Weighted x 1.5:
Patient reported outcomes
Patient satisfaction
Currently weighted x 3:
Consider adjustment? Elimination? Substitution?
Document diagnosis, treatment plan, and justification
(Document drug or alcohol dependency – HCCs)
e.g., opiates, sedative, hypnotics
Beers criteria for potentially inappropriate medication use (Reference: American Geriatrics Society)
Weighted x 3: 
Medication compliance – diabetes/HTN/statins
Control – blood sugar/blood pressure
Improving or maintaining – mental and physical health
Plan – for all readmission causes
Educate providers on actionable measures and support their efforts in helping patients realize these goals.
Explain to providers the importance of their maintaining a four- or, optimally, 5-star rating.
Prepare providers for the Centers for Medicare & Medicaid Services (CMS) continually raising the bar.
Help providers understand that inadequate ratings will jeopardize contracts and their standing within the community.


---
Marian J. Wymore, MD, CPC, is a board certified family physician with 20 years' clinical experience in outpatient and inpatient medicine for patients of all ages. She has been involved in medical group and hospital leadership, utilization management, quality assurance, and managed care program development. Wymore educates providers on how to improve clinical documentation, including ICD-10-CM, HCCs, and the Star Ratings Program. Wymore is a member of the Culver City, Calif., local chapter. She can be reached at marianwymore@gmail.com.
Latest posts by Marian Wymore
(see all)