MIPS and APMs: Get the Facts
September 2, 2016
Comments Off

on MIPS and APMs: Get the Facts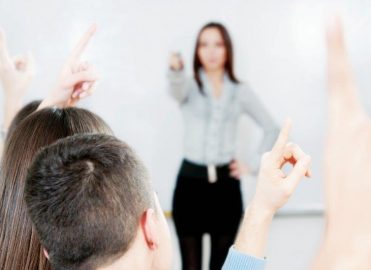 Q&A sessions offer greater detail into the newly-proposed quality-based payment.
Ever since the Merit-based Incentive Payment System (MIPS) and Alternative Payment Model (APM) proposed rule appeared in the May 9 Federal Register, stakeholders have been consumed with questions: Does this apply to me? How do I avoid a downward payment adjustment? How can I find more information? Anticipating these questions, the Centers for Medicare & Medicaid Services (CMS) scheduled an MLN Connects National Provider Call the day after the proposed rule was published. Questions and answers stemming from that call offer deeper insight into what CMS proposes to finalize in November.
Note: The following Q&A has been modified from the original transcript to omit unnecessary verbiage.
Part B Services in Skilled Nursing Facilities
Q: Does MIPS apply to physicians who treat patients in nursing facilities?
A: Yes, although MIPS does not apply to facilities directly, it does apply to eligible clinicians who provide services to patients covered under Medicare Part B in nursing facilities
FACT: For the first two years (2019-2020), MIPS eligible clinicians are physicians, physician assistants (PAs), nurse practitioners (NPs), clinical nurse specialists (CNSs), and certified registered nurse anesthetists (CRNAs) who bill for Medicare Part B services. Exemptions apply for:
Eligible clinicians in their first year of Medicare Part B participation;
Eligible clinicians who bill Medicare less than or equal to $10,000 and provide care for 100 or fewer Medicare patients in one year; and
Certain participants in Advanced APMs.
MIPS does not apply to hospitals or facilities.
Part B Services in Other Facilities
Q: If facilities are not eligible for MIPS, how will eligible clinicians who provide therapy services to patients with Part B coverage participate in MIPS when their services are billed on an institutional claim through the facility?
A: [The caller was told to submit a comment for consideration in the final rule.]
FACT: CMS touches on this scenario in the proposed rule at Section II.E.1.d – MIPS Eligible Clinicians Who Practice in Rural Health Clinics (RHCs) and/or Federally Qualified Health Centers (FQHCs): "Some eligible clinicians may not receive MIPS adjustments due to their billing methodologies. If a MIPS eligible clinician furnishes items and services in an RHC and/or FQHC and the RHC and/or FQHC bills for those items and services under the RHC's or FQHC's all-inclusive payment methodology, the MIPS adjustment would not apply to the facility payment … However, these eligible clinicians have the option to voluntarily report on applicable measures and activities for MIPS and the data received would not be used to assess their performance for the purpose of the MIPS adjustment."
Advice for Ineligible Clinicians
Q: In regards to physical and occupational therapy, I understand that we will not be included in MIPS initially. What are we supposed to do in the meantime? Do we continue to submit Physician Quality Reporting System (PQRS) data? Do we continue to submit functional limitation reporting as we have been? 
A: Although physician and occupational therapists are not eligible for MIPS for the first few years, they can volunteer to participate in MIPS. If you have been participating in the PQRS program, and would like to know how the performance requirements would apply to you prior to actually being scored under the MIPS program, you can still submit data for quality measures. You could select applicable clinical practice improvement activities and CMS would issue you a feedback report. There is more specific information on this in the proposed rule.
FACT: CMS states in the proposed rule (Section II.E.5.a), "For individual clinicians and groups that are not MIPS eligible clinicians, such as physical therapists, but elect to report to MIPS, we would calculate administrative claims resource use measures and quality measures, if data is available." You need at least two categories with non-missing scores to receive a composite performance score (CPS) on which CMS can base a payment adjustment.
MIPS and Medicare Advantage
Q: How does MIPS play out if you're a physician or physician group that's contracted with a Medicare Advantage (MA) plan?
A: The Advanced APM side for the first two years of MIPS focuses on Medicare Part B. Payments under MA would not be considered for qualified professional (QP) status, and the incentive payments would not be based on those payments either. Starting in the third year, MA arrangements can be considered Other Payer Advanced APMs, based on similar criteria for Advanced APMs; however, that APM incentive payment will always be based on Part B professional services.
FACT: CMS states in the proposed rule, "With respect to the APM Incentive Payment, section 1833(s)(1)(A) of the Act clearly states that the APM Incentive Payment is based on payments for Part B for covered professional services (which are made under the Medicare Physician Fee Schedule) and which do not include payments for services furnished to Medicare Advantage enrollees."
Advancing Care Information Weighs Heavy on Some 
Q: Regarding the MIPS program in years 1 and 2, physician assistants are eligible clinicians, but they're not eligible for the advancing care information performance category. Does that mean they end up taking a zero point for that, and then get 0 times 30 percent?
A: The composite performance score will always be based off of a 100-point threshold. We're proposing to take those 25 points and redistribute them to the quality resource use and clinical practice improvement activities categories.
FACT: A single MIPS CPS will factor in performance in four weighted performance categories on a 0-100 point scale. The four performance categories are: Resource Use; Clinical Practice Improvement Activities; Quality; and Advancing Care Information. In year 1, Advancing Care Information accounts for 25 out of the 100 points; however, participation in this category is optional in 2017 for NPs, PAs, CNSs, and CRNAs.
CMS states in the proposed rule, "The low numbers of NPs and PAs who have attested for the Medicaid incentive payments may indicate that EHR Incentive Program measures required to earn the incentive are not applicable or available … For these reasons, we propose to … assign a weight of zero to the advancing care information performance category if there are not sufficient measures applicable and available to NPs, PAs, CRNSs, and CNSs. We would assign a weight of zero only in the event that an NP, PA, CRNA, or CNS does not submit any data for any of the measures specified for the advancing care information performance category." CMS provides an example of how this will work, shown in Figure 1.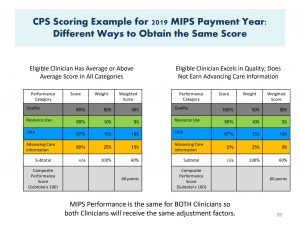 To receive the base score, eligible clinicians must provide the numerator/denominator or yes/no for each objective and measure. There are six objectives and their measures that require reporting for the base score:
1. Protect Patient Health Information (yes required)
2. Electronic Prescribing
3. Patient Electronic Access
4. Coordination of Care Through Patient Engagement
5. Health Information Exchange
6. Public Health and Clinical Data Registry Reporting (yes required)
The performance score accounts for up to 80 points towards the total Advancing Care Information category score. Eligible clinicians select the measures that best fit their practice from the following objectives:
1. Patient Electronic Access
2. Coordination of Care Through Patient Engagement
3. Health Information Exchange
Lastly, you can earn up to one bonus point for Public Health and Clinical Data Registry reporting, for a total of 131 possible points, of which you only need 100 points to receive the full 25 points CPS.
Advanced APM Criteria
Q: Is there a cap on the number of participants who are eligible to be in a certified or patient-centered medical home?
A: There is no proposed cap on the number of clinicians who are part of a medical home. The cap we mention is for the Medical Home Model to have a unique financial risk criterion when we're determining whether or not it's an Advanced APM. So the only time we'll look at the overall number of people is to see whether the medical home qualifies for advanced status.
FACT: CMS proposes to expand its list of APMs to include: Advanced APMs and Other Payer Advanced APMs.
An Advanced APM must meet three requirements:
Require participants to use certified electronic health record technology;
Provide payment for covered professional services based on quality measures comparable to those used in the quality performance category of MIPS; and
Be either a Medical Home Model expanded under Section 1115A of the Act or bear more than a nominal amount of risk for monetary loses.
The Medical Home Model nominal amount standard is subject to size, and standards only apply to APM entities with 50 or more eligible clinicians. Amount of risk under the Medical Home Model must be at least 2.5 percent in 2017; 3 percent in 2018; 4 percent in 2019; and 5 percent in 2020.
There were several other questions that the panel wasn't able to answer. These questioners were asked to submit their questions for consideration in the final rule.
The MIPS program and APMs are intended to streamline quality reporting so clinicians are more easily rewarded for providing quality care. There's nothing easy about creating and implementing a new payment system, though. AAPC will continue to keep you apprised of new developments so you are armed with the information you'll need to succeed in a value-based healthcare system.
Resources
MIPS and APM Proposed Rule (81 FR 28161)
Quality Payment Program, slide presentation
MIPS Scoring Methodology Overview
---
Renee Dustman is executive editor at AAPC, and a member of the Flower City Coders, Rochester, N.Y., local chapter.
Latest posts by Renee Dustman
(see all)