RADV Reality
In Compliance
September 2, 2016
Comments Off

on RADV Reality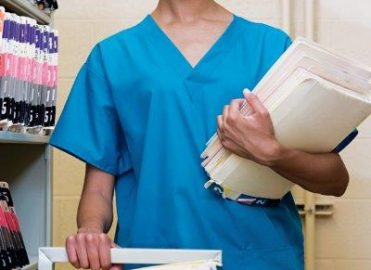 Coding expertise is a must for RADV audits, which are becoming a yearly part of most insurers' workflows.
The Centers for Medicare & Medicaid Services (CMS) intends to significantly increase risk adjustment data validation (RADV) audits, including yearly audits for both Medicare and small group/individual commercial insurance, as required by the Affordable Care Act (ACA).
Risk Adjustment Primer
Risk adjustment is predictive modeling that assesses members' risk for incurring medical expenses above or below the average during a defined time. Demographics and health status are used to determine health plan payments, which can also assist with care management needs.
Diagnoses are collected and their specificity drives risk categorization, called hierarchical condition categories (HCCs). Sicker patients have higher risk scores than healthier patients, which assists with financial forecasting of medical expense and other financial implications. HCCs must be captured annually. Risk adjustment resets every Jan. 1.
CMS provides risk-adjusted premium revenue to Medicare Advantage (MA) insurers based on HCCs, which makes it critical to capture and report diagnoses at their highest specificity level. It's even more critical for documentation to substantiate the diagnoses. This revenue is intended to cover costs to Medicare members: if it's not accurately captured, the result is higher out-of-pocket expenses for the patient population.
Why RADV Audits?
The RADV audit is intended to verify the diagnosis codes submitted for payment through medical record documentation. This ensures risk-adjusted payment integrity and accuracy.
In RADV audits, CMS selects 30 plan contracts and audits 201 members each to validate the diagnosis-driven HCCs submitted during the year. MA plans must obtain the requested medical records and submit proof that supports the reported HCCs for which CMS provided a premium.
The records also must meet certain formatting criteria, including patient name and date of birth on each page, and specific provider signature guidelines. This can be a challenge because the 201 members could comprise more than 500 HCCs, which means retrieving and reviewing over 1,000 records in a 16-week period. The records that best represent the HCCs are submitted to CMS via the Centralized Data Abstraction Tool (CDAT). CMS then provides a pass/fail for each HCC. Insurers can appeal a disagreement.
The payment error calculation begins by dividing the MA plans' members into three strata based on risk scores, sampling 67 members from each of the 201-member samples. After CMS reviews the records, failed HCCs result in an extrapolated recovery for all members in the relevant stratum. This can result in extraordinary penalties for the plan.
The blame falls on the plan's provider network's coding practices. For example, a common coding error is active vs. history of cancer. If a patient had cancer, most clinicians will always view them as a cancer patient, even if they are in remission with no evidence of disease and no active treatment. This conflicts with the coding world, where this scenario would result in an appropriate history of cancer diagnosis. In a RADV, an insurer could have to repay several million dollars based on the extrapolation logic relative to the number of enrollees.
For example, prostate cancer has a high likelihood for a RADV failure. Below is a fictitious example of liability for a relatively small insurer:
Incorrect diagnosis billed: C61 Malignant neoplasm of prostate
Correct diagnosis: Z85.46 Personal history of malignant neoplasm of prostate
CMS payment based on HCC 12: Breast, prostate, colorectal, and other cancers
Yearly payment per member: $1,100
Members in risk stratum for failed HCC: 2,500
Extrapolated RADV liability: $2.75 million
Managing a RADV Audit
Managing a RADV audit takes preparation, resources, and coding knowledge to execute within the 16-week timeframe. This is particularly difficult for capacity planning because it's unknown if a plan will be selected. If the plan is selected, mobilizing resources is a challenge due to the temporary duration of the project and competing priorities. The activities may be broken down into four phases: the preparation phase, the operational phase, the submission phase, and the post RADV activity phase.
The preparation phase includes:
Organizing all written materials
Ensuring internal resources are actively engaged
Vetting and contracting third-party vendors
The operational phase includes:
Claim analysis
Provider network outreach
Medical record retrieval and review
Managing vendors
Following up with any provider issues
The submission phase includes:
Selecting the best medical records to support the diagnoses
Converting all applicable records to the correct format
Naming the records in accordance with CMS guidance
Submitting the records through the CDAT application
The post RADV activity phase is important because the appeal process can potentially overturn any failures. An after-action review may benefit future audits, and the medical record review results may be used for provider education purposes.
Table A represents the high-level RADV activities, and recommendations for how they fit within the timeline of the project.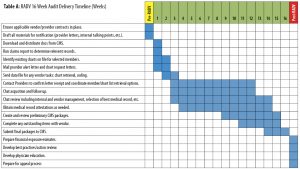 CMS has only completed three RADV audits, so far, for a limited number of insurers. This process is moving to an annual process for all plans. In January 2016, CMS issued a Request for Information, advising of their intent to audit every MA plan yearly. This would be conducted in either a traditional RADV format, or using recovery auditors to audit targeted HCCs.
The ACA requires yearly RADV audits on commercial lines of business beginning in the summer of 2016. Insurers and providers must be diligent to ensure correct documentation and coding, focusing on common errors such as active versus history of cancer and acute condition billing in the office setting. The RADV reality is here, and audits will imminently be a yearly part of most insurers' workflows. The good news for AAPC members is that this process has definitely created an increased demand for diagnosis coding talent.
---
Tom Nasadoski, MBA, is manager of risk adjustment at Capital District Physicians' Health Plan.
Latest posts by Guest Contributor
(see all)