A Signature Is Mandatory on Medical Records
By Lisa Jensen
In Coding
September 6, 2016
Comments Off

on A Signature Is Mandatory on Medical Records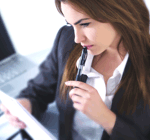 Payers and the Centers for Medicare & Medicaid Services (CMS) require that the medical chart documentation sent to support a claim contain a legible and timely signature. For medical review purposes, Medicare requires the author, using a handwritten or a valid electronic signature, to authenticate the services provided/ordered. Regardless of how accurate the coding is, if the document lacks a legible signature, the entire note will be disregarded.
Auditors will appreciate if you include a signature log that lists the typed or printed name of the author associated with initials or an illegible signature. The signature log might be included on the actual page where the initials or illegible signature are used, or might be a separate document.
Providers should not add late signatures to the medical record (beyond the short delay that occurs during the transcription process), but instead should provide a signature attestation statement. If you can have a valid signature attestation statement and signature log, completed and provided with the medical records request, auditors will have one less concern to audit.
If the document is missing a signature, you must include an attestation statement. To be considered valid for Medicare medical review purposes, an attestation statement must be signed and dated by the author of the medical record entry and must contain sufficient information to identify the patient. CMS provides a sample statement reproduce here from the Medicare Program Integrity Manual 100-08, section 3.4.1.1:
"I, _____[print full name of the physician/practitioner]___, hereby attest that the medical record entry for _____[date of service]___ accurately reflects signatures/notations that I made in my capacity as _____[insert provider credentials, e.g., M.D.]___ when I treated/diagnosed the above listed Medicare beneficiary. I do hearby attest that this information is true, accurate and complete to the best of my knowledge and I understand that any falsification, omission, or concealment of material fact may subject me to administrative, civil, or criminal liability."
A note of caution: Auditors will not accept a single attestation to cover several chart notes or a length of time. A generic statement will not suffice. For instance, "I, Dr. X hereby attest that all medical record entries for any patient's I've ever seen accurately reflect my observations," would not be accepted, nor inspire confidence.
Latest posts by Lisa Jensen
(see all)
No Responses to "A Signature Is Mandatory on Medical Records"