HCCs: Opportunity or Liability?
October 1, 2016
Comments Off

on HCCs: Opportunity or Liability?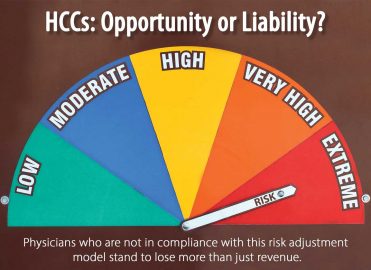 Physicians who are not in compliance with this risk adjustment model stand to lose more than just revenue.
Ronda Tews, CPC, CHC, CCS-P
The Centers for Medicare & Medicaid Services (CMS) has used the hierarchical condition category (HCC) risk adjustment model since 2004, yet many Medicare Advantage (MA) plans and their aligned physicians still don't understand how it works. Consequently, they are missing opportunities to better serve their enrollees, and to maximize potential revenue.
Risk vs. Reward
CMS uses HCC coding to assess the "risk," or the estimated expenditures it will incur for covering a beneficiary, and adjust payments accordingly. A patient's risk score is based primarily on their health status and demographic characteristics. Because diagnosis codes determine health status, a wrong diagnosis not only affects a patient's health outcome, but also how much the patient's health plan will pay for treatment.
The two most important things for providers to know regarding HCC coding are:
The provider should see the patient at least once each year to determine the patient's health status. The physician must evaluate and document all chronic conditions: Simply listing every diagnosis in the medical record (e.g., conditions in the assessment or the past medical history) is not acceptable and does not support reporting an HCC code.
The provider must be as specific as possible in the documentation, so the most accurate ICD-10 code is reported. Documentation should include additional manifestations or complications related to the chronic disease.
Documentation that does not define and link the disease to the complication or manifestation may not validate the HCC.
Order the MEAT
A great resource for educating providers about which diagnoses to report is "HCCs: Easy as 1, 2, 3 (the culture of MEAT)" by Holly J. Cassano, CPC, in JustCoding News, in which she describes applying the culture of MEAT to HCC logic.
Monitor signs, symptoms, disease progression, disease regression.
Evaluate test results, medication effectiveness, response to treatment.
Assess/Address ordering tests, discussion, review records, counseling.
Treat with medications, therapies, other modalities.
Know What Your Claim Form Can Accommodate
Another factor to consider is the number of diagnosis codes your system can submit on a claim, and what happens to the diagnosis codes submitted beyond the accepted number. To receive accurate reimbursement, you must capture and send all diagnosis codes from your claims and encounters. You may need an alternate submission method for additional diagnoses.
HCCs Affect MA Organizations
HCC coding may start with the providers, but it affects MA organizations, as well. MA plans submit risk adjustment data to CMS for use in CMS' risk-score calculations. Inaccurate diagnoses may cause CMS to pay MA organizations improper amounts. As mentioned in the Office of Inspector General (OIG) 2015 Work Plan, "Prior OIG reviews have shown that medical record documentation does not always support the diagnoses submitted to CMS by MA organizations."
Ensure HCC Accuracy
MA plans must be diligent regarding the accuracy of risk adjustment data they submit to CMS. They should confirm each record is correct by verifying the physician's documentation to ensure a face-to-face visit occurred, the documentation is legible, and that the HCC diagnoses were monitored, evaluated, assessed, and treated.
It's important for the MA plan to monitor each enrollee's HCCs for consistency in reporting. Declining HCC scores could be an indication of gaps in care, or failure to accurately document provided services.
Tip: Use chart reviews as an opportunity to provide education to the physicians and office staff on common documentation errors.
An erroneous HCC code should be deleted, and the MA plan should submit the invalidated HCC in a deleted file submission to CMS, so the HCC can be removed from that enrollee's risk score calculation. If the erroneous HCC continues to be submitted, without documentation to support it, the risk calculation is incorrect. This results in excess capitation fees, and subjects all involved to serious consequences (see "Risky Business Leads to Serious Consequences").
Communication between MA plans and physicians is essential for determining whether HCC codes are being reported accurately, and whether physicians are documenting sufficiently to support HCC coding.
---
Risky Business Leads to Serious Consequences
Recently, a physician received a four-year prison term for falsely diagnosing MA beneficiaries with ankylosing spondylitis, which resulted in false risk scores and higher capitated payments for those patients. Medicare paid approximately $2.1 million in excess capitation fees (of which approximately 80 percent was paid to the physician), over a three-year period.
---
Resources
JustCoding News, "HCCs: Easy as 1, 2, 3 (the culture of MEAT)," Cassano, Outpatient, March 19, 2014: www.hcpro.com.
OIG, Work Plan Fiscal Year 2015: https://oig.hhs.gov/reports-and-publications/archives/workplan/2015/FY15-Work-Plan.pdf
Ronda Tews, CPC, CHC, CCS-P, is a compliance manager with GlobalHealth, an Oklahoma-based health maintenance organization (HMO) that has a contract with CMS to offer MA plans. She is a member of the Oklahoma City, Okla., local chapter.
Latest posts by Guest Contributor
(see all)