Preserve Revenue with an ABN
October 1, 2016
Comments Off

on Preserve Revenue with an ABN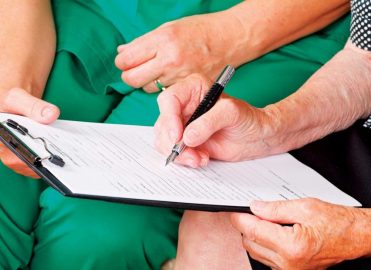 When Medicare doesn't cover services, this form may be your only recourse for getting paid.
By Kasandra Bolzenius, CPC
Failing to properly issue an Advance Beneficiary Notice of Noncoverage (ABN) to your Medicare patients could mean your establishment is saying goodbye to revenue opportunities and jeopardizing patient satisfaction.
Breakdown of ABN Requirements
The Centers for Medicare & Medicaid Services (CMS) created the ABN as a way to provide their beneficiaries standardized notice when an item or service may not be covered under Medicare Part A or B. The ABN not only allows the patient to make an informed decision about whether to receive a service that may not be covered, but serves as proof that the beneficiary was made aware of the possibility of non-coverage prior to administering the services.
Providers and staff should know that failing to obtain a valid ABN when Medicare requires it will prevent the practice from billing the patient for the service. According to CMS, practices must issue an ABN when:
It is believed Medicare may not pay for an item or service;
Medicare usually covers the item or service; and
Medicare may not consider the item or service medically reasonable and necessary for this patient in this particular instance, and is expected to deny payment.
There is an exception to these requirements: Services which Medicare has designated as "statutorily excluded," or never covered, do not require the issuance of an ABN; however, the ABN may be voluntarily issued to alert beneficiaries of their financial liability in the event of noncoverage.
Other important steps to follow:
The practice and the beneficiary must each retain a copy of the signed ABN. Keep the ABN on file for five years from the date of rendered services, unless otherwise indicated by law.
Provide the ABN to the patient prior to receiving non-covered services, far enough in advance to allow sufficient time for the beneficiary to consider all available options. An ABN may never be retroactively dated to shift liability to the beneficiary for care provided before ABN issuance.
Do not obtain an ABN from a beneficiary in a medical emergency or under great duress (i.e., compelling or coercive circumstances).
Do not use the ABN to shift liability based on the denial for services due to a Medically Unlikely Edit (MUE).
Do not issue ABNs on a routine basis. Issuance of the ABN must be based on reasonable evidence that a service may not be covered.
Effectively Issue an ABN
An ABN must include all items, services, and the planned period of treatment for which you believe Medicare will not pay. Each form should be completed by your clinical staff and presented to the recipient in person to ensure the beneficiary has a full understanding of coverage and liability for the services being rendered. Allowing your patients this opportunity will ensure each question is suitably answered, and reduces instances of a patient changing their mind after completing and signing the ABN. If the patient does change their mind, request the patient annotate the change on the original form. This must clearly indicate the change in liability option, as well as the date of annotation and signature.
An ABN is effective for up to one year, unless changes in care occur. If there are any changes in care from the services outlined in the ABN within 12 months of issuance, and the newly planned services are determined to be non-covered, a new ABN must be obtained.
Determine Coverage
How can you know for sure if an item or service is covered? CMS has provided several free resources to determine when an ABN form should be issued. Medical necessity requirements may be found in statutes, regulations, manuals, and National or Local Coverage Determinations — all of which are easily accessible to the public.
As an example, the Missouri LCD L34536 outlines medical necessity for surgical treatment and sclerotherapy for varicose veins. Per this policy, CPT® 36470 Injection of sclerosing solution; single vein may be covered when "a 3-month trial of conservative therapy such as exercise, periodic leg elevation, weight loss, compressive therapy, and avoidance of prolonged immobility where appropriate, has failed, AND the patient is symptomatic" with one or more of the outlined symptoms found within the policy. Based on these indications, a patient who has not met these qualifications may not meet medical necessity requirements. Because this surgical procedure is not a statutorily excluded Medicare benefit, the practice should obtain a signed ABN from the patient and apply modifier GA.
Know Your Modifiers
Understanding when to use the following modifiers may decrease turnaround time after claim submission.
GA The provider or supplier has provided an ABN to the patient in expectation that Medicare will deny a service as not reasonable and necessary and an ABN signed by the beneficiary is on file
GY The provider or supplier is aware that the item or service is statutorily non-covered or is not a Medicare benefit. The claim will deny whether or not the modifier is present on the claim
GZ The provider or supplier expects that Medicare will deny an item or service as not reasonable and necessary; however, an ABN was not presented to the patient and is not on file
Modifiers GY and GZ should be used with the specific, appropriate HCPCS Level II code when one is available. When no specific procedure code describes a services, a "not otherwise classified" (NOC) code must be used with either modifier.
Get the Facts
Although the ABN has been around for quite some time, there are still plenty of misconceptions about its appropriate use. Many clinics fail to present the form when it is needed, while others present it too frequently. There are plenty of resources available that guide the appropriate use of the ABN, some of which are listed below.
---
Resources
MLN Matters® MM7821; Advance Beneficiary Notice of Noncoverage (ABN), Form CMS-R-131, Updated Manual Instructions: www.cms.gov/Outreach-and-Education/Medicare-Learning-Network-MLN/MLNMattersArticles/downloads/MM7821.pdf
Medicare Learning Network (MLN), Advance Beneficiary Notice of Noncoverage (ABN) Part A and Part B, ICN 006266, May 2012
MLN Medicare Advance Beneficiary Notices, ICN 006266, October 2015: www.cms.gov/Outreach-and-Education/Medicare-Learning-Network-MLN/MLNProducts/MLN-Publications-Items/CMS1236637.html
CMS Manual System, Pub 100-04 Medicare Claims Processing, Transmittal 2148: www.cms.gov/Regulations-and-Guidance/Guidance/Transmittals/downloads/R2148CP.pdf
CMS Pub 100-02 Medicare Benefit Policy Manual, Chapter 15 – Covered Medical and Other Health Services, Section 50.4.4.2 – Immunizations: www.cms.gov/Regulations-and-Guidance/Guidance/Manuals/downloads/bp102c15.pdf
---
Kasandra Bolzenius, CPC, is a coding and compliance auditor with a large healthcare system in the Midwest. She provides guidance to healthcare providers, administration, and medical staff on billing and coding standards, government policy, and internal revenue opportunities. Bolzenius is a member of the Saint Louis West, Mo., local chapter.
Latest posts by Guest Contributor
(see all)