AAPC Unites to Help Louisiana Flood Victims
In AAPC News
October 1, 2016
Comments Off

on AAPC Unites to Help Louisiana Flood Victims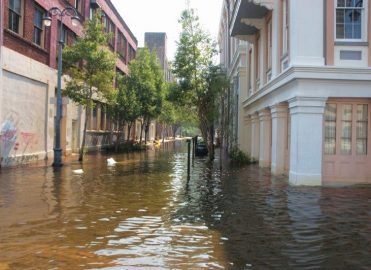 When disaster strikes, word spreads fast, and AAPC members rush to help each other.
August was a life shattering month for most of Louisiana. After prolonged downpours, Louisiana's rivers and waterways — particularly the Amite and Comite rivers — rose to record levels. Rainfall exceeded 20 inches in many areas. The hardest hit was northeast of Baton Rouge in Watson, where water accumulations peaked at 31.39 inches. The flood was the worst U.S. natural disaster since Hurricane Sandy. Three times as much rain was dumped on Louisiana from the "no name storm" as there was when Hurricane Katrina hit.
The disastrous floods left 13 dead and 60,000 homes damaged or destroyed. According to the White House, "Live Updates: What You Need to Know about Flooding in Louisiana," report on August 25, the Federal Emergency Management Organization (FEMA) approved more than $205 million in financial support to flood survivors in Louisiana. This total includes more than:
$155 million to help survivors with temporary rental assistance, essential home repairs, and other disaster-related needs.
$55 million in advanced payments to flood insurance policyholders who sustained damages and have filed a claim.
AAPC members living in the region were affected, as well. Some lost everything, including homes and the ability to work. There are over 900 AAPC members living in the affected areas and some are still in dire need.
Editor's Note: Statistics and monetary data was timely at the time of this writing.
Ensuring Members Have Essentials
Greater Baton Rouge Local Chapter Vice President Josette Fuselier, CPC, CEMC, CGSC, sent out an SOS via AAPC's local chapter Facebook page, asking other local chapter officers to keep the Baton Rouge local chapter in their prayers because the storm left massive destruction (see Figure A for the Facebook post details). When other chapter officers saw the post, they offered much more than prayers: They jumped into action to help provide the immediate needs of fellow-members in the affected areas.
Indianapolis, Indiana, Local Chapter President Chandra Stephenson, CPC, COC, CPB, CPCO, CPMA, CPPM, CRC, CIC, CCS, CPC-I, CANPC, CCC, CEMC, CFPC, CGSC, CIMC, COSC, and Baton Rouge Local Chapter President Sherie Phillips, CPC, CPC-I, personally made calls to every chapter member in the Baton Rouge local chapter. Calls were also made to other affected areas, such as Lafayette, New Orleans, and Covington to identify the items those chapter members needed. Stephenson, despite tornado warnings in her area and bad cell phone reception, made calls from the shelter of her basement bathroom in hopes of reaching affected members. The immediate needs of the flood victims included:
Gift cards for gas, food, clothing
Toiletries
Cleaning supplies
Sheets
Towels
Blankets
Besides basic essentials, chapter officers offered donated coding books, money, and other items, and even members affected by the flood reached out asking how to help. Some members private messaged Stephenson and the national office asking how they could help. Chapters and officers who created a network of donations and had a hand in aiding AAPC flood victims include:
Indianapolis, Indiana – Stephenson's chapter
Philadelphia, Pennsylvania – MariaRita Genovese, CPC
Kansas City, Missouri – Sherry Wright-Fontenot, CPC, CPCO, CPMA, CEDC
Scottsdale, Arizona – Beth Schleeper, CPC, CPCO, CPB, CPMA, CPPM, CPC-I, CEMC
Stuart, Florida – Candice Fenildo, CPC, CPB, CPMA, CPC-I, CENTC
Richmond, Virginia – Lynda Wetter, CPC, CPMA, CEMC, CGSC
Jacksonville, Florida – Maryann Palmeter, CPC, CPCO, CENTC
Glendale, Arizona – Susan Ward, COC, CPC, CPC-I, CEMC, CPCD, CPRC
Monmouth, New Jersey – Claire Bartkewicz, COC
Lancaster, Pennsylvania – Robin Zink, CPC, CPPM
Seacoast/Dover, New Hampshire – Stephanie Moore, CPC, CPMA
Chesapeake/Virginia Beach, Virginia – Donna Stewart, COC, CPC, CPCO, CPC-P, CPMA, CPC-I
Wichita, Kansas – Renee Billinger, CPC, and Tara Rose, CPC
Fort Worth, Texas – Teri Berecochea, CPC
Most of the above members reached out via the local chapter officer's Facebook page. The Louisiana flood brought flashbacks to Sherry Wright Fontenot, CPC, CPCO, CPMA, CEDC, who was a victim of Hurricane Katrina's flood devastation. Fontenot's family had lost homes that were rebuilt, and she knew firsthand the needs of flood victims and how to help them. Stephenson served as coordinator to make sure local chapters were not duplicating aid efforts, and there was organization to the charity work.
Offering Donations Unique to Coder Needs
Louisiana members were scheduled for exams and in need of current year coding books and received them from generous members and the AAPC national office. For example, Renee Billinger, CPC, of the Wichita, Kansas, local chapter said her former supervisor over-ordered books and donated three full sets of coding books, plus several CPT® and HCPCS Level II books that were still wrapped.
Phillips offered to store the donated items in a school she owns, which did not flood during the storm. A 16 foot by 16 foot room in the facility is being used to accept donations from anyone who wants to help the flood victims.
How You Can Help 
A GoFund Me page, as shown in Figure B, was started in August as a means to donate to the Louisiana flood victims through Project AAPC. At the time of this writing, over $4,065 had been raised in the first week to help Louisiana members. Our goal of $10,000 is attainable.
Chapters are encouraged to work together to find new and creative ways to raise funds to help (i.e., bake sales, car washes, etc.). You can also make personal donations directly to the Project AAPC; 100 percent of the donations are used directly for AAPC member needs when checks are sent to AAPC's national office.
Donations can be mailed to:
Project AAPC
2233 S Presidents Dr., Suite F
Salt Lake City, UT 84120
Credit card donations can be made here: www.gofundme.com/28efw5sc. Note that GoFundMe takes a small portion of the donation for service fees. No other administrative fees are ever used from donated funds.
You can also contribute directly to members' professional needs via the AAPCCA Hardship Scholarship Fund. Mail checks to the same address above, care of AAPCCA – Hardship Scholarship Fund.
If You Are in Need …
Members directly affected by a natural disaster of other
hardship can apply for support by submitting an application here and selecting either Project AAPC or Hardship Scholarship Fund.
Chapter officers can help identify members' needs and communicate and inform the Scholarship Committee via the AAPC national office. The Scholarship Committee will hold extra meetings to fulfill member's needs expeditiously, as long as the funds are available.
Compassionate Community of Coders
It's been an eye opening experience for those involved. Officers and members realized just how giving and special our organization is. Stephenson said:
I feel so incredibly humbled and amazed to be part of such an amazing organization. The members [flood victims] I spoke with really put things in perspective. Even though they may be struggling, if they think they are better off than those around them, their concern is not how we can help them but how they can help ensure those around them who need assistance receive it. Compassion and community is what it's all about!
Let's continue to be who we are: We are coders. We are caring. We aid people in crisis. We are a community who knows no boundaries. We are AAPC.
---
Project AAPC in Action
Project AAPC's motto is "Aiding People in Crisis." While its vision was triggered because of devastating earthquakes in Haiti and Chile in 2009, it turned its focus homeward to support those in need during the 2010 Nashville flooding. That year, generous AAPC members donated over $13,000 to support our neighbors in need.
In spirit of helping, many of you have asked how you can help our friends and neighbors in Louisiana who are facing a major flood. At the same time, other neighbors in California have needed our help, as well. They are being displaced by raging wildfires and there has been flooding in additional states. As the flood waters rise in other regions and the wild fires spread to new areas, Project AAPC is here to help.

Latest posts by Michelle Dick
(see all)