AAPC Savings a Valuable Member Perk
November 7, 2016
Comments Off

on AAPC Savings a Valuable Member Perk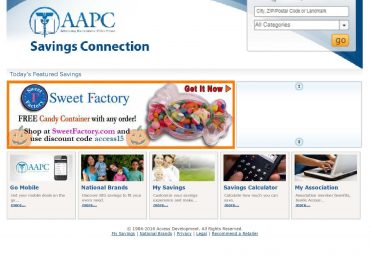 AAPC has done a great job of offering members many different perks.  These perks are not just limited to the medical arena. Did you know your membership gives you access to AAPC Savings?  This is an awesome place to find discounts on nearly everything you need in your daily life!
You will find access to this benefit when you are logged into the website under Resources/Member Benefits/Member Perks/Savings Center.  You will find that you have access to both local and national savings through this portal.  Once here you will sign up on your computer by entering your email associated with AAPC.  After you have access, you can then use the mobile app and have this great resource at your fingertips 24/7.
You can find savings for dining, shopping, and travel in addition to online only shopping.  Just browse through the categories to find that you can save on home loans, auto loans, car washes, childcare and school needs, flowers and gifts; you can even save on shopping at places such as Target and Sam's Club!
Here is a sample of what you can save on:
Autos, Vehicles, & Boats
Clothes & Accessories
Coffee & Desserts
Finance & Money
Home & Garden
Household & Family Goods
Meal Prep & Catering
Mind, Body, & Health
Sports & Entertainment
Tech & Electronics
Tours, Tickets & Attractions
Next time you get ready to spend some Benjamins, make sure and check this member savings out first.  Thanks AAPC for looking out for the membership in so many ways!
Latest posts by Brenda Edwards
(see all)
AAPC's annual salary survey gives a good understanding of the earning potential within the medical coding profession.
See what actually is going on in the healthcare business job market.