Apply +15777 for Deep Implantation of Biologic Implant
November 15, 2016
Comments Off

on Apply +15777 for Deep Implantation of Biologic Implant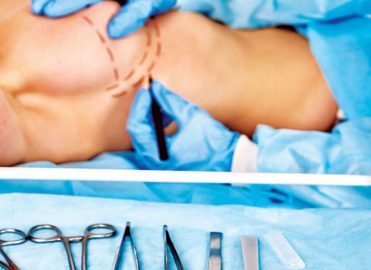 When grafting moves below skin substitutes, use a code for soft tissue reinforcement.
By J.D. Rosdeutscher, MD
The past decade has seen an explosion in the number of, and uses for, biologic implants (see "Biologic Implants" for a list). For several years, CPT® categorized these implants using an ever changing code set that identified the grafts by type (e.g., allograft vs. xenograft). In 2012, CPT® changed course: Rather than continue to classify implants by type, new codes were introduced to group them by application and location. Eight new codes (15271-15278) were introduced to describe "skin substitute grafts," which are used for integumentary (surface) coverage. Add-on code +15777 Implantation of biologic implant (eg, acellular dermal matrix) for soft tissue reinforcement (ie, breast, trunk) (List separately in addition to code for primary procedure), was established to describe implantation of a biologic implant for soft tissue reinforcement.
Call on +15777 for Reinforcement
Code +15777 applies to breast or trunk applications only, which essentially limits its use to breast reconstruction and hernia repair or abdominal wall reconstruction. The type of biologic implant used is no longer relevant to coding; there are many biologic implants available for use in either surface or deep applications. Rather, where the implant is used (e.g., surface or deep application) guides proper coding.
Example 1
An oncologic surgeon performs mastectomy for cancer, and a plastic/reconstructive surgeon places a tissue expander and an acellular dermal matrix sling. The tissue expander and the final implant are placed beneath the pectoralis major muscle. Although the pectoralis is elevated off the chest wall, this is not transposing the muscle to another area and it is not a muscle flap. The pectoralis major originates on the head of the humerus and clavicle, and runs diagonally to insert on the sternum. That leaves the inferior/lateral portion of the implant/expander to be covered only by the mastectomy skin flap, which can be compromised easily, especially if radiation was done or is planned. The acellular dermal matrix can provide pectoralis extension with a sling support and result in more natural breast shape, as well as extra coverage. Proper coding for the reconstructive surgery is:
19357
Breast reconstruction, immediate or delayed, with tissue expander, including subsequent expansion
+15777
You may separately report the supply of biologic implant, as well. Because +15777 is an add-on code, modifier 51 Multiple procedures is not used. If the procedure had been performed bilaterally, you could apply modifier 50 Bilateral procedure to +15777, per CPT® instructions.
Example 2
Resection of abdominal wall tumor (desmoids) with reconstruction may be reported using 22904 Radical resection of tumor (eg, sarcoma), soft tissue of abdominal wall; less than 5 cm and +15777.
Note that +15777 applies only to biologic implants, and does not include mesh or other prosthesis. Per CPT® parenthetical instructions:
(For implantation of mesh or other prosthesis for open incisional or ventral hernia repair, use 49568 in conjunction with 49560-49566)
(For insertion of mesh or other prosthesis for closure of a necrotizing soft tissue infection wound, use 49568 in conjunction with 11004-11006)
(For topical application of skin substitute graft to a wound surface, see 15271-15278)
(For repair of anorectal fistula with plug (eg, porcine small intestine submucosa [SIS]), use 46707)
(For insertion of mesh or other prosthesis for repair of pelvic floor defect, use 57267)
(The supply of biologic implant should be reported separately in conjunction with 15777)
Biologic Implant Use Expands 
Biologic implants are finding new uses in orthopedic, head and neck, and craniofacial applications. For now, report these using unlisted procedure code 17999 Unlisted procedure, skin, mucous membrane and subcutaneous tissue. Neither 15271-15278 (topical application) nor +15777 (implant for soft tissue repair in the breast/trunk) apply. CPT® instructs, "For implantation of biologic implants for soft tissue reinforcement in tissues other than breast and trunk, use 17999."
Biologic Implants
There are many biologic implants now available on the market, including:
• AlloDerm®
• AlloMax™
• AlloPatch™
• AlloSkin™
• Apligraf®
• ArthroFlex®
• BioDfence®
• Conexa™
• CorMatrix®
• Dermagraft®
• DermaMatrix
• Durepair®
• Endoform™
• ENDURAGen®
• E-Z Derm®
• FlexHD®
• Oasis® Wound Matrix
• Permacol™
• Surgisis®
• Strattice™
• SurgiMend®
• TheraSkin®
• Transcyte®
• Veritas® Collagen Matrix
---
J.D. Rosdeutscher, MD, is board certified by both the American Board of Otolaryngology, with a specialty in Facial Plastic Surgery, and the American Board of Plastic Surgery. He is assistant clinical professor of otolaryngology and plastic/reconstructive surgery at Vanderbilt. Previously, Rosdeutscher served as assistant professor of surgery and chief of otolaryngology and plastic surgery at Meharry Medical College and Nashville General Hospital at Meharry. He volunteers at Siloam Family Health Center and has served in overseas missions.
Latest posts by J Rosdeutscher
(see all)
No Responses to "Apply +15777 for Deep Implantation of Biologic Implant"