Your Office Could Be Making Employees Sick
November 15, 2016
Comments Off

on Your Office Could Be Making Employees Sick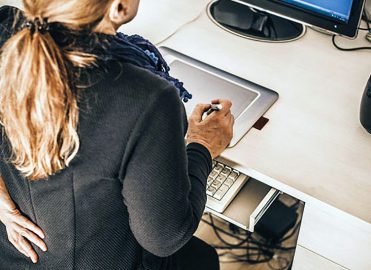 Examine the ergonomics of your office equipment to improve employee health.
By Bridget Toomey, CPC, CPB, CRCR, RYT-200
Good office ergonomics may just be the best benefit you can give employees. In an office environment, ergonomics is the science of equipment design to maximize productivity, and lessen the fatigue and discomfort associated with sitting, typing, and staring at a computer all day.
Overlooking office ergonomics can leave employees with health issues such as neck strain, lower back pain, and carpal tunnel syndrome, all of which can lead to less productive and less happy workers. If you're a manager, showing your employees that you care about their health can also help employee morale. If you are an employee, ensuring your own health can make your job (and your life) more enjoyable.
Try these ergonomic practices in your workspace at home or in the office.
Proper Keyboard Placement
To prevent carpal tunnel, which causes hand and arm pain and numbness, ensure your wrists are in the neutral position, with both hands and wrists in line with your forearms.
The keyboard should be set in a nearly-level position and centralized, with the "B" key in line with your bellybutton.
There should be at least a hand's width of space between the keyboard and the edge of the desk to rest your hands.
Align with the Monitor
The computer monitor should be placed directly in front and facing you, so your body and neck aren't twisted when looking at the screen.
The monitor should be at a comfortable distance for viewing. It can strain your eyes to be too close to the screen.
To prevent neck pain and poor posture, place the monitor at a comfortable viewing height that doesn't make you tilt your head up or bend your neck down to see the screen.
Find a Chair to Support You
To prevent lower back pain, sit so your back is touching the back of the chair and make sure your chair supports your spinal curve. If your chair doesn't have lumbar support, try adding a pillow in the small of your back.
Feet should be flat on the floor or on a footrest and your knees should be at approximately a 90-degree angle. Leaving the feet to dangle can cause pinched nerves behind the knees.
Place Important Desk
Items within Arm's Reach
Place items you use more often closest to you and within your reach. This will reduce how often you strain to grab far away items.
If you talk on the phone a lot, use a headset instead of holding the phone between your ear and shoulder. This will help prevent neck and shoulder aches.
Resources
Mayo Clinic www.mayoclinic.org/health-lifestyle
UI Ergonomics http://hr.uiowa.edu/ergonomics
---
Bridget Toomey, CPC, CPB, CRCR, RYT-200, works for the University of Iowa Hospitals and Clinics in Patient Financial Services as a revenue cycle coordinator, where she supervises staff on the physician Iowa Medicaid team. She also teaches Kundalini yoga at Heartland Yoga in Iowa City, Iowa. Toomey is certified by the Kundalini Research Institute as a Kundalini yoga teacher and is a member of the International Kundalini Yoga Teachers Association. She is a member of the Iowa City, Iowa, local chapter.
Latest posts by Bridget Toomey
(see all)