Telemedicine Expansion Hinges on Government Support
By Emily Wein
In Facility
December 12, 2016
Comments Off

on Telemedicine Expansion Hinges on Government Support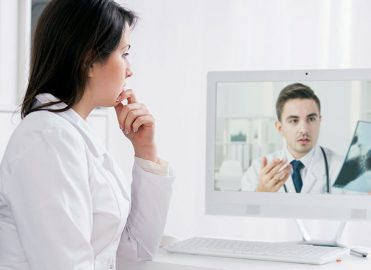 Recent government publications support telemedicine, but policy changes are needed to ensure its sustainability.
By Emily H. Wein, Esq.
The healthcare industry generally regards telemedicine as beneficial, but the concept has yet to be fully accepted and integrated within the government's healthcare programs. Two government publications issued this past summer support (directly or indirectly) telemedicine expansion within public health programs, noting the benefits of telemedicine from both service and cost perspectives, but also noting the challenges to such expansion.
In August, the U.S. Department of Health & Human Services (HHS) issued, at Congress' request, a report on their progress and efforts in the telemedicine arena, called the Report to Congress – E-health and Telemedicine. The report explains obstacles HHS believes are key impediments to the growth of telemedicine. One month earlier, the Centers for Medicare & Medicaid Services (CMS) issued a proposed rule for annual updates to the Medicare Physician Fee Schedule (MPFS) (81 FR 46161, July 15, 2016). Within the MPFS, challenges are highlighted by CMS' decision not to expand the Medicare telemedicine benefit to certain services for reasons related to existing policy and legislation, which need to be changed to facilitate the growth requested by stakeholders.
Despite challenges, the MPFS and, more plainly, the HHS report convey some degree of promise for telemedicine expansion by describing the government's commitment to it. Although the full scope of integration that stakeholders hope for may be distant, the government is heading in that direction.
Defining Telemedicine 
The American Telemedicine Association defines telemedicine as "the use of medical information exchanged from one site to another via electronic communications to improve a patient's clinical health status." The term originally was understood to mean communication between two providers. The term telehealth is often used interchangeably with telemedicine, as are mobile health (m-health) and electronic health (e-health); however, telehealth usually refers not only to telemedicine, but also to patient/provider communication and electronic health management/data collection (e.g., via smartphone apps and health information trackers).
M-health is described as a subset of telehealth and, more specifically, as the use of apps designed to support well-being. E-health is broader, as it encompasses all types of digital information tools, such as electronic health records.
Benefit from Telemedicine 
The HHS report supports the position that the telemedicine delivery model increases access to care, quality of care, and healthcare outcomes. A common example of who benefits using telemedicine are patients in rural areas without easy access to primary care. For these remote patients, less serious issues not addressed proactively may increase in severity and eventually develop into acute conditions necessitating hospital admissions. Via telemedicine, these patients can receive care at their local community hospital from a specialist, or perhaps in their home from a primary care physician. Videoconferencing facilitates earlier interventions and diagnoses, which may stop the progression of the condition. Not only are quality of care and outcomes improved, but patient satisfaction is also enhanced.
Contrary to an agency's findings that there is not enough evidence to assess the overall cost-saving potential of telehealth, the HHS report also highlights the benefit of telemedicine for the chronically ill and the "particular promise" held for chronic disease management. Specifically noted is that telemedicine may cut down on the frequent clinical visits that this population often requires and "avert costly emergency room visits and hospital stays."
The government's anticipation of telehealth's cost-saving potential is reflected in recent quality-improvement measures. For example, the waiver of Medicare's originating site requirement allows for increased use of telemedicine in new bundled payment programs (i.e., the Next Generation Accountable Care Organization, Bundled Payments for Care Improvement Models 2 and 3, Comprehensive Care for Joint Replacement, and Episode Payment Model). The Medicare Access and CHIP Reauthorization Act of 2015 (MACRA) includes incentives for physicians' improved performance and coordination of care, and suggests telemedicine as a way to achieve these performance goals. The government's commentary in each of these issuances included rationale anticipating not only the potential for improved quality and/or patient satisfaction, but for cost savings, as well.
Although specifically calling out chronic care management as ripe for the use of telemedicine, the MPFS neither adds it to the scope of the Medicare benefit nor lists it as a telemedicine service CMS declines to cover. It would not be surprising to see the inclusion of chronic care management services as a reimbursable telemedicine service in a subsequent year's fee schedule.
Challenges Remain, but It's Getting Better
Critical barriers for expanding telemedicine exist and necessary actions are required to overcome the obstacles. In the report, HHS discusses what it believes are areas of concern.
Payment and Reimbursement: Medicare limits telemedicine reimbursement based on the location of the patient and provider and the type of distant site facility. Even if a service meets these requirements, the facility's payment often falls short.
According to the HHS report, an estimated 61 percent of all healthcare providers (and of those, 50 percent of hospitals) use some form of telemedicine. The telemedicine industry generated over $9 billion in revenue in 2013, but Medicare spent only $14 million in 2015, or .01 percent of its total spending. While the 2017 MPFS does propose an expanded list of reimbursable telemedicine services — specifically end-stage renal disease-related services, advanced care consultations (e.g., discussions regarding advance directives), and chronic care consultations for critically ill — it also excludes many stakeholder-advocated services, such as emergency medicine consultations, observation services, psychological testing and physical/occupational/speech therapy. CMS says it excludes these services because of a lack of evidence that they produce similar benefits as in-person services, and because the service providers (i.e., therapists) are not authorized by the Medicare statute governing telemedicine.
Further, Medicare Advantage plans are permitted to provide telemedicine reimbursement beyond that offered by Medicare fee for service, but only three plans do so. Variability also exists among commercial payers and state Medicaid programs; 48 state Medicaid programs offer some benefit and, on the commercial side, 32 states have telemedicine parity laws that require private payers to reimburse telemedicine consultations at the same rate as in-person consultations.
Licensure: Telemedicine offers patients easier access to healthcare across borders, but the same cannot be said for providers. According to the HHS report, 80 percent of states impose barriers in the form of licensures. Although state licensing boards may view this measure as a minor administrative hurdle necessary for the safety and health of their citizens, healthcare providers may consider it a significant burden and not worth their time.
Another workaround for the licensure obstacle is the Interstate Medical Licensure Compact (Compact). The Compact is model legislation drafted by the Federation of State Medical Boards (FSMB) designed to streamline the licensure process and allow physicians to more easily practice in multiple jurisdictions while remaining under authority of their home state's medical board. To date, only 26 states have introduced the Compact and only 17 have enacted it, according to the FSMB. This summer, FSMB announced a $250,000 grant from the Health Resources & Services Administration (HRSA) to support and fund state medical and osteopathic boards as they implement the Compact. This may grow the number of states adopting the legislation. Telemedicine also encourages expansion of the Nurse Licensure Compacts and helps to get other new multi-state licensure compacts off the ground, such as those for physical therapist and mental health providers.
Hospital Credentialing and Privileging: In response to confusion among hospital parties to telemedicine service arrangements, The Joint Commission (TJC) and CMS have clarified that the hospital at which the patient is located has the ultimate credentialing authority over treating/consulting physicians (virtually or otherwise). The HHS report suggests, however, there is somewhat of a turf-war among specialists regarding who they will allow to have a say over their scope of practice. The HHS report does not provide further explanation on the subject, so it's not clear whether this is a current and/or significant challenge, or just a consideration within telemedicine arrangements.
Although specialists and other physicians did have understandable gripes about multi-faceted credentialing processes, TJC and CMS have relieved that concern by allowing delegated credentialing. The federal credentialing process has been eased, but parties to telemedicine arrangements must be aware of state level credentialing process requirements.
Internet Connectivity: The fourth and final challenge highlighted in the HHS report was the most practical and the one everyone can relate to: signal strength. Internet connectivity may be taken for granted in the vast majority of the country, but HHS reminds us that rural areas — the very areas that benefit most from telemedicine — still experience barriers to access, either because the infrastructure does not support it or because individuals cannot afford the service. A Federal Communications Commission (FCC) report found that 53 percent of rural Americans do not have "benchmark service" (25 Mbps/3 Mbps). Access issues are even more prevalent on Native American reservations. Outreach programs aimed at improving access and subsidizing related costs, such as those sponsored by the FCC and Department of Agriculture, may help to address the issue.
Ongoing Government Telemedicine Efforts
The HHS report summarizes current activities, including grants and investments, by federal agencies into the research and expansion of telemedicine services within government programs and service offerings, and specifically notes the benefits of telemedicine by the Department of Veterans Affairs. An Agency for Healthcare Research and Quality (AHRQ) cost benefit analysis found that, almost universally, patients are pleased with the outcome of their telemedicine visit. The AHRQ overview cited telemedicine's distinct promise in four particular areas: behavioral health, dermatology, chronic disease management, and physical rehabilitation, as well as the potential for improved access or care in teleradiology, burn care, and surgery support. The MPFS does not include physical or occupational therapy in the scope of the Medicare telemedicine benefit, however. Physical rehabilitation cannot be included in the Medicare benefit without legislative action.
Looking Forward
Despite the lack of governmental reimbursement, telemedicine industry revenue grew 60 percent between 2012 and 2013. Although CMS proposes to expand its services, it does so within the constraints of existing policy. True growth likely will occur only when policies change to expand covered services and those qualified to provide such services.
Resources
Report to Congress – E-health and Telemedicine, August 12, 2016: https://aspe.hhs.gov/sites/default/files/pdf/206751/TelemedicineE-HealthReport.pdf
The American Telemedicine Association, "What Is Telemedicine?" www.americantelemed.org/about-telemedicine/what-is-telemedicine#.V-1SiPkrKM9
Interstate Medical Licensure Compact: http://licenseportability.org/
HRSA: www.hrsa.gov/index.html
42 C.F.R 482.12; 482.22 and TJC Standards LD 04.03.09 and MS 13.01.01.
www.ncsbn.org/nurse-licensure-compact.htm
www.fsbpt.org/FreeResources/PhysicalTherapyLicensureCompact.aspx
---
Emily H. Wein, Esq., is a principal in Ober|Kaler's Health Law Group, advising healthcare clients on telemedicine and telehealth regulatory and operational matters, and is a member of the American Telemedicine Association. She also provides advice on other regulatory matters, such as Medicare and Medicaid enrollment, HIPAA privacy issues, alternative/bundled payment models, and Stark and anti-kickback law compliance. Wein assists clients with transactional matters such as acquisitions and changes of ownership. She was previously associate counsel at a large interdisciplinary academic health system, where she served as a primary source for guidance with respect to fraud and abuse, HIPAA and state privacy laws, and Medicare and Medicaid participation issues; and assisted with numerous corporate transactions.
Latest posts by Emily Wein
(see all)